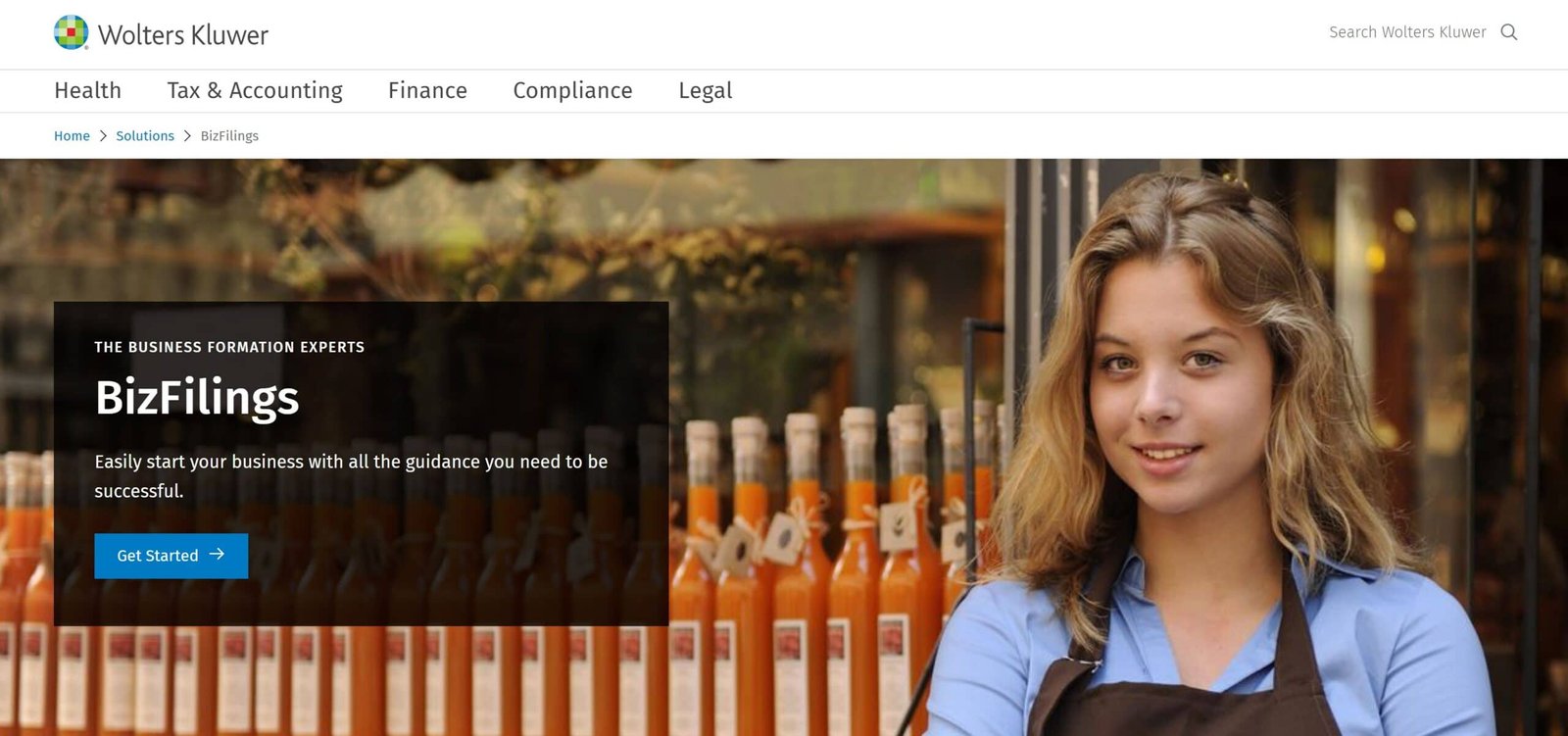 A little background on BizFilings. BizFilings is owned by Wolters Kluwer CT Corporation, a professional services giant that has been a major player in the business formation sector for over 20 years. Since 1996, they have helped many business owners with their online formation process.
BizFilings is popular despite the many excellent online services for LLC formation.
This BizFilings LLC service review gives you an overview of their services. We will review their main features, pricing, and other details. This review of BizFilings will help you decide if they are the right LLC service.
Visit BizFilings
https://www.wolterskluwer.com/en
---
BizFilings Pros and Cons
Pros 
BizFilings can help you with state-level compliance issues if your state requires additional steps to your LLC formation. Many competitors do not offer these services.
BizFilings offers six months of registered agent services, regardless of the LLC formation package that you choose. While some competitors offer a complete year, six months of registered agent service is still not bad.
The Business Owner's Toolkit from BizFilings is a valuable resource that includes extensive information about LLC formation and many other topics, including taxation guides and compliance tips. While many competitors offer similar features, most don't offer the same value as BizFilings.
You can still benefit from their free business name availability check even if you are not a BizFilings client.
Cons
Although their prices are higher than most competitors, BizFilings does not have enough features to make their rates affordable. You can save $60+ using other good LLC services and still get the same features.
Prices can vary depending on the state in which you are forming your company. The Basic package costs $99, and the Standard package costs $159 and $244. While the Complete package ranges from $199 to $434, it does not include the state fee.
Some of their features may not be explained clearly. They offer an "Expedited Process Service" in some of their LLC formation packages. However, if you carefully read the fine print, you will discover that this does nothing to expedite your order with the state.
BizFilings LLC Form Packages
Is BizFilings a good value? Although $99 is a fair price for forming an LLC and is less than hiring an attorney, BizFilings offers less value than BizFilings alternatives which cost $60 less.
BizFilings provides three types of LLC formation services: Complete, Standard, or Basic. Below is a breakdown of each level's features.
Basic = $99 + State Fee
Articles of Organization (Preparation & Filing) BizFilings will prepare and file these documents. These documents are then submitted to the state of formation to create your limited liability company.
Name Availability Searches: They will search state business databases to ensure that the name you are looking for is available. No cost for as many searches as possible
6-Months Registered Agent Service. Every LLC in America requires registered agents. This is the person or entity you have designated to receive important documents from the government on behalf of your business. This ensures that the state has an easy way to contact a representative from your LLC. BizFilings will act as your registered agent for six months. After that, they charge $199/year. You are not required to buy this service.
BizComply Tool 6 Months. This online compliance management tool allows you to keep track of state-specific regulations and filing deadlines. This tool is part of the registered agent service. It only lasts six months before you need to purchase a registered agent subscription.
Standard = Prices Vary ($159-244) + State fee
All the benefits of the Basic package plus...
LLC Kit and Seal. A binder with the name of your LLC printed on it. It also includes a decorative seal to stamp documents and custom membership certificates for owners.
Sample LLC forms. You will receive a CD with customizable templates for business documents such as operating agreements, meeting minutes, and resolutions.
Expedited BizFilings ProcessBizFilings will prioritize the processing of your order over any Basic package orders they receive at the same moment. You will need to pay an expediting fee if you wish to expedite your order to your state of formation.
Complete = Prices Varies ($199-434) + state fee
All the features of the Standard package plus…
Federal Tax ID Number (EIN). This number acts as a Social Security Number for the LLC. An EIN is required to open a bank account for your business, hire employees, and do many other things. BizFilings will obtain your EIN directly from the IRS.
With overnight shipping, get a certified copy of your documents. After your articles have been filed, they will obtain a certified copy from your state and overnight it to them.
Specific to the State. This package might include additional features depending on the state where you are forming your company. In Washington, for example, the Complete package includes an initial report and a certified copy of your filed formation papers. It also includes a state tax ID form.