This ZenBusiness review examines the ZenBusiness LLC formation service including their prices, plans, customer reviews, support, and registered agent service.
ZenBusiness Review: Overview
Over 100,000+ formations over the last year
Better pricing and better customer reviews than LegalZoom
Worry-free services and support
100% accuracy guarantee
Many entrepreneurs and business owners like ZenBusiness and several online review websites recommend ZenBusiness because it provides a good service and has very positive customer reviews. We found its formation services are reasonably priced. 
ZenBusiness Review – Pros and Cons
ZenBusiness

Pros

ZenBusiness

Cons

Good Pricing
A business website is included with the Premium plan
Quick Turnaround Time
Rated 4.8/5 by Trustpilot
Extended Support Hours
It is very easy to use

In business for only 5 years
Limited Website Templates
$99 addon for Registered Agent Service
Limited Liability Company (LLC) formations start from $49 + state fee. Just $49 is a great price to form an LLC and get 1-year registered agent services for $99/yr (optional). This is their everyday price, no coupon code or discount code is needed.
If you need a bigger formation package including a federal employer identification number (EIN), an LLC operating agreement, and expedited processing, you should consider the ZenBusiness Pro Plan or Premium Plan.
ZenBusiness BBB Reviews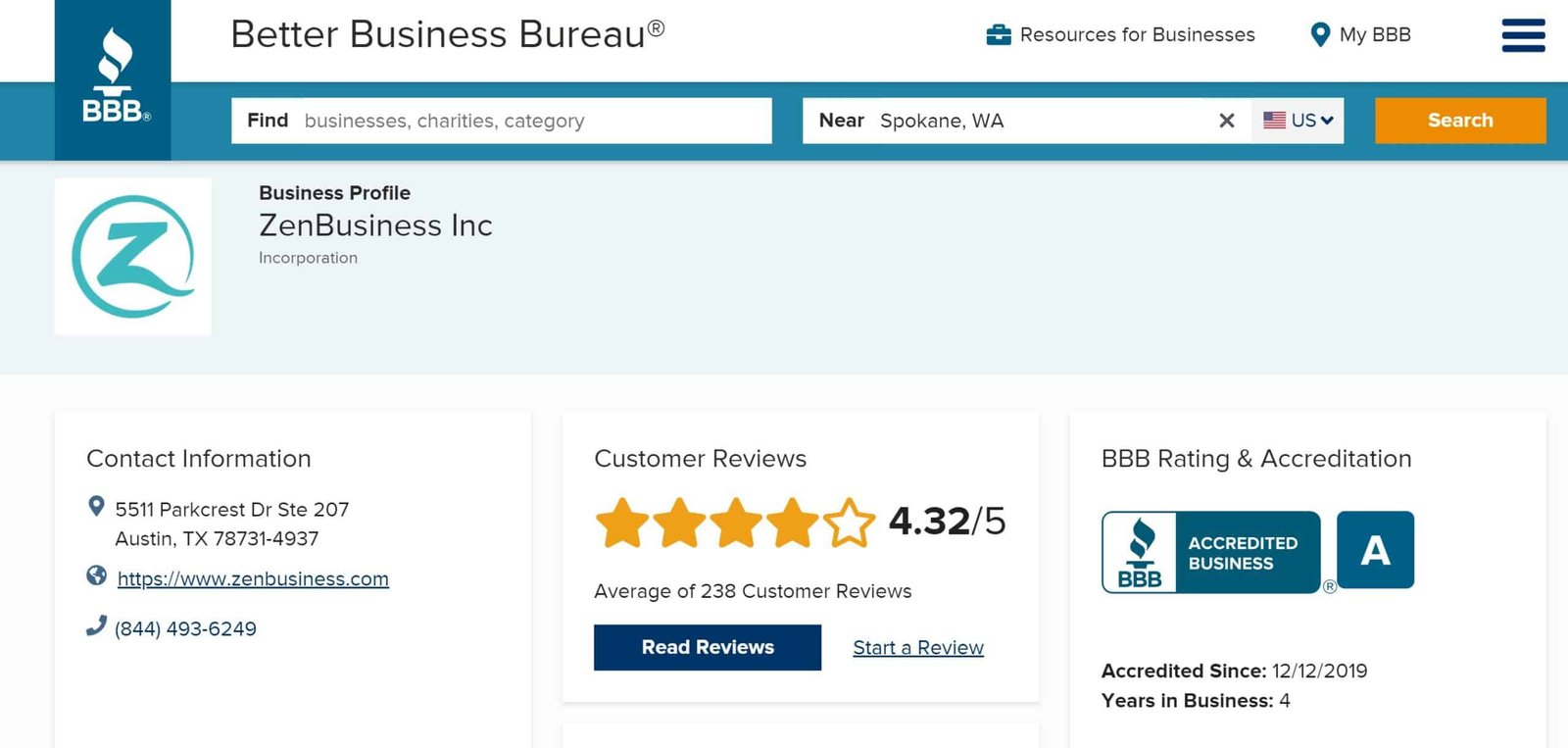 ZenBusiness has an average review score of 4.3/5 and a BBB rating of A
---
Do you want a fast and inexpensive service to get your company filed, formed, and started with the proper paperwork and requirements?

If you're thinking 'Yes,' you need to look no further than ZenBusiness LLC services. Since their formation in 2015, they've helped over 100,000+ business owners get started, and the verified customer reviews on sites like Trustpilot are very impressive. This is our ZenBusiness review for 2022.
Start-Ups
They provide a fast and inexpensive business formation and filing service to set up your Corporation, Limited Liability Company (LLC), or Non-Profit organization. 
They provide the first step of making your business dream become a reality. To help you throughout this starting-up phase, ZenBusiness will provide you with support and guidance; you'll even have a free personalized online dashboard to assist through these early stages.
Growth and Operations
ZenBusiness support does not end at the starting-up phase. Once your business is up and running, they can help you with your business operations and business growth.
ZenBusiness Video
---
ZenBusiness 5 Step Formation Process
Select your filing package
ZenBusiness files your documents to the State
The State confirms your business
ZenBusiness delivers all your documents to your personalized dashboard
ZenBusiness provides ongoing services to keep your business in compliance with the State
---
ZenBusiness's '4-S' Focus
Speed – Spending – Service – Simplicity 
Speed. ZenBusiness utilizes the latest technology and automated systems to ensure that your company formation is done with speed, efficiency, and error-free. Their mission is to get your business up and running as soon as possible.
Spending. When you start, the spending starts and the income may not yet have begun to flow. ZenBusiness want to keep your spending to z minimum at this crucial time, and they offer the best prices you'll find
Service. ZenBusiness employs a team of business formation specialists to make sure you are getting the best possible service you can get. Customer support is strong according to user reviews and our own experience communicating with them online and on the phone. Better Business Bureau gives ZenBusiness a positive rating of "A," indicating ZenBusiness is in good standing with the BBB.
Simplicity. You will not be baffled or confused by business jargon and legalese. ZenBusiness cut the red tape, they talk plain English, and they keep things simple. 
"There may be many companies offering an LLC formation service, but none will match that offered by ZenBusiness."
This ZenBusiness review will look at the company in more depth, assessing their business formation service and what you should expect from them. We'll include price, advantages, disadvantages, features, and more so you can decide if it is right for you.
What Advantages Does ZenBusiness Offer?
ZenBusiness offers one of the most cost-effective means of establishing your LLC or corporation. With business formation prices starting at a mere $49 + state fee, they are providing a similar product to competitors at almost ⅓ of the price (the same service at LegalZoom is $79 (+ $249 registered agent + $159 LLC operating agreement, EIN, + $69 Compliance Calendar).
ZenBusiness keeps things simple, with no confusing or scary language. The whole experience is designed to be a welcoming and exciting time. Starting a new business, of course, should be both of these.
Dealing with ZenBusiness, you have the confidence that comes with joining hundreds of other satisfied customers that already have. ZenBusiness has incredible customer support feedback.
They offer you a Worry-Free Guarantee, assisting you through the starting-up phase of your business with help on reporting and LLC administration as part of their Pro Package. 
ZenBusiness also takes its Corporate Social Responsibilities seriously, focusing on doing good as well as business growth. They partner with Kiva.org to eradicate poverty and issue loans to help women and minority groups with business start-up costs. Dealing with such a company, you know you'll be well looked after.
What Are The Disadvantages of ZenBusiness
In this case, we should ask what IS the disadvantage of ZenBusiness, because we could find only one, and it is this:
It isn't straightforward to ascertain the turnaround time for their service. For instance, they offer to establish an LLC in Colorado within 7-14 days with their Starter Plan.
When we ordered their Starter Plan ourselves to test it, they completed the whole process in just three days.
Although we were pleasantly surprised to have the service delivered faster than anticipated, it would be good to have the marketing material accurately reflect the time it takes.
Pricing
ZenBusiness offer three options through which to form an LLC:
ZenBusiness 'Build-Your-Own' Pricing 
| | |
| --- | --- |
| Service | Pricing |
| Registered Agent Service | $99 per year |
| Worry-Free Guarantee | $129 per year |
| Employer ID Number (EIN) | $70 one-time charge |
| Business Filing | $49 |
ZenBusiness Review: Main Features
Formation Starter Plan
This option is available for $49 plus your state's fee and includes the following features:
Conduct Name Availability Search. Searching through business databases to check that your chosen name is available can be tedious and time-consuming. ZenBusiness will complete this check for you to make sure your name is not already taken or find a suitable alternative. 
Prepare and File Your Company's Articles of Organization. These are formal state requirements. ZenBusiness has drafted and filed countless numbers of these Articles and will save you time and eliminate errors in your completing your own.
Provide You With a Registered Agent Service: All LLCs operating in the United States are required to have a registered agent. This agent can be an individual or business entity that can receive state documents on your behalf and forward them. ZenBusiness provides a registered agent service free for one year, with an option to renew at $119 per year after that.
Provide an LLC Operating Agreement Template. The LLC Operating Agreement provides details of your business' ownership structure and the way it operates. ZenBusiness provides you with a customizable template so that you get this critical document completed correctly and efficiently.
CPA Assessment. ZenBusiness offers you a free tax and accounting assessment by their licensed CPAs. This assessment will allow you to determine your tax, accounting, and bookkeeping needs. Unlike most other LLC service providers that out-source CPA assessment to 3rd-parties, ZenBusiness handles this service internally.
ZenBusiness Formation Pro Plan
This option is available for $199 plus your state's fee. It includes all the features of the Starter Plan, as well as the following:
---
ZenBusiness Premium Plan
This option is available for $299 plus your state's fee. It includes all the features of the Pro Plan, as well as the following:
Domain Name Registration. ZenBusiness will secure the domain name for your company's website, including a domain management dashboard.
Domain Name Privacy: Your personal information regarding website domain ownership will be kept from the public domain. 
Business Email Address: Premium Plan customers receive a business email account alongside 5GB of storage.
Business Website: ZenBusiness will help set you up with a brand new business website.
Priority Filing. Your company filings will be prioritized above Starter and Pro Plan users.
---
Is ZenBusiness Right For Creating Your LLC?
So far, we have seen that ZenBusiness has a lot to offer in setting up an LLC. Of course, no single company will be the right fit for everyone. So, let's see if ZenBusiness is right for forming your LLC.
We feel that ZenBusiness will be a good choice for you if affordability and value for money are your key considerations. You may also steer towards them because of their corporate social responsibility, as well as their excellent customer satisfaction levels.
ZenBusiness may not be the best solution for starting your business formation if you look at the quickest advertised turnaround time. 
---
ZenBusiness Review: Comparison With Other LLC Services
ZenBusiness vs Swyft Filings
|   | ZenBusiness | Swyft Filings |
| --- | --- | --- |
| Basic Formation | $49 | $84 |
| Registered Agent  | $99/yr | $149/yr |
| Formation and 1/yr Registered Agent | $148 | $233 |
Swyft Filings
Comparatively to the majority of other services, Swyft Filings offers decent prices and above-average turnaround times. ZenBusiness, however, is comparable to or even better than the performance of Swyft Filings while also costing considerably less.
Swyft Filings also offers many of its services via third parties, upselling many unnecessary add-ons. ZenBusiness's simpler method is more effective.
Swyft Filings is a good option for those looking for a low-cost service with a faster turnaround time than most. ZenBusiness is much more affordable than Swyft Filings and offers the same or better performance.
Swyft Filings also offers many of its services through third parties, upselling with a lot of unnecessary add-ons services. ZenBusiness's more simplified approach is better.
---
LegalZoom
|   | ZenBusiness | LegalZoom |
| --- | --- | --- |
| Basic Formation | $49 | $178 |
| Registered Agent  | $99/yr | $249/yr |
| Formation and 1/yr Registered Agent | $148 | $427 |
ZenBusiness is better priced than LegalZoom. In comparison to ZenBusiness, LegalZoom performed worse in several categories.
Most importantly, LegalZoom's formation costs are simply too high. The service is among the highest-priced we've ever seen, and yet it isn't offering any substantial value when compared to alternatives.
ZenBusiness has a higher level of customer satisfaction.
LLC Filing, Formation, EIN (Tax ID), Operating Agreement, One-Year Registered Agent, Compliance Reminders, Express Shipping
ZenBusiness Pro Plan $199 + $99 Registered Agent Service 
ZenBusiness $298 + state fee   
VS
LegalZoom $826 + state fee
$349.  LLC Filing
$249.  One-Year Registered Agent
$159.  Operating Agreement, EIN
$69.    Compliance Calendar
= $826 + state fee
Who has better prices, LegalZoom or ZenBusiness?
Answer: ZenBusiness
Summary: ZenBusiness scores better than LegalZoom in price and customer reviews. LegalZoom was lacking in many categories compared to ZenBusiness.
---
Who Has Better Prices, LegalZoom vs ZenBusiness?
ZenBusiness
ZenBusiness offers straightforward plans that are competitive compared to other suppliers. If you are forming an LLC for an online business like dropshipping, visit our list of the best dropshipping suppliers in 2022. . Plans start at $49 plus state fees, and for this, ZenBusiness will file your Articles of Organization, be your registered agent for 12 months, and provide you with an Operating Agreement. Registered agent service is then just $119 per year after that.
LegalZoom
LegalZoom's LLC formation packages are more complicated than ZenBusiness's, and they are also more expensive, $79 plus state fees being the starting price. They are also keen to upsell, evidenced when we contacted their customer service team regarding sign-up.
---
Any Formation Plans Online That Are Better Than LegalZoom or ZenBusiness?
ZenBusiness
Their incredible customer service, reviews, pricing, and straightforward LLC plans make ZenBusiness a great deal and an excellent choice.
LegalZoom
LegalZoom is a more established and recognized company in the field of creating an LLC. However, there are better deals available in terms of speed, affordability, and reliability.
Who Uses LegalZoom and ZenBusiness?
ZenBusiness
ZenBusiness is popular with entrepreneurs:
Wanting a premium-level service at a budget-level price
Desiring their LLC to be set up quickly without having to pay a premium for this speed. 
Requiring ongoing support in terms of filing deadline alerts.
Wanting the benefit of worry-free annual reporting.
---
LegalZoom
LegalZoom is popular with entrepreneurs who:
Want to work with a long-established company.
Do not mind paying a premium for the service.
They are in no hurry to establish their LLC.
Are willing to pay an additional sum for a speedy service.
Want ongoing legal services.
What do LegalZoom and ZenBusiness customers say?
We gave an example of the ZenBusiness Trustpilot reviews above. Here is a recent sample of LegalZoom's Trustpilot reviews from 2021.
LegalZoom Reviews on Trustpilot December 16, 2021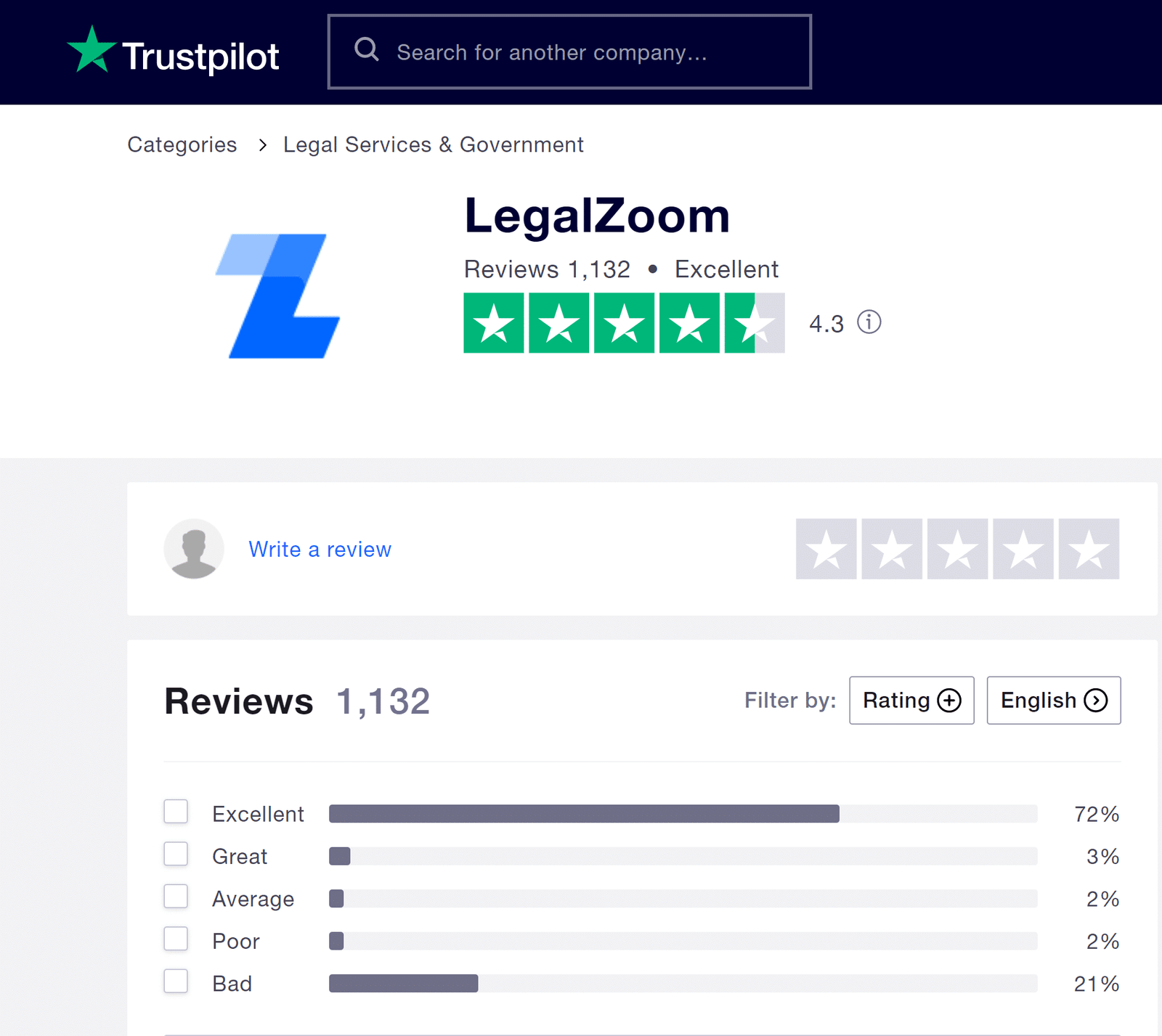 ZenBusiness Reviews on Trustpilot December 16, 2021
Visit the reviews on Trustpilot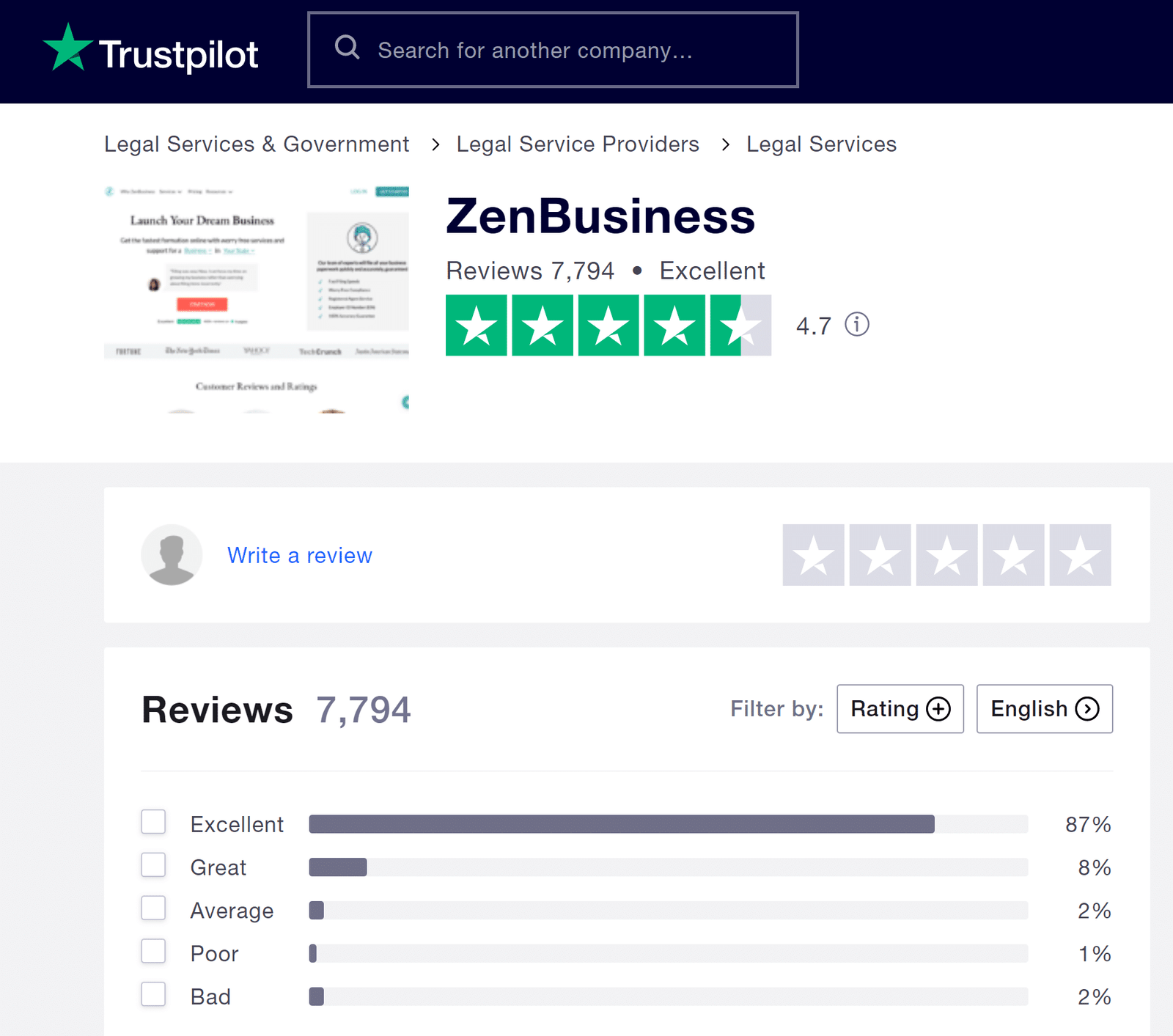 ---
ZenBusiness Customer Support
ZenBusiness provides extended customer support hours:
Monday to Friday 8 am – 8 pm central time + Sunday, 10 am – 7 pm central time.
Chat: You can chat online at zenbusiness.com during their extended support hours.
Phone: Call ZenBusiness at 1-844-493-6249 during their extended support hours.
Email: Get in touch at support@zenbusiness.com and expect a reply within one business day.
Extended customer support hours are especially convenient when you are processing your legal documents and need to contact the registered agent department.
---
Frequently Asked Questions
Is ZenBusiness is a good choice?
ZenBusiness is on our top 10 list for best LLC formation services. They offer everything you will need to form your LLC, at the most affordable price.
What does ZenBusiness do exactly?
ZenBusiness provides LLC and Corporation formation services. They take care of all administrative requirements and filings for your LLC or Corporation so you can concentrate on growing your business.
How much does ZenBusiness cost to start an LLC?
LLC formation can be as low as $49. The $149 plan is recommended for most business owners. ZenBusiness offers the best pricing in the LLC creation industry.
Which LLC package is best suited for ZenBusiness?
The ZenBusiness Pro plan is highly recommended by most founders. It includes everything you need to launch your business right away.
Why would I use ZenBusiness annually?
ZenBusiness charges an annual service fee for its registered agent. A registered agent is required by law for companies to be appointed and maintained in order to receive legal correspondence. You can change your registered agent at any time.
Where is Zenbusiness based?
Zenbusiness offices are located in Austin, Texas 
How long does EIN take ZenBusiness to complete?
ZenBusiness will request your EIN at the IRS once your business entity is registered. Most people receive their EIN within 24 hours of registering.
How do I reach my ZenBusiness registered agent
ZenBusiness is the registered representative. Call them at 1-844-493-6249 or contact them via email at support@zenbusiness.com.
ZenBusiness offers a return policy
ZenBusiness offers a full refund, less any fees. You can contact ZenBusiness immediately to report an error.
ZenBusiness offers good customer support
ZenBusiness seems to provide good customer service. ZenBusiness is the only service that provides extended support hours beyond live chat, telephone, and email.
What is ZenBusiness Worry-Free Guarantee?
ZenBusiness' worry-free guarantee covers your annual reports and up to 2 amendments. Their team will manage your filings, so you don't have to worry if there are any compliance deadlines or if there are errors.
Do customers have to use business formation services
No. You are not required to use the formation service. ZenBusiness offers all of its services at a single price. You can choose the package that suits you best.
Does ZenBusiness offer good value?
ZenBusiness provides the best value. They offer the most affordable formation services starting at $49 + State fees.
Are ZenBusiness reviews from customers any good?
Trustpilot gives ZenBusiness an average score of 4.8 points out of 5. You can find consistent positive reviews from all review sites for ZenBusiness. Their fast turnaround times, low prices, and helpful customer service are all highly praised.
What is the difference in ZenBusiness from other business formation firms?
ZenBusiness can offer more for less. Prices for LLC formation start from $49 + state fees, which is among the most affordable on the market. Turnaround times for formation/incorporation are very quick and their customer support is excellent.
Are there alternatives to ZenBusiness
Yes, alternatives exist. We recommend Incfile and Northwest Registered Agent as alternatives to ZenBusiness.
Is ZenBusiness legit?
Yes, Zenbusiness can be trusted. The company was founded by Zenbusiness in 2015. Since then, hundreds of thousands have been created through the incorporation of corporations and LLC's.
---
Conclusion
That's our ZenBusiness review for 2022.
Having reviewed all the top LLC formation companies and placed them in ranking order, ZenBusiness came out on top given the criteria we used. Their excellent price structure and incredible customer service were key features in this. We aren't the only ones who favor ZenBusiness; other rankings online tend to rank ZenBusiness at the top for best LLC services recently.
Whether forming a limited liability company, incorporating an S-Corp, C-Corp, or forming a non-profit, ZenBusiness has assisted over 100,000 business owners complete the business entity formation process in just three years, and their solid customer reviews say a lot about this company.
For more information on ZenBusiness and its LLC formation service, visit this ZenBusiness review.
ZenBusiness's price was considerably lower than LegalZoom, and at the critical start-up phase of a business, savings like these make all the difference. ZenBusiness is the service we would feel confident in recommending to friends and family.
ZenBusiness Address
5511 Parkcrest Drive STE 103
Austin, Texas 78731
Customer Support
Phone or Chat, Monday – Friday, 8 am – 8 pm Central time, or Sunday from 10 am – 7 pm Central time.