We Review 3 Online Incorporation Services For Startups In 2021: Clerky, Gust Launch & Stripe Atlas
The United States makes it easy for enterprising individuals to start a business. It takes four things to start: a great idea, strong business-minded individuals, funding, and someone good in legal matters.
But sometimes, the latter is set aside through all the excitement and momentum in pushing the idea, and the legal details important they may be, are the boring parts no one wants to handle or has the aptitude to.
Clerky
https://www.clerky.com
Gust
https://gust.com
Stripe Atlas
https://stripe.com/atlas
---
How To Start An LLC
How To Form An LLC For Free
---

Northwest Registered Agent  (#1 Recommended for 2022)
Business Formation and One-Year of Registered Agent Service $225  $39 (discount for our readers)
Visit Northwest Registered Agent
---
Incfile
Business Formation and One-Year of Registered Agent Services $149
Visit Incfile
---
Incorporating Your Startup In 2021
Unfortunately, registering and incorporating the business is just as important as the other requirements unless you're simply selling lemonade on the sidewalk. It would help if you let the state know that you'll be running a business to make it legal and that your business liabilities and legal obligations should be separated from your personal ones.
Incorporation and other legal matters are not something that anyone can handle or would honestly want to; they want to get down to business right away. But there are people and companies out there who are actually enthusiastic about helping others get their businesses off the ground.
Startups can go to online legal services to help register their companies with the state or incorporate services that handle legal matters.
The top online company formation services assist hundreds of thousands of entrepreneurs to form an LLC, C-Corp, S-Corp, or Delaware Corporation online and do it in any state. ZenBusiness has helped over 100,000+ entrepreneurs form a business in just the past 3 years! 
Incfile has formed over 500,000 businesses in the past 20 years.
---
For startups excited to get into business immediately and make as much money as possible while the idea is fresh, it's recommended to work with incorporation services such as ZenBusiness, Incfile, or Northwest Registered Agent. These are considered affordable and among the best incorporation services.
We have already covered those services, and we think they are the best incorporation services right now, but there are some new kids on the block, such as Clerky, Gust, and Stripe Atlas. These three services handle the incorporation process and post-incorporation requirements also. We will focus on Clerky, Gust, and Stripe Atlas for this article.
Depending on the type of business (LLC, C-Corporation, S-Corporation), these requirements include:
Publish notice of the incorporation

Documents for bylaws

Issuing shares of stock to owners and founder vesting

Holding organizational meetings of shareholders

Obtaining federal tax identification numbers (EIN)

Opening business bank accounts

And many more, plus some annual requirements depending on the state
Business owners and partners will only be required to log in to their respective websites, fill in the blanks, attend a few online meetings, and digitally sign papers. At the same time, the incorporation service does the rest.
While more affordable online legal services such as Incfile and Legalzoom can also get your business up to speed, sometimes you can get what you pay for, a good chance of something going wrong.
Your business cannot afford any mistakes during incorporation, and those mistakes can be costly and time-consuming.
---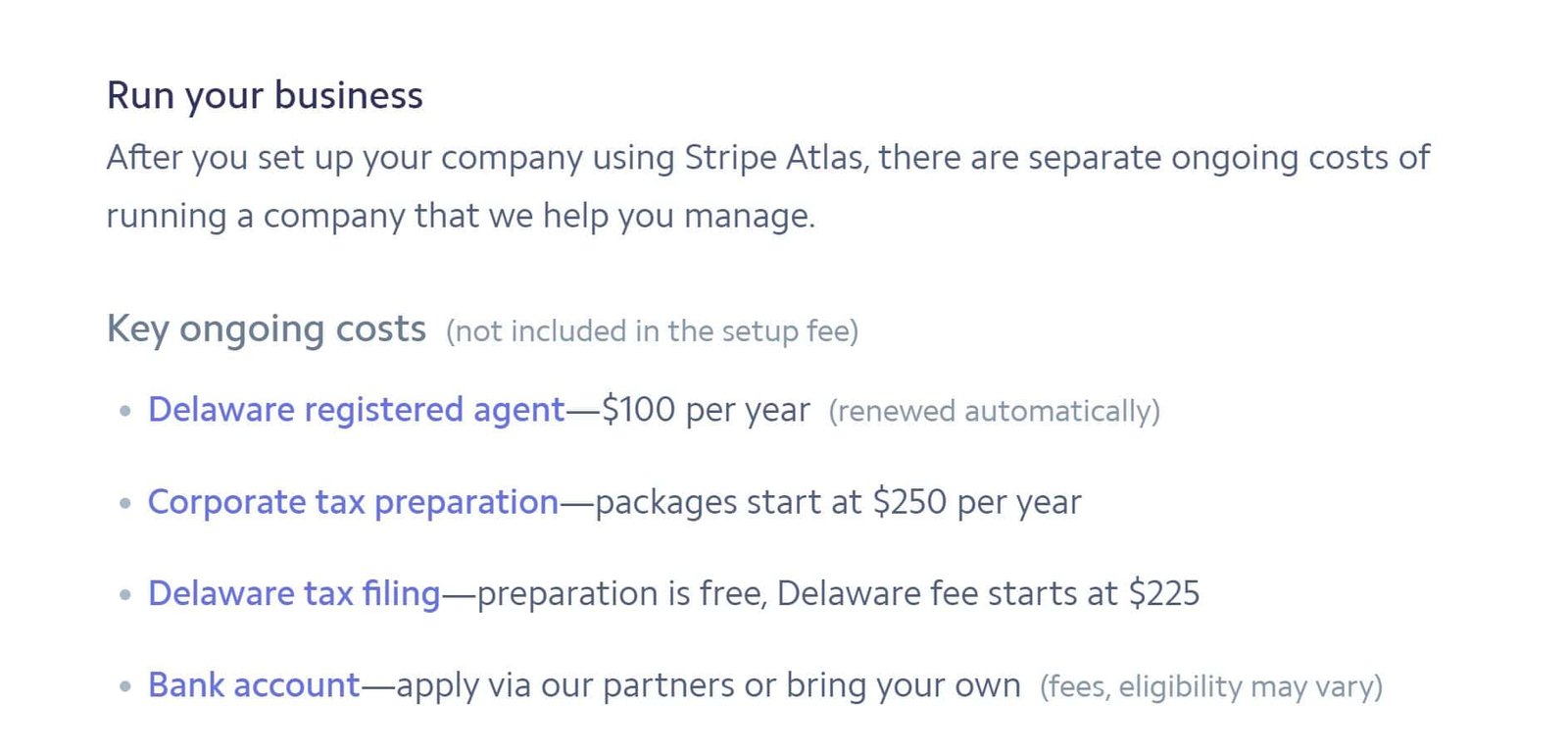 ---
Stripe Atlas vs. Gust vs. Clerky
There are plenty of incorporation services out there, which is why there are so many startups that have quickly turned into profitable companies in the past few years. Because the incorporation process is mostly standard and these companies act as guiding hands for a fee.
The top options available are Clerky, Gust, and Stripe Atlas. We'll be discussing the difference between the three and the advantages and disadvantages of acquiring their services. Below is a quick summary.
Clerky
Why incorporate through an incorporation service? Because lawyer-led incorporation can take time and is generally more expensive. Incorporation services are basically assembly lines for churning out companies from enterprising individuals.

They render this service for startups run by young, dynamic persons who are too busy or too bored to handle the legal paperwork.
Procedures and templates are ready, just waiting for specific info from companies. Unless the company is a once-in-a-decade game-changer, the incorporation process should be straightforward, and any difference would be minor.
Let's begin with Clerky. Clerky is a convenient online solution that is popular among startups who want to incorporate as C-Corporations. C-Corporations benefit startups with international or out-of-state founders. This company is efficient and affordable in many aspects and comes highly recommended by its clients due to its accuracy and reliability.
Clerky incorporates your company in two steps. Incorporation and post-incorporation. With Clerky, incorporation becomes a speedy process. Filing is done within 24 hours of online form completion and submission of required documents.
Filing is done in Delaware, which has very business-friendly policies, hence Clerky's limitation to C-Corporations, as LLCs can't be filed out-of-state.
Even though it's a business-friendly state, not everyone can run their business within Delaware. Post-incorporation includes the creation of documents for bylaws, IP assignment, and founder vesting. And since Clerky files in the state of Delaware, foreign qualifications for out-of-state businesses are handled quite well.
Clerky also has a very knowledgeable support team, perhaps because of their focus on incorporating C-Corporations alone as well as their limited line of post-incorporation services.
This support team will, of course, work within the incorporation period and not after since Clerky is paid one-time. They can guide clients through all the legalese during the incorporation and document customization and modifications during the post-incorporation process.
Unlike Gust and Stripe Atlas, Clerky is a one-time deal. While still affordable at $700, it's over $200 higher than the competition, but their attention to detail and accuracy is well worth it. And because it's a one-time payment, there are no annual fees to worry about.
The downside to this is that you may have to pay for any support after having your company up and running. This support may take the form of their other services that include creating non-disclosure agreements, charter amendments that involve modification of shares, and name changes and changes to the board.
Strong as it is, Clerky is only limited to C-Corporations, so anyone who wants to be an LLC or S Corporation will have to go elsewhere.
Even if you don't opt for incorporation services, your law firm might even refer to Clerky to handle the usual incorporation processes as they appreciate Clerky's attention to detail.
---
Gust Launch
'Helping Founders Build Investable Companies'
Gust is the most affordable of the three main incorporation services in this article, at $300 per annum for the basic package. Still more affordable than Clerky if you plan to maintain their services for up to two years.
This affordability, however, is designed to lure clients into some of their other post-incorporation services, which can later be useful. However, their clients also attest to their reliability in their incorporation process. Much like Clerky, the incorporation process is mostly straightforward.
The basic incorporation package includes Incorporation, Post incorporation, stock and cap table, Board actions, finance tools, dedicated support, and what's unique is a free amount of Amazon Web Services Credits your company can use to host a computing infrastructure.
Like Clerky, Gust also caters only to C Corporations and incorporates them in Delaware and, with that, also provides foreign qualifications for out-of-Delaware businesses.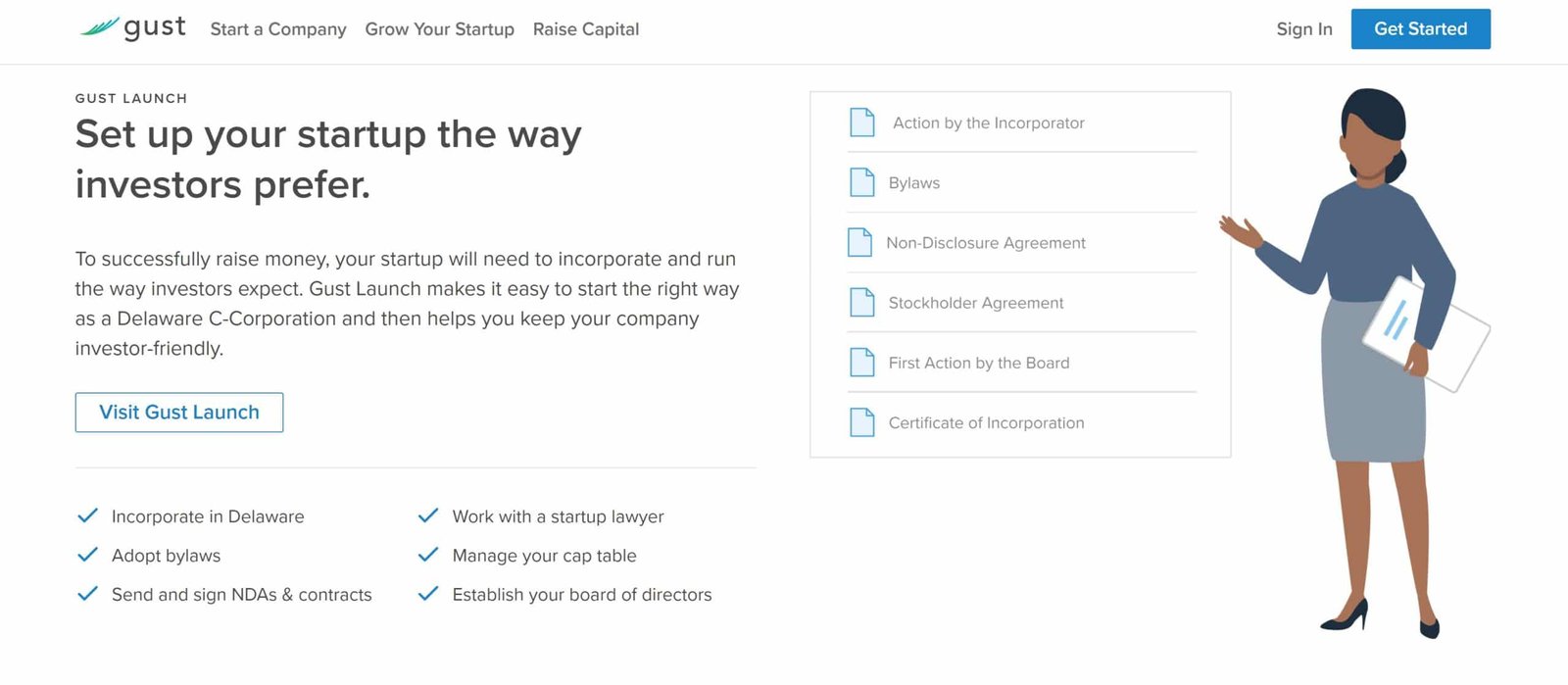 Unlike Clerky, Gust's support personnel are hit and miss, partly because their knowledge is spread a bit thin among the main product, which is the incorporation and their other services, not to mention their more expensive packages, which of course include more features.
An improvement to their support is essential as they market themselves more as a subscription service instead of a one-time incorporator.
They provide a cap table software to monitor shares and equity, legal document tracking, and a private founder community. Plus, their link to AWS warrants continuous support.
Their other products include their Pre-Revenue module to handle finance and Revenue and Billing module to handle payments.
---
Stripe Atlas
The first thing that comes to mind about Stripe Atlas is its relation to the payment company. The answer is yes. Now, if you're a foreign national who wishes to open a company in the United States, Stripe Atlas would be a great option.
Since US bank accounts are essential to start a business in the US, Stripe Atlas makes it possible through a registered agent and a partnership agreement with a Silicon Valley Bank. Stripe Atlas can also allow you to incorporate a C-Corporation and an LLC or an S-Corporation.
Since LLCs are the most favored type of company for US-based founders, many startups prefer Stripe Atlas. International founders are better off incorporated as C-Corps in Delaware but limited to a Silicon Valley bank SVB. As per their website, they've already catered to founders from over 140 countries.
With that, Stripe Atlas offers its clients a Stripe account that can handle over 100 different currencies. Stripe Atlas will, of course, leverage the Stripe payment system and other products for retail companies.
The price? Stripe Atlas company formation service starts from $500 to be paid annually for support services. Processing is relatively fast and is completed in a matter of days. For post-incorporation advice and support, there's an additional $349.
Now services may be hit or miss as Stripe Atlas would be more preoccupied with selling their Stripe account. Plus, their choice of Silicon Valley Bank is frowned upon by those familiar with the bank. Other than those issues, Stripe Atlas remains one of the leading incorporation services available.
Stripe Atlas works with a legal partner specializing in the legal matters of incorporation when it comes to documentation.
---
Conclusion
If you wish to incorporate as a C-Corporation, then Clerky of Gust is for you. Otherwise, your choices are limited to Stripe Atlas or other incorporation services. Incorporating as a C-Corporation, though, has the benefit of being incorporated in Delaware (despite not doing business there), which by itself has plenty of benefits.
If your company is in the retail business, Stripe Atlas would be a good bet. They can help you integrate immediately with their payment tools since Stripe is foremost an online payment company similar to Square. Also, if you're an offshore investor in need of a US bank account but cannot show up, Stripe makes it possible.
If you're more interested in an affordable yet reliable incorporation process along with software tools and discounted cloud hosting, then you can go with Gust, but visit our list of the top 10 picks for best LLC formation and incorporation websites first.