This LegalZoom vs ZenBusiness review is a comprehension examination and comparison of the LLC formation services of two leaders in the field.
I have researched the
best LLC services
and the
best registered agents
in the U.S. and picked a short list based on various factors, including turnaround time, pricing, features, ease of use, experience, educational resources, customer support, and customer reviews.
Table of Contents
LegalZoom vs ZenBusiness: Price Comparison Table
|   | ZenBusiness | LegalZoom |
| --- | --- | --- |
| Basic Formation | $49 | $79 |
| Registered Agent  | $99/yr | $249/yr |
| Formation with Registered Agent Service | $148 | $328 |
When forming a USA–based LLC, a designated registered agent is necessary. A registered agent's services involve using their mailing address, which will serve as your company's business address.
As a result, your registered agent will receive crucial documentation as your representative, including court summons (among other correspondence from the state government).
Many companies offer registered agent and LLC formation services on the Internet. At times, it can be difficult to figure out which of them has your business's best interests at heart.
The following article will compare ZenBusiness vs. LegalZoom to determine which companies offer superior registered agent and LLC formation services.
A limited liability company (LLC) is a popular American business structure. Thousands of LLCs are formed each day. An LLC integrates a corporation's rigid formalities with a sole proprietorship or general partnership's casual nature.
LegalZoom vs ZenBusiness: Customer Reviews on Trustpilot
ZenBusiness Customer Reviews on Trustpilot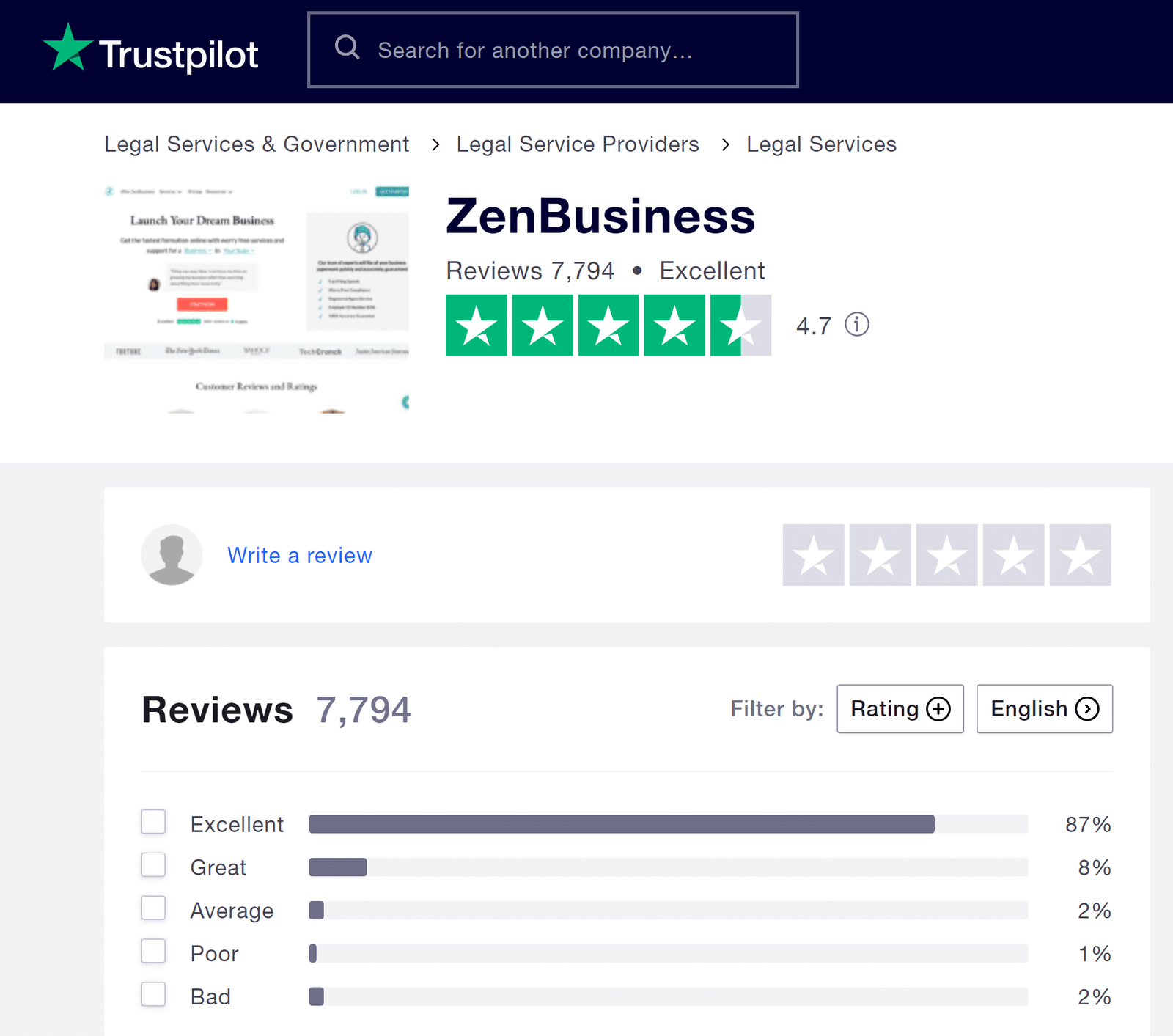 LegalZoom Customer Reviews on Trustpilot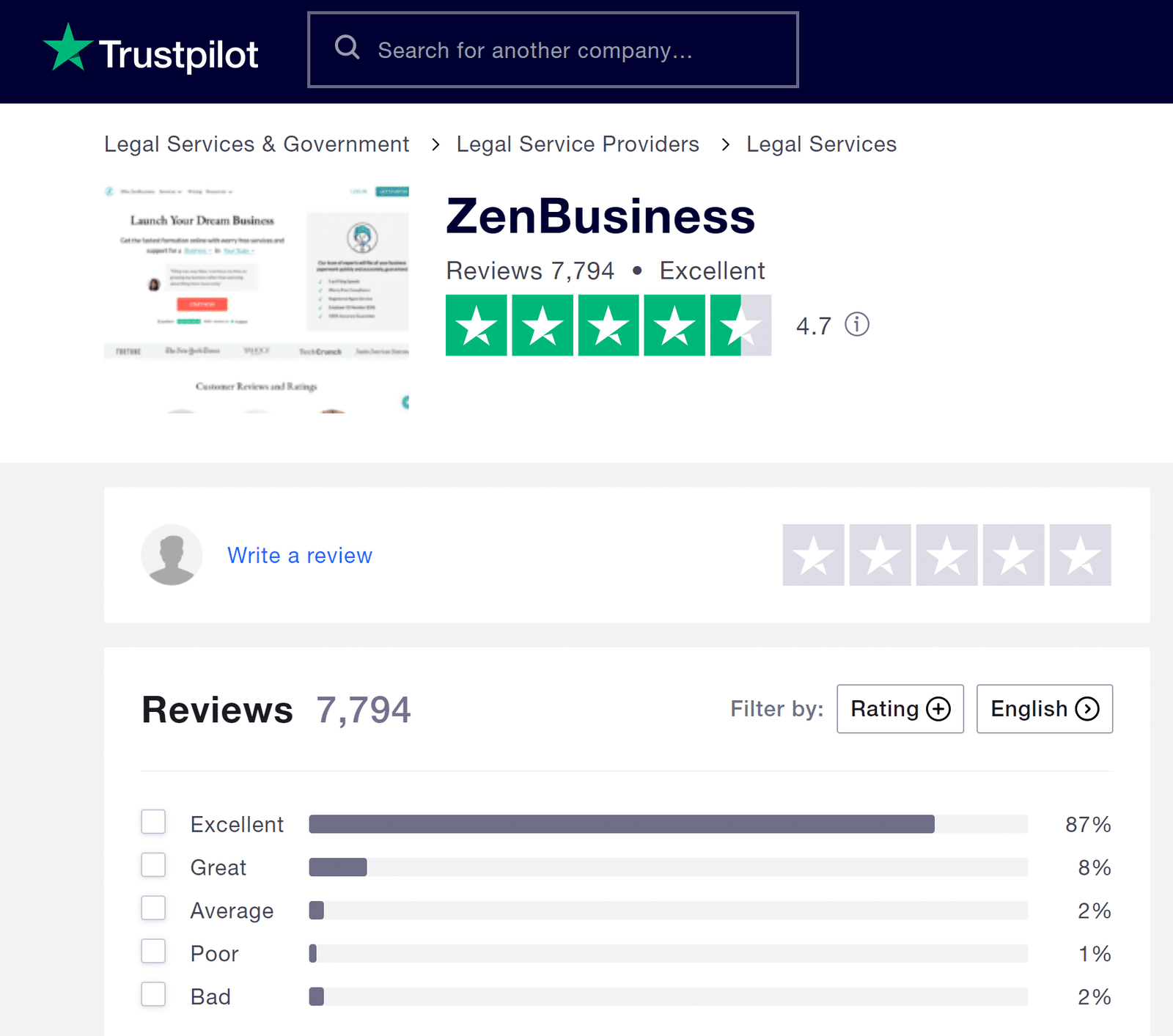 ---
Summary of Findings
LegalZoom has improved its reviews on Trustpilot. Both services have a high score on Trustpilot

LegalZoom = "Excellent"
ZenBusiness = "Excellent"
---
LegalZoom vs ZenBusiness: Pricing Differences
We compare the LLC formation plans and prices of LegalZoom LLC services and ZenBusiness LLC services, two popular online formation businesses in 2021.

---

---
LegalZoom 'Standard' vs ZenBusiness 'Pro' LLC Packages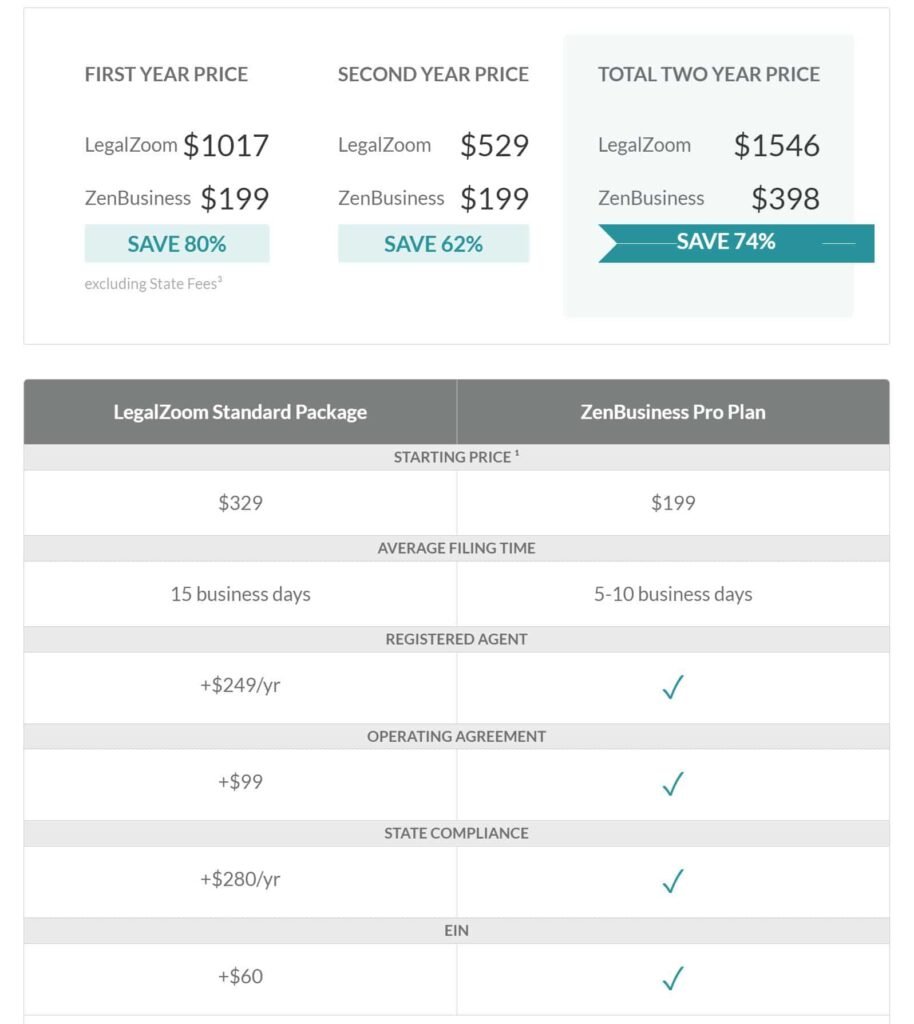 ---
LegalZoom LLC Service Packages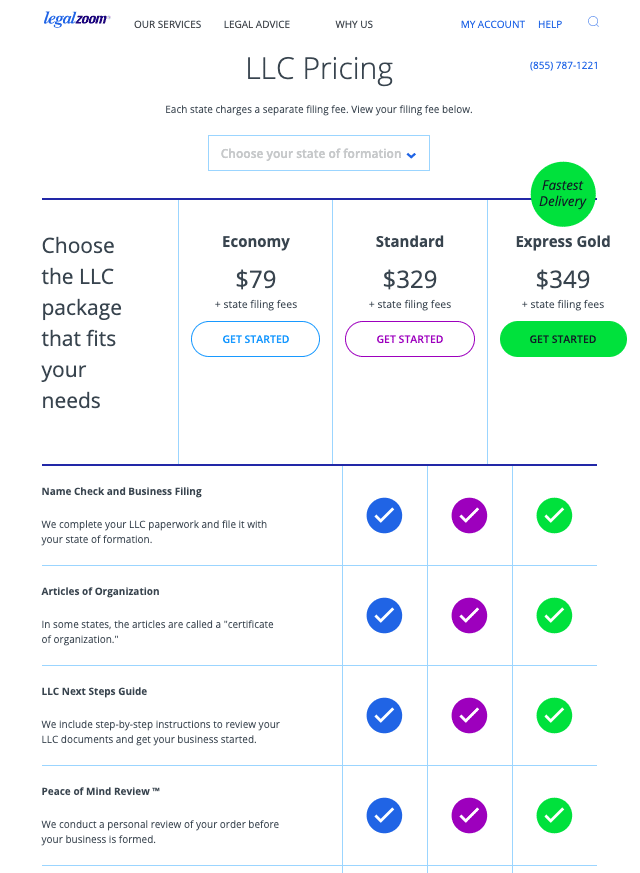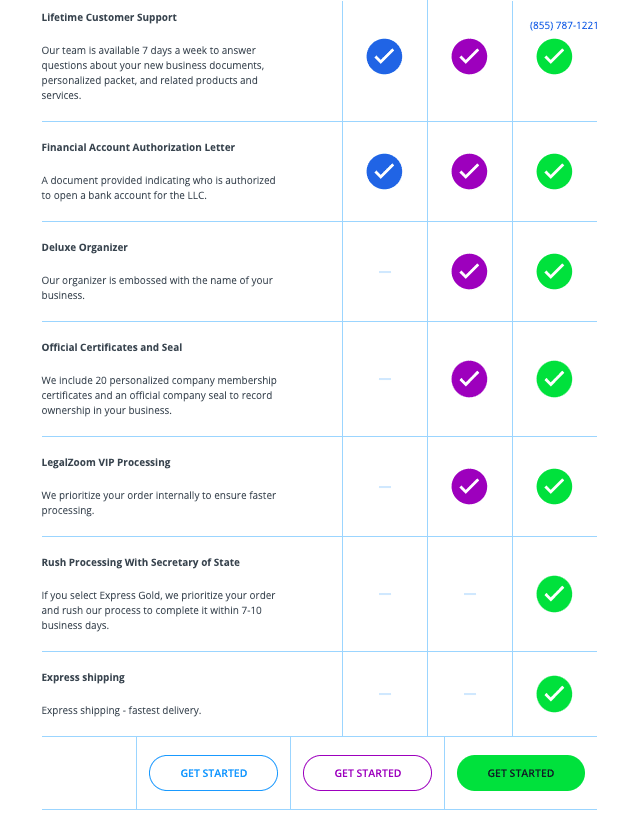 Services not included in the above plans but can be added on,
Registered Agent
Operating Agreement with EIN
"Compliance Calendar" feature

Formation Prices For Their Top LLC Package
LegalZoom Gold Plan
$329 Express Gold 10 business days
$249 Registered Agent 1 year (Charged when documents sent to state) 
$159 Operating Agreement and EIN
$280 Total Compliance  
= $1017 + state fees  LegalZoom Standard Plan 
---
The Best LLC Service
ZenBusiness Pro Plan
Express 5-10 business days, Operating Agreement, Worry-Free Guarantee
= $199 + state fees  ZenBusiness Pro
These prices were gathered from the LegalZoom and ZenBusiness websites in early 2021 and may change at any time. 
Business Website & Email 
The ZenBusiness 'Premium Plan' Includes a Business Website, Domain Name, and Website Dashboard
A website can also be added to the Pro Plan or Starter Plan
Website $100/year
Domain Name $25/year
ZenBusiness offers all customers a personalized dashboard to set up and customize their domain name and website at any time from a computer or mobile device.
---
✅ Set up your domain name
✅ Select a website template
✅ Customize your content and designs
✅ Generate new leads and customers
✅ Take payment from your website
Better Business Bureau Ratings 2022
ZenBusiness BBB Rating of  2022
ZenBusiness BBB Rating: A
ZenBusiness Customer Reviews Average Review Score: 4.3/5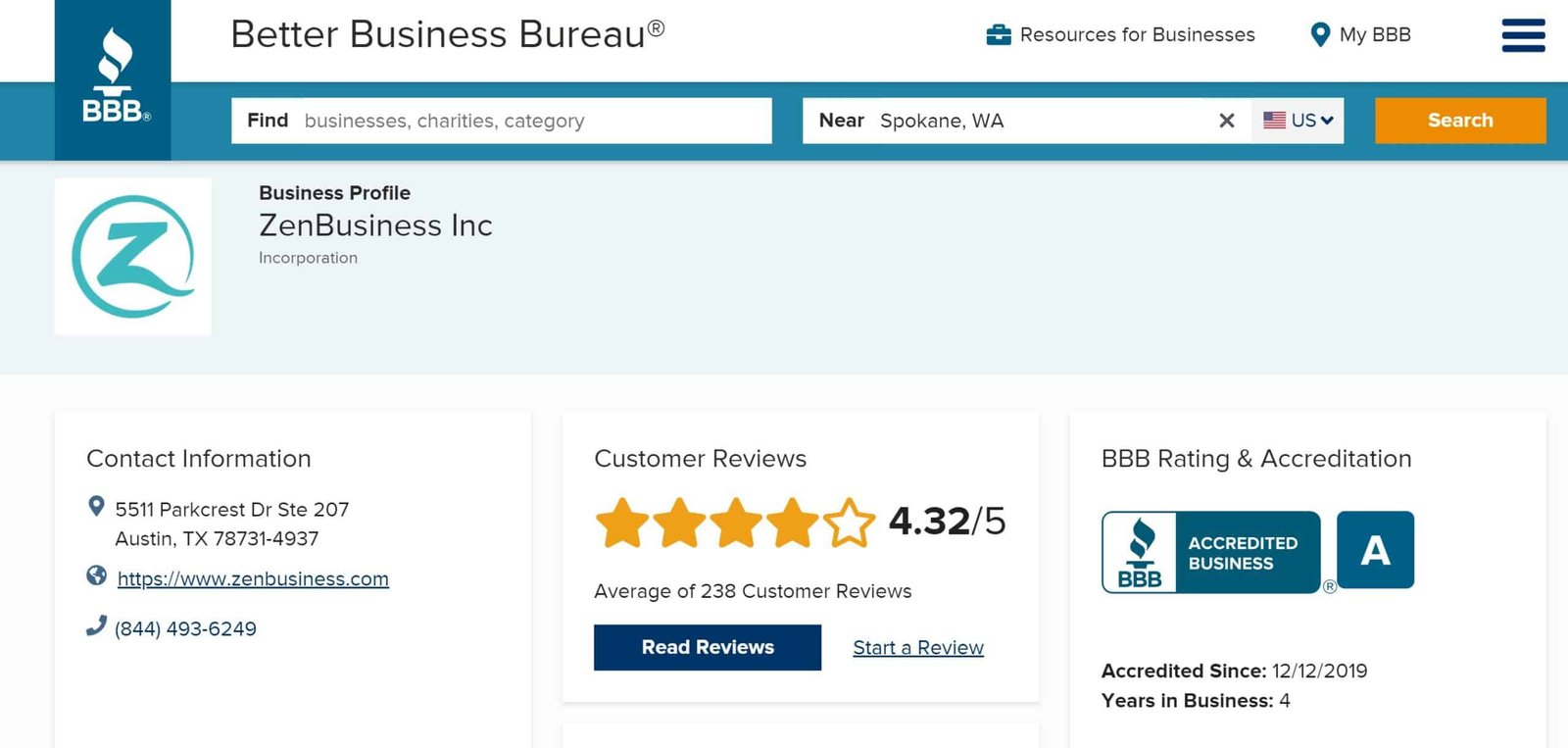 ---
LegalZoom BBB Rating of January 2022
LegalZoom BBB Rating: A
LegalZoom Customer Reviews Average Review Score: 4.4/5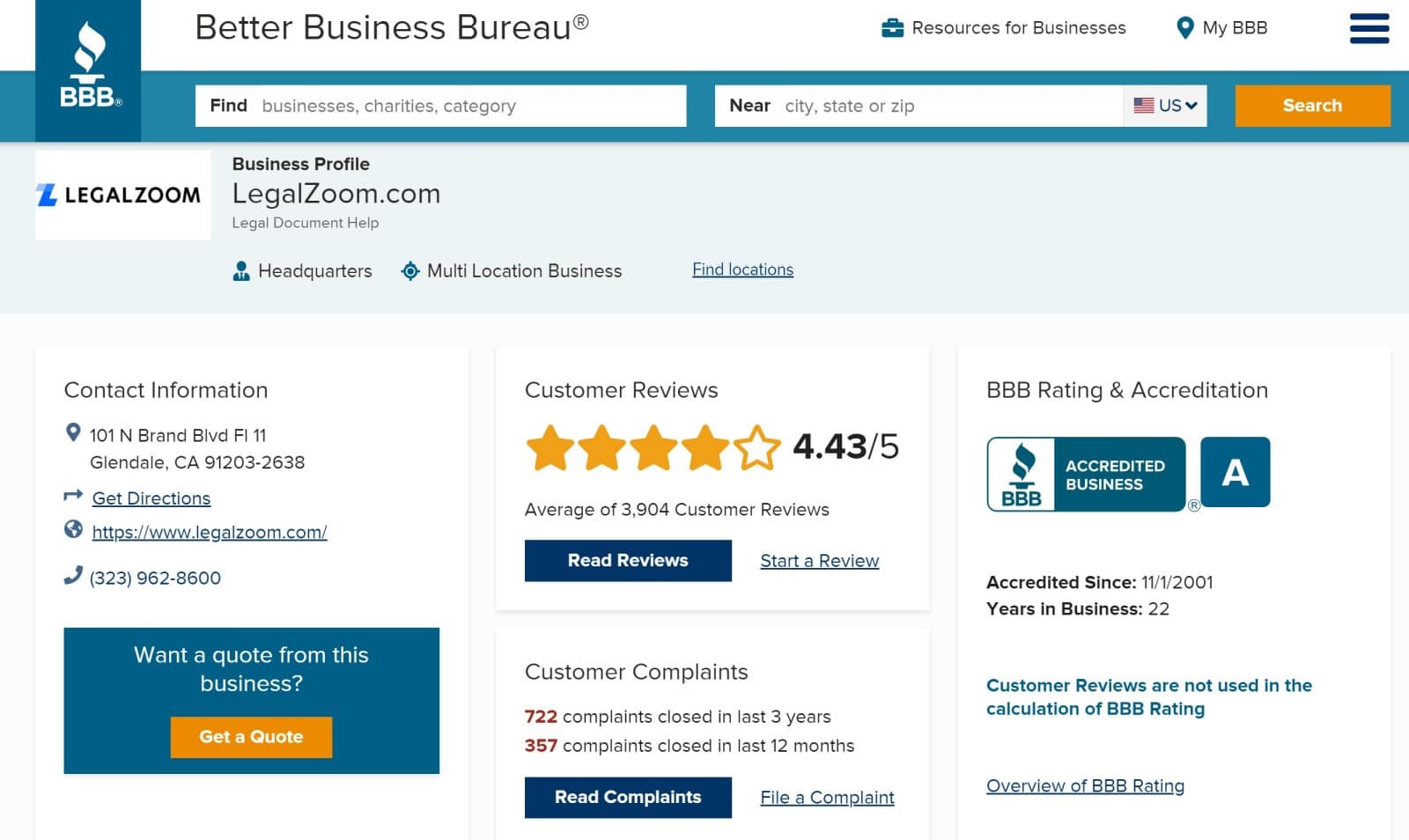 Comparing LegalZoom & ZenBusiness
When discussing incorporation services available on the Internet, LegalZoom is the name that immediately comes to mind. That is because they have served countless amounts of customers. They also heavily advertise on several different platforms.
Their pricing models happen to be more expensive than their competition's. Further, registered agent services aren't included with the LLC formation plans they provide.
ZenBusiness has several aspects of the formation process automated. In doing so, they can provide customers with the lowest price points possible.
Though the company has been in business only for a handful of years now, they have steadily increased their presence on the Internet. The number of people they've served to this day total up to thousands of satisfied customers.
We are partial to ZenBusiness, more so than LegalZoom, as the former isn't as costly. Best of all, no corners are cut, as far as features or services go. Also, ZenBusiness doesn't try to upsell you as much as LegalZoom does.
LLC Formation Plan Comparison Tables
| | | |
| --- | --- | --- |
|   | ZenBusiness Starter | LegalZoom Economy |
| Cost | $49/year plus state fee | $79/year plus state fee |
| Time to process orders | 10-14 business days | 30 business days |
| Included Registered Agent | No, it's an addon $119/year. | No. You can add $299/year |
| Operating Agreement | Yes | You can pay $99 more |
| EIN Registration | No. You can still add $70 | Yes. It is possible to add $60. However, it must be bundled together with an operating agreement ($159 total). |
| Business website | $100/year | No |
| Business Domain Name | $25/year | No |
| Email address for businesses | $25/year. However, domain names must be purchased together ($50 total). | No |
Note ZenBusiness offers customers the ability to pay more for expedited filing (4-9 business days) or Rush filing (1-3 business days) with a basic member.
Mid-level plan comparison
| | | |
| --- | --- | --- |
|   | ZenBusiness Pro | LegalZoom |
| Cost | $199/year plus state fee | $329/year plus state fee |
| Processing Time | 4-9 business days | 15 business days |
| Registered Agent | No, it's an extra $119/year. | Yes. You can add $299/year |
| Operating Agreement | Yes | No. You can add $99 additional |
| EIN Registration fee | Yes | No. You can still add $79 |
| Business Website | $100/year | No |
| Domain name for business | $25/year | No |
| Email Address for Business | $25/year. However, domain names must be purchased together ($50 total). | No |
Top-level plan comparison
| | | |
| --- | --- | --- |
|   | ZenBusiness Premium | LegalZoom Express Gold |
| Cost | $299/year | $349/year plus state fee |
| Time to process orders | 1-3 business days | 10 business days |
| Registered Agent | No, it's $119/year. | Yes. You can add $299/year |
| EIN Registration fee | Yes | Yes. You can also add $79 |
| Website for Businesses | Yes | No |
| Name of a business domain | Yes | No |
| Business email address | Yes | No |
Additional Features and Pricing
ZenBusiness:
Registered Agent (annual cost of $99) – the annual cost will be waived if your company is formed through ZenBusiness. Besides having them act as your business's registered agent, no additional features are included with this service.
LLC Formation (begins at $49) – you can form an LLC for as low as $49 (which doesn't include the state fees) through ZenBusiness. In doing so, you will receive an operating agreement sample, Articles of Organization preparation (as well as filing), and an availability search for your business name.
Who should consider using ZenBusiness? This company is our top pick as far as LLC formation services go. They are our runner-up choice for registered agent services, too.
We recommend this company to those who want a company formed and/or require registered agent services. You really can't go wrong with a $49 starting price point.
LegalZoom:
Registered Agent (LegalZoom charges an annual cost of $249 a year) – if your business is formed through LegalZoom, your registered agent fees will only cost $159, rather than the standard $299 per year. You'll also receive registered agent service essentials, including compliance calendars for tax deadlines and annual reports.
LLC Formation (begins at $79) – essential LLC formation fundamentals are included with this price, including complete preparation of the Articles of Organization required for your business. It also includes filing completed documentation with the state you're in. LegalZoom will provide you with a bank authorization letter, which may be necessary when opening up business savings and/or checking account.
Who is LegalZoom most suitable for? Those who prioritize companies with strong brand power and popularity. Be mindful that LegalZoom's prices are not the cheapest compared to the competition, nor do they offer as many features as their competitors.
LegalZoom vs ZenBusiness
Prices for Registered Agent Services (One Year) and LLC Formation
LegalZoom: LegalZoom charges $249.
ZenBusiness: $99. a year.
---
LegalZoom vs. ZenBusiness Customer Reviews
LegalZoom: We found more than 1400 reviews about the services provided by LegalZoom on feedback sites like Consumer Affairs, the BBB, and Sitejabber, the latter of which had 859 (mostly positive) reviews. Consumer Affairs had 395 reviews about LegalZoom, but only half of them were positive ones.
In 2021, the BBB has 174+ reviews about LegalZoom, and most of them are overwhelmingly negative.
ZenBusiness: Trustpilot has 5800+ user reviews on ZenBusiness, 95% of which are positive. Those who left reviews appreciated how inexpensive it was to form their business entities. A lot of these reviews acknowledged the user-friendliness that ZenBusiness provided them with.
---
ZenBusiness Customer Service vs. LegalZoom Customer Service
Customer Service Quality
LegalZoom: as far as reputations go, LegalZoom's is somewhat shaky, particularly regarding customer service. Based on our experience, we found LegalZoom's phone support to be good.
LegalZoom Customer Support: (800) 773-0888
Mon-Fri: 5 a.m.-7 p.m. Pacific Time  Weekends: 7 a.m.-4 p.m. PT
The responses we received from their customer service representatives were accurate and thorough, no matter what our concerns or questions entailed.
The company's email support isn't as impressive, though. One of the emails we sent didn't get a reply for seven days. It came across more like a template when we did get one, and it didn't answer the questions we had.
---
ZenBusiness: the customer support staff of ZenBusiness can be reached by email, live chat, or phone.
ZenBusiness Customer Support: (844) 493-6249
Phone or Chat, Monday – Friday, 8 am – 8 pm Central time, or Sunday from 10 am – 7 pm Central time.
Even weekends! They can be reached between 10 AM and 7 PM Central time on Sundays.
For the most part, their customer service is on par with most of its competitors. ZenBusiness representatives had always replied to our messages fast. We found them to be quite knowledgeable, too.
---
LegalZoom vs ZenBusiness
Track Record and Company Staff
LegalZoom: LegalZoom has served just under 4 million customers since they debuted at the end of the 90s. In fact, over a million businesses have been formed by them since 1999. LegalZoom has an impressive corporate reach and brand power, attributed to its comprehensive advertising endeavors.
ZenBusiness: this five-year-old company is based in Texas. ZenBusiness offers inexpensive services for everything required to keep your business entity compliant.
---
LegalZoom vs ZenBusiness: Details and Our Findings
LegalZoom (overall score – 3.8 out of 5): the company's prices aren't anything to brag about, particularly when you consider the lack of features that come with their packages. Worse, feedback from clients is mostly "bad" but mixed. Hey, we are just reporting the facts published on authority websites like Trustpilot.
If brand power and customer volume are something you prioritize over value for your dollar, then LegalZoom is the choice for you. Otherwise, we would encourage you to use ZenBusiness.
ZenBusiness (overall score – 4.9 out of 5): we recommend ZenBusiness as the top LLC formation company. They also come in second place, as far as registered agent services go. For $49, they will offer you complete LLC formation services, including 12 months of registered agent services. Keeping in mind all the features you get for this price, it is unlikely that you will find anything cheaper. Best of all, their prices aren't at the expense of quality.

Review of ZenBusiness
Although creating an LLC of your own is possible, the process of doing so differs per state. That's because no universal process exists to form an LLC online.
This makes things time-consuming and complicated. Several entrepreneurs use business attorneys to form an LLC, but doing so can be costly. Attorney fees alone may total hundreds if not thousands.
The alternative is to have a formation service to form an LLC company for you. There are no shortages of LLC formation services on the Internet, so much so that determining which of them is best for you can be overwhelming. This article will simplify things if you want an LLC formed but don't know where to start.
Let's evaluate ZenBusiness, one of (if not) the highest-rated LLC formation companies out there. Will they be the right one for you?
About ZenBusiness
ZenBusiness has several parts involved with LLC formation automated, which gives customers shallow price points.
Though they've only been in business for half a decade, this company has gradually increased its foothold online. To this day, they have served customers by the thousands. ZenBusiness endeavors to form a million new companies over the next four years, and an impressively ambitious aim.
This is what ZenBusiness's mission statement reads (source: ZenBusiness's official website):
"We are a small business that is excited about helping other entrepreneurs realize their dreams of creating and growing a successful business. By making business formation easy and affordable, we hope to foster a small business community where owners can connect on a local and national level and help each other grow."
One interesting tidbit about this company is that they are registered as a PBC (public benefit corporation), pursuing several charitable endeavors. They have partnered up with a foundation known as Kiva.org to offer low-income individuals and families lending options.
They also loaned money regularly to minority-owned and women-owned businesses to level out the American business playing field.
The formation packages ZenBusiness offers are filled with priceless features, their rates are affordable, and their customer reviews are almost unanimously positive. They are fairly new to the industry of business formation services.
Debuting in 2015, this company, based in Texas, offers inexpensive corporation and LLC formation services, all of which include the essentials to make any company ready to do business.
ZenBusiness has outstanding customer feedback – so much so that their 1100 reviews are almost overwhelmingly positive. For reliable and affordable online LLC services, we can't recommend anyone better than ZenBusiness.
The Strengths of ZenBusiness
Positive customer feedback: seeing only a small portion of negative feedback is something you shouldn't gloss over. Most of the company's 1100 reviews happen to be quite positive.
Affordable corporation and LLC formation: ZenBusiness has some of (if not) the lowest prices in this industry. Clients are not deprived of essential features for the low price they pay.
Registered agent services come with all packages: every customer gets 12 months of complete registered agent services.
Operating agreements are included for free in each package: operating agreements should be drawn up by all LLCs to address several facets of how a business operates. A customizable template is included with each LLC package ZenBusiness provides.
The Weaknesses of ZenBusiness
Website navigation is somewhat confusing: we were surprised at how dated ZenBusiness's website was for a fairly new company. Some people might find themselves confused by the number of steps involved in the formation process.
In contrast to the competition, the experience is lacking: ZenBusiness is only five years old, while their competitors have formed companies for longer.
Formation Features & Pricing
Starter (first year: $49+ state fees; $119 every year after) – this package comes with an availability check for business names, as well as Articles of Organization preparation/filing. Optional registered agent services for $99/yr, as well as an operating agreement sample, giving you a lot of value for your money.
Pro (annual fee of $199+ state fees) – this package comes with all of the features included in the Starter plan. Also, it adds a Worry-Free Guarantee (to manage important filings with your state and ensure that your company's good standing is retained). It also includes a business banking resolution and an employer tax ID number (EIN).
Premium (annual fee of $299+ state fees) – this package comes with all of the features included in the Pro plan. It also includes rush processing, domain registration offers, a company website, an email address for your business, and a privacy feature for your domain name.
Comparing ZenBusiness to Other Companies Offering LLC Services
In contrast to the competition, ZenBusiness stacks up quite favorably. Not very many competitors can match their incredible combination of features and pricing. The customer feedback ZenBusiness regularly receives is also hard to ignore.
Customer Reviews Online
We discovered 1145 reviews about ZenBusiness on Trustpilot, 97% of which were positive ones. Those who left reviews didn't hide their love of the affordability offered by this company. Such reviewers often commented on how user-friendly ZenBusiness's services were, too.
Quality of Customer Service
The customer service team at ZenBusiness can be reached by email, live chat, or phone. The customer service hours start at 9 AM and end at 9 PM eastern time every weekday.
ZenBusiness's service department has representatives that reply fast. Based on our experiences, they always came across as quite knowledgeable.
Why You Should Use This Company
You are searching for inexpensive LLC services to form an LLC and want a year's worth of registered agent services; then, ZenBusiness shouldn't be ignored. The customer feedback of this company speaks volumes.
Why You Shouldn't Use This Company
If experience is of paramount importance to you, then ZenBusiness wouldn't be the go-to option. If the customer support you require needs to be highly specialized, and you want outstanding registered agent service, you would be better off forming an LLC with Northwest Registered Agent.
As a whole, ZenBusiness has very few negatives to speak of. The pricing features are fantastic – in fact, their price points are some of the cheapest we have ever seen, particularly when you factor in the inclusion of registered agents and LLC formation services.
Further, the feedback about this company gives you assurances that you'll be in good hands with them.
Although ZenBusiness's track record isn't as extensive as their competition is, you would be hard-pressed to find many faults with the services they do offer.
The LegalZoom Review: Brand & Services
Founded in 2001 by Brian S. Lee, Brian P.Y. Liu, and Edward R. Hartman, LegalZoom is an online company that provides legal documents and assists those seeking legal services. The range of the company's services includes the following.
Wills & Living Trusts
Business Formation Documents
Trademark Applications
Copyright Registration
Attorney Referrals & Registered Agent Services and More 
When LegalZoom was founded, the company was considered a game-changer in the legal profession. This was because they used the relatively new technology of the internet to transmit documents and information for legal services.
LegalZoom became quite well known early thanks to noted attorney Robert Shapiro who appeared in several commercials that advertised LegalZoom's services.
Today, LegalZoom is still arguably the most recognized in its industry despite the competition. But is it still considered the leader, especially when it comes to business formation services?
What follows is a breakdown of the business formation services that LegalZoom offers. This will help you make the best-informed decision about whether the company is right for you when creating a new business.
LLC Formations
Forming a Limited Liability Company (LLC) is one of the most common steps that new business owners make when creating a company. The purpose of the LLC is to separate your personal affairs from the business that you create.
An LLC offers several advantages, whether starting up a new business or formalizing one around for a while.
When done right, an LLC  provides limited liability protection to the members. This means that you are less likely to be responsible for the debt or liability that your company may experience. This protects you in case your company faces financial hardships that must be paid off.
The advantages of an LLC extend to those who want to manage their business, its tax affairs, and seeking outside investment as an alternative to creating a corporation.
LLCs are quite popular and work for many business owners who do not want to go through the formalities that creating a corporation would entail.
In this regard, LegalZoom offers the following services.
Comprehensive Name Check for Your Business
Filing Official Paperwork for LLC with Your State
Adding State Fees to your Bill for Filing LLC
Providing Operating Agreement
Establishing EIN to Open Bank Account, Pay Taxes, and Obtain Licenses & Permits
Offer Registered Agent Services
LegalZoom can also help you file annual reports and maintain proper compliance with their Total Compliance Package.
Cost: $79 + State Filing Fees for Basic Package
LegalZoom offers a solid package (but PRICY when you include the additional add-ons) that provides all the services needed to create an LLC in your state, but these extras add up! The company offers fast filing and a step-by-step layout of requirements to make it easy for you to understand and follow.
$79 Basic Package for LLC formation
However, the price of $79 plus the needed add-ons is quite high compared to some of LegalZoom's competitors that offer the same set of services for creating an LLC, so keep that in mind.
Incorporations
Creating a corporation may not be as popular as forming an LLC, at least with LegalZoom customers. But there have been over 350,000 helped by this service that LegalZoom provides. Creating a corporation offers several advantages depending on which type you choose.
C Corp: This is a corporation that has no limits in terms of the number of shareholders. Plus, you can bring in foreign investors if you want. The income from a C Corp is taxed twice, once to the business itself and once to the shareholder. But shareholders get the benefit of the preferred stock if the corporation distributes them. This may include guaranteed dividends.
S Corp: Here, the S Corp is different from C Corp because it is only taxed once to the shareholder. However, you cannot have more than 100 shareholders, and all must be US citizens or permanent residents of the US. Besides, S Corp shareholders get common stock, which does offer voting rights. Everyone in the corporation will have the same status in terms of the stock that they own.
LegalZoom can help you decide which type of corporation is right for your needs. Plus, it can provide the following services in forming a corporation.
Company Name Search
Filing Proper Paperwork
Adding Registered Agent Services
Providing Tax Guidance with Additional Fees
Putting All Services into a Single Package
Cost: $49 + State Filing Fees for Basic Package
You get all the basics when it comes to corporation formation services with LegalZoom. The documents are complete, and the step-by-step approach minimizes errors as you create a corporation. This also speeds up the process of getting your corporation formed.
As with the LLC formation services, creating a corporation with LegalZoom offers definite advantages, but they come at a price. Many of LegalZoom's competitors offer a lower price for its corporation formation services. You should consider all options before making your final decision in this regard.
Nonprofits
Creating a non-profit means filing certain forms with the state and the federal government. To qualify for tax-exempt status, the organization must operate on the following grounds.
Charitable
Educational
Scientific
Religious
Once it has qualified under those grounds, the non-profit obtains a 501c3 status to operate legally in a tax-exempt mode. To file the right documents and meet the requirements for the 501c3, LegalZoom offers the following packages, Economy, Standard, and ExpressGold.
When additional services are added to these plans, the prices, of course, change.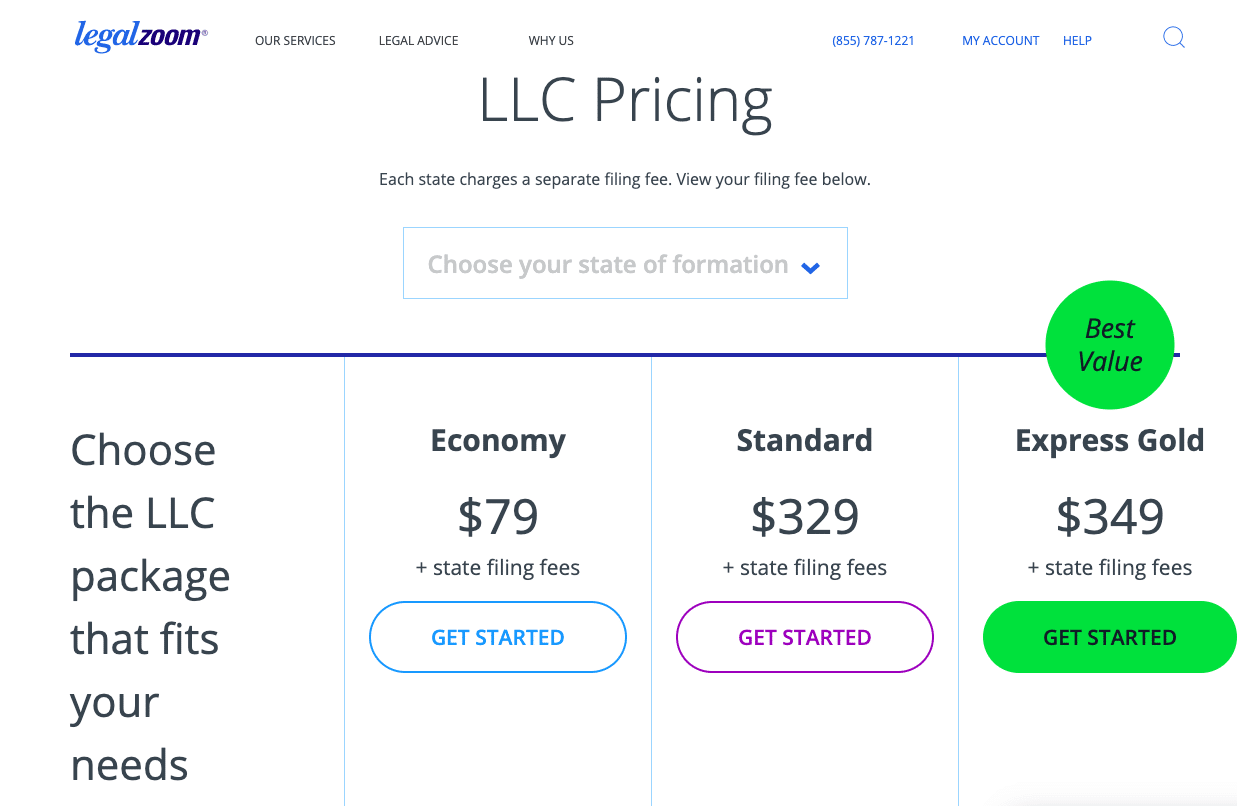 The above prices do not include additional features most businesses need.
$349 Gold Express 10 business days
$249 Registered Agent 1 year (Charged when documents sent to state) 
$159 Operating Agreement and EIN
$280 Total Compliance  
= $1037+ state fees  LegalZoom Express Gold LLC
---
ZenBusiness Premium LLC Package
Express, Registered Agent, Operating Agreement, Worry-Free Guarantee
= $299+ state fees  ZenBusiness Premium
---
Economy Package: The services with the Economy package offered by LegalZoom include the following.
Preliminary Clearance of Name
Incorporation Filing Articles
20 Membership Certificates
LegalZoom Newsletter
Peace of Mind Review
Cost: $79 + State Filing Fees for Economy Package
LegalZoom offers two other packages, Standard and Express Gold, which are more expensive but offer additional services.
Standard: Offers the same services as the Economy Package but adds the following.
Deluxe Non-Profit Kit
Official Corporate Seal
Corporate Minutes Forms
LegalZoom Charges: $239 + State Filing Fees
In addition, LegalZoom offers an Express Gold package, which includes everything that the Standard package offers and includes the following.
Priority Rush Processing: 7 to 10 Days for Filing
Expedited Federal Tax ID (EIN)
2-Day Delivery of Final Package
LegalZoom Charges: $359 + State Filing Fees
There is little doubt that the services provided by LegalZoom in creating a non-profit are considerable, but they are also a little pricey. There are other services available that do the same thing at a lower rate.
DBA's
DBA stands for "doing business as." As simple as that may sound, there are good reasons why you should consider taking advantage of the DBA package from LegalZoom.
Legal Requirement: If you use a name for your business other than your own, you must file a DBA. This basically means that you are "doing business as" something other than your own name.
Bank Account: To open a bank account under your business name, you need a DBA in most states. Check your state requirements before applying for a DBA.
Marketing: It is generally easier to market your business to a wider audience if you choose a business name other than your own. While there are exceptions, most businesses that grow and expand faster tend to use names other than the owners.
Purchasing the basic DBA plan under LegalZoom offers the following services.
Find a Business Name
File Directly with the State Government
Publication of Business Name if Required
Attorney Assistance if Needed: Extra fee required.
Cost: $99 + State Filing Fees
You can also choose the Premium plan, which offers the same basics as the following services.
Proof of Publication Filing
3-Month Trial of Quickbooks Online
14-Day Trial of Attorney Advice
Cost: $119 + State Filing Fee
LegalZoom offers comprehensive services when it comes to your "doing business as" name. As noted with their other services, it is a little more expensive than some of their competitors.
Getting an Employer Identification Number (EIN)
Sometimes called a Federal Tax Number, an EIN is essential for most businesses. If you have employees or file taxes, then getting an EIN will be a requirement. In addition, many banks will ask for your EIN when opening an account or asking for a line of credit. Plus, an EIN keeps your social security number private, which is the other form of identification. This means you can use your EIN instead of your social security number.
LegalZoom will help you obtain an EIN by filing the proper documents. It's a relatively simple, straightforward process. LegalZoom's published price for obtaining an EIN and Operating Agreement is $159.
In the end, LegalZoom charges more than most LLC formation services but is one of the most comprehensive sites that provides business formation services. The combination of LegalZoom's complete library of legal documents, experience with filing with state governments, and offering additional services is quite good.
As mentioned throughout, the downside is the fee structure, which tends to be a little higher than many of its competitors. Plus, the customer reviews of certain other companies are better compared to LegalZoom. You will need to account for this when choosing the right company for your business formation efforts.
---
---