Incfile Review: LLC Formation, Incorporation & Registered Agent Services
Incfile Review – Summary
Our Incfile LLC formation service review. This Incfile review examines their affordable pricing, plans, features, and customer support compared to others.
Starting a business and getting the legal document filed is just one part of the LLC formation process. Incfile helps small business owners streamline the business formation process, and they act as personal assistants, assisting you along the way.
Incfile's business formation service has great pricing plans. While they are the best LLC service regarding pricing, their features are also as good as any of the top online LLC services in 2023.
Incfile is a business entity formation service and registered agent service.
Based in Houston, Texas Incfile has a strong track record of over 500,000 business formations completed since 2004.
They provide formations and registered agent services in each of the 50 states
An LLC is a business entity, and it stands for limited liability company. A corporation or nonprofit is also a business entity.
Incfile's online business formation service assist business owners with filing and forming business entities such as LLCs, corporations like S Corps and C Corps, and nonprofit organizations.
Incfile has three main LLC packages
The Silver Package
The Gold Package
The Platinum Package
Each LLC package is listed here in the image below. These prices are for any business entity formation, including LLC formation, incorporation, and nonprofit organization.
Incfile Pros and Cons
Incfile

Pros

Incfile

Cons

With the starting fees at just $0 + state fees, they're currently the most budget-friendly LLC formation and incorporation service out there. That's extremely impressive, especially when you consider that LegalZoom charges a minimum $99 + state fee for forming an LLC.
Incfile has over 30,000+ positive user reviews on Shopper Approved.
IncFile has been in the industry for over 15 years now and has assisted business owners with over 500,000 business formations since 2004.
Although their prices happen to be considerably lower than other competitors, clients have access to 12 months of registered agent service in every package from IncFile, regardless of the value of their package.
By forming an LLC with IncFile, you also gain lifetime access to company alerts, which send you reminders whenever the deadlines for filing information statements, business licenses, annual reports, and other relevant documentation draw near.
Customer Support: Incfile's customer service is available by phone Monday – Friday from 9 am to 6 pm CST

Customer reviews on Trustpilot are not very good. There seem to be some serious issues with customer support.
While free formational LLC services are excellent, they will always be looking to sell you something else, which could cost you higher prices in the long run. Most people skip the free plan in favor of the $149 package. 
No legal services or ongoing legal services like LegalZoom provides.
Incfile had an A+ rating with the Better Business Bureau for 16 straight years. Due to the Covid 19 interruptions and slow state government approvals, they lost their BBB rating.
Visit Our Top 10 Best LLC Services 
---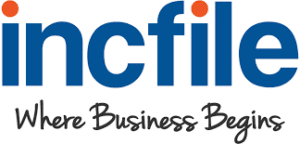 Incfile Review: Main Features
Let's examine Incfile's pricing and services for small business owners
We like the fact that Incfile has formed over 500,000 businesses in the past 20 years. Incfile is simply one of the most experienced business formation services available. That's why we recommend their services. We aren't the only ones; Incfile often comes out on top or near the top of most "best LLC services" lists online.
The $0 + state fees starting point is a super bonus, but its reputation goes far beyond the low price. Whether you're forming an LLC, S-corporation, corporation, or non-profit, IncFile business formations have you covered.
All plans include name verification, filing of articles, 1-year free registered agent service, online order tracking, and a free business tax consultation with a tax professional.
What's more, there's next business day processing and a lifetime customer support promise and lifetime alerts, so you'll never need to wonder where to turn or when to file something. 
If you're starting the new business journey, Incfile has business checklists for every step of the way, as well as business license requirements and startup guides. The service is entirely transparent, and you'll always know what's happening, what's due, and when to expect things to happen. 
Incfile Better Business Bureau Reviews in 2023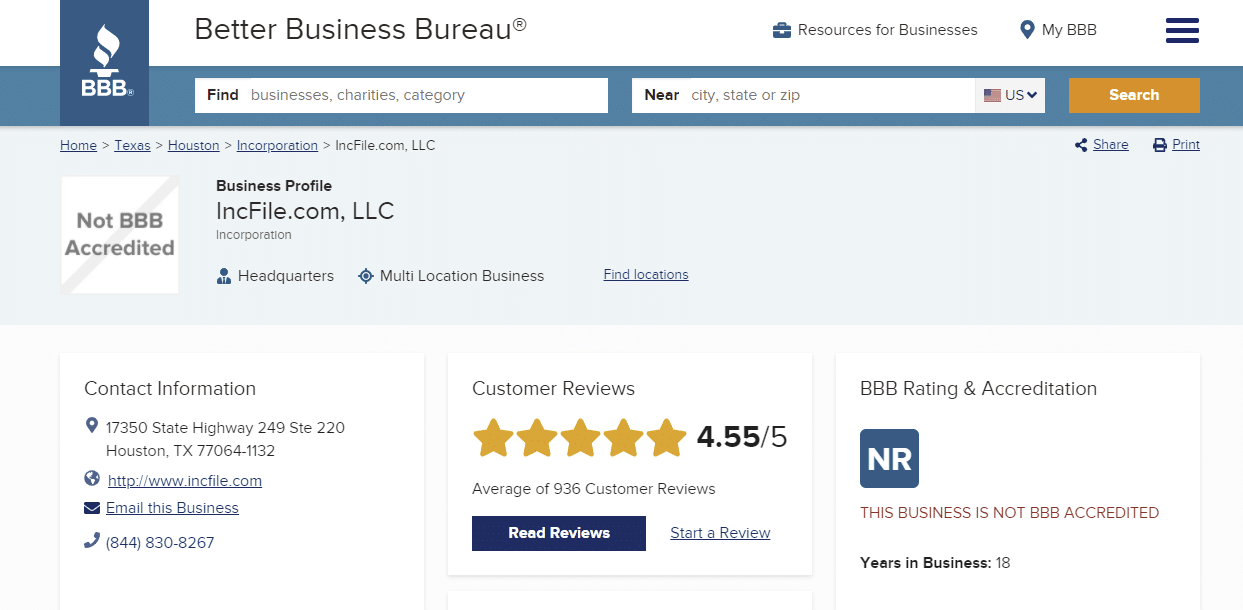 Incfile has had an A+ rating with the BBB for 16 straight years, but in 2020 there were issues and Incfile got an NR rating. Incfile has 936 customer reviews on the Better Business Bureau website right now in 2023 with a total rating of 4.5/5. 
Price Comparison Table Between IncFile and Competitors
| Service | Formation |  Formation with Registered Agent Service |
| --- | --- | --- |
| Incfile | $0  | $0 |
| ZenBusiness | $49 | $148 |
| LegalZoom | $79 | $328 |
| Northwest Registered Agent | $39 | $39 |
| Rocket Lawyer | $99 | $248 |
| Inc Authority | $0 | $0 |
Note: These prices above do not include the state fee. Those fees are determined by the state where the business is being formed.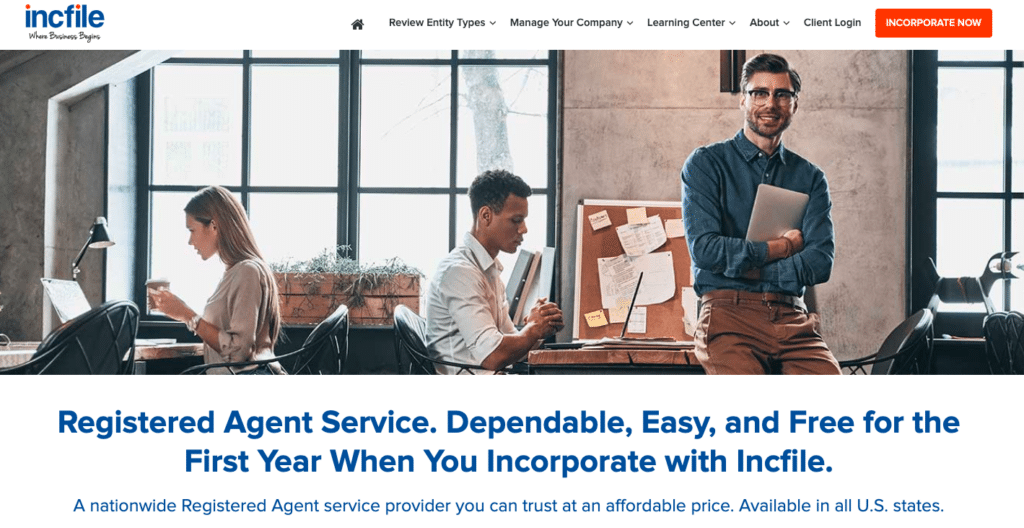 Are Incfile's formation services a good value-for-money?  The price for the Silver plan is $0 + state fee
The free package includes 12 months of registered agent services and many other goodies. This is, one of the very best formation deals business owners can get.
IncFile LLC Formation Packages
Are IncFile's services value-for-money? There's no doubt about it. Up until recently, IncFile used to charge $49+ for LLC formation. However, their new package promises to provide LLC formation and incorporation services completely free of cost.
---
Incfile Pricing
Silver Package = $0 + State Fee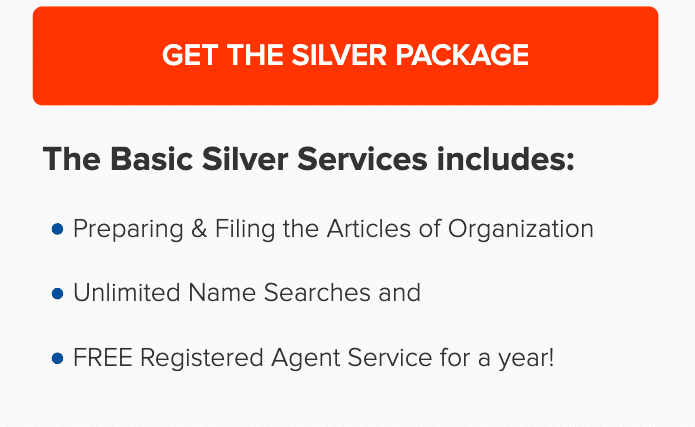 Preparation & Filing of Your LLC's Articles of Organization – You need to set the articles of organization for LLC formation. IncFile can help you draft the required documents and ensure smooth filing with state authorities to form your business.
Name Availability Check – IncFile will check the business database of the formation state to ensure that another business isn't currently using the desired LLC name.
12 months of Registered Agent Services – A registered agent is legally required for LLC formation. He accepts important files and documents on behalf of your business and forwards them over to you. This arrangement helps you retain your privacy and also ensures that you don't miss essential deliveries. This service is available for 12 months, after which you will be charged a recurring annual fee of $119. However, you aren't under any obligation to renew it beyond 12 months.
Unlimited Email and Phone Support – If you've got a concern or question, it does not matter when your LLC was formed – their reps are always ready to come to your aid via call between 10:00 – 19:00 ET on weekdays.
Online Access to Important Formation Documents – Once the state in which your LLC has been established, your documents and approval forwarded to IncFile, they will post these documents to your dashboard for notifying you that these documents are ready to be viewed and downloaded.
Lifetime Alerts – You will be sent email notifications for as long as your LLC exists to let you know about essential filing deadlines like business licenses, annual reports, and other critical upcoming filings
Business Tax Consultations – You can also make use of a thirty-minute consultation session with certified tax professionals and ask them your queries related to the tax laws and regulations applicable to your business.
Online Registration Status Tracking – IncFile has a slick tool that will update and inform you of the status of your order on a real-time basis. 
---
Gold Package = $149 + state fee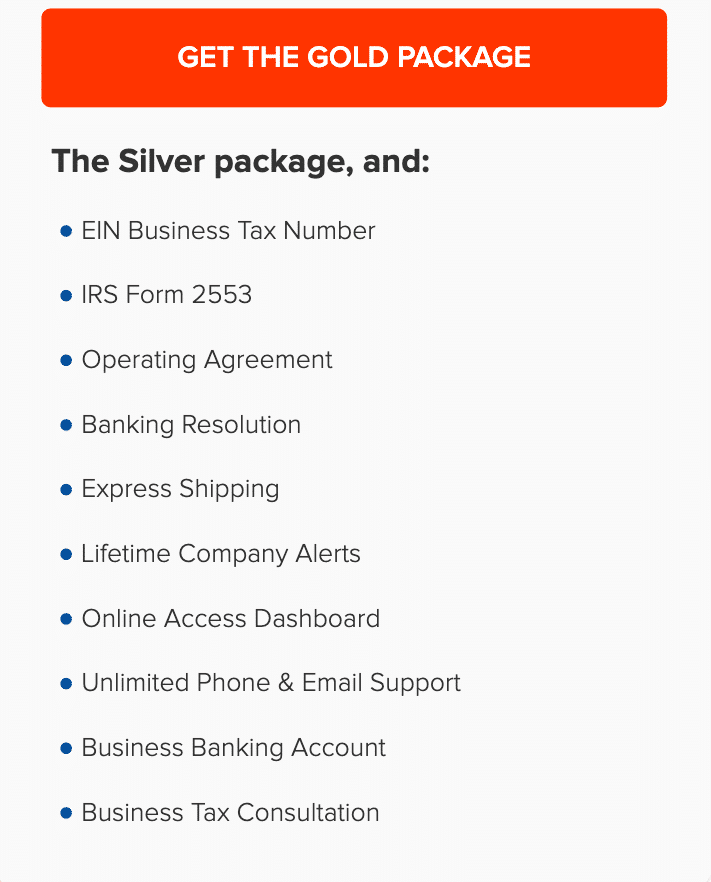 This package includes all features offered by Incfile's Silver package, and
Gold Business Formation Kit: You'll be given a box that has your LLC's name on it, along with document organizing tabs and a useful transfer ledger.
Banking Resolution: You can use this document for starting a bank account for your business, but it's redundant if you already have a separate EIN. Incfile can assist you with setting up a new bank account for your LLC with Bank of America.
Registration Process: Includes express shipping of formation documents. You will be sent a physical copy of the articles of association via express shipping, which will take between one to three business days. You'll be given a shipment tracking number as well.
Custom Operating Agreement: Operating agreements are documents that define the company ownership structure and establish various ground rules concerning the operations of your business. IncFile will prepare this document for your business.
Employer Identification Number (EIN): It is a nine-digit number that serves as an SSN. An EIN allows you to open bank accounts, file your business taxes, employ workers, and many more. While it's possible to apply for an employer identification number from IRS authorities, IncFile will save you precious time and do it on your behalf.
Preparation of S Corporation Tax Form: It is applicable only for certain LLCs as of now. However, if you'd like to file taxes for your business as an S Corporation, the staff at IncFile can prepare & file all relevant forms to serve this purpose.
---
Platinum Package = $299 + state fee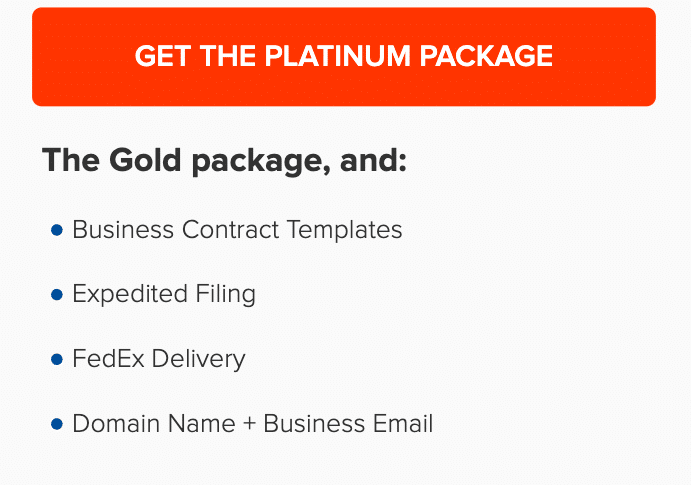 This includes all features of the Gold package plus,
Domain Name and Business Website: IncFile has a partnership with SnapWeb, a website development service that allows you access to a professional-looking website template for your business. Keep in mind that using this feature requires you to pay the service's monthly hosting fees of $20. The free domain name offer is only valid when you purchase their annual package.
Access to a Library of Sample Documents: You will be able to access several legal contract templates from IncFile, including 25+ standard business documents and forms drafted by a licensed attorney, which can be customized to suit your requirements.
Registration Process: Includes expedited filing of documents. In case your state offers expedited services, IncFile will select this option. Based on the state you register your business in, the total turnaround time can range between a few weeks to just a couple of days.
IncFile Customer Reviews
IncFile has been in business for over 15 years now, making it easier to discover customer feedback that can let you know what working with them is like.
We analyzed IncFile reviews presented all over the Internet and discovered that their list of pros outweighs their cons greatly. You can take a look at individual reviews for a comprehensive understanding of their customer service.
However, most customers appreciate the competitive prices and hassle-free customer experience offered by IncFile.
IncFile vs Other Business Formation Services
There are several LLC formation service providers available today. If you do not like IncFile's offerings, you can choose one of these options as well:
Incfile vs LegalZoom 
| Their Cheapest Plans | Incfile | LegalZoom |
| --- | --- | --- |
| Basic Formation | $0 | $79 |
| Registered Agent  | $0 1st year | $249/yr |
| Formation and 1/yr Registered Agent | $0 + state fee | $328 |
Bigger Package with addons: LLC Filing, Formation, EIN (Tax ID), Operating Agreement, One-Year Registered Agent, Compliance Reminders, Express Shipping
Incfile $149 vs LegalZoom $556
LegalZoom Economy Package
$79.  LLC Filing
$249.  One-Year Registered Agent
$159.  Operating Agreement, EIN
$69.    Compliance Calendar
= $556 + state fee
LegalZoom is preferred by people looking for brand recognition and a long history of LLC formations. They've served millions over the last few years. While they are more expensive than many others with prices starting at $79 (but with add-on charges like registered agent services, an operating agreement with EIN) and while they do provide many of the same types of features and services as Incfile
Both Incfile and LegalZoom's customer reviews need improvements.
Incfile vs Northwest Registered Agent
|   | Incfile | Northwest Registered Agent |
| --- | --- | --- |
| Basic Formation | $0 | $39 |
| Registered Agent  | $1st year free | Included |
| Formation and 1/yr Registered Agent | $0 | $39 |
Looking for another LLC formation service that is entirely worth every penny? Check out Northwest Registered Agent, which is a highly-rated LLC service. Although they primarily deal with registered agent services, they've also branched out into other services over the course of the last twenty years to put together a team of competent business formation services.
ZenBusiness vs Incfile
|   | ZenBusiness | Incfile |
| --- | --- | --- |
| Basic Formation | $49 | $0 |
| Registered Agent  | $99/yr | $1st year free |
| Formation and 1/yr Registered Agent | $148 | $0 + state fee |
ZenBusiness is the closest alternative to IncFile and provides budget-friendly service packages. They provide 12 months of registered agent services, customizable agreements, and many other features, all for $49. Additionally, 95% of the 7000+ online customer service reviews on Trustpilot are positive as well.
ZenBusiness does not offer a free LLC and ZenBusiness does not include registered agent service with their formation packages, it can be purchased as an addon for $99 extra.
Incfile Review: Customer Service
The Incfile learning center is the most striking thing about it. Incfile seems to have taken the time to put together all the resources that you may need to learn about registered agent services and business formation.
You should be able both to place service orders and coordinate the processes using the dashboard. If you need any additional assistance, Incfile's support team can be reached via live chat, email, or telephone.
However, phone support is available between Monday and Friday between 9 AM to 5 PM CST. 
Incfile.com LLC
17350 State Highway 249,
Suite 220, Houston, TX 77064
Phone: 855.829.9090
Fax: 877.919.2613
Incfile Advantages & Disadvantages
Incfile's Benefits
We'll be discussing the main advantages and disadvantages of Incfile. This list may not be exhaustive but it will help you decide if Incfile suits your needs.
1. For LLC formation, unbeatable pricing
It is hard to beat zero-dollar filings. Even though the templates are not fully-functional, you can still download them online.
If you plan to use additional services as part of your operating agreement, the ultra-light package may be the best choice.
Incfile Free LLC
We recommend Incfile's Gold Plan to all first-time entrepreneurs. It offers comparable pricing to ZenBusiness.
Incfile states that documents are usually sent to state authorities within one working day. This is a great turnaround time considering the price.
Incfile offers competitive pricing for all of its basic services. The cost of its registered agent service is $119/year after the first year free. It's comparable in cost to other competitors.
Incfile's DBA/Fictitious name, Certificate of Authority, and business license search services prices are all lower than or equal to their competitors.
Some services, such as trademark registration, may be offered by specialist companies at a lower price.
2. Quick Turnaround Time
Incfile claims that your LLC documents will almost always reach the state authorities within one business day, regardless of their price. Incfile doesn't charge any additional fees to prioritize documents in their internal system.
Once the Articles of Organization are submitted, Incfile cannot handle any further. Incfile provides a helpful tool that will allow you to check the processing time of your LLC application in each state. An LLC application can take anywhere from 2 to 3 weeks in most states.
This tool will also show you the cost of expedited filing times for each state as well as how quickly your expedited application can be approved. Most states take between 2 and 5 business days.
3. Helpful online dashboard
There are many moving parts involved in the formation of an LLC. Multiple forms should be filed with different agencies on different timelines.
It can be difficult to keep track of all the start-up work, especially when your primary focus is on setting up your company.
Incfile customers have an online dashboard that provides information about order statuses, key deadlines, and other important details. It also shows stores that have previously submitted and created documents.
You will not only receive text and email notifications but also "order updates" and compliance alarms from your custom-built dashboard for business management.
The online dashboard of Incfile has solid features to help you maintain and form compliance.
4. It's easy to use
Incfile's interface is simple and intuitive for most users. It is simple to file for an LLC or any other type business.
Incfile's pages automatically calculate prices based upon where you file. There won't be surprise price increases at checkout.
You can also order one-off services such as a name change/amendment or a license search. These services are available in an easy-to-read format from Incfile.
The website Incfile (Incfile.com) is very user-friendly. It's easy to navigate the website and find the order forms or information you are looking for.
Incfile's disadvantages
These are areas where Incfile should be improving.
1. Mixed customer reviews
Incfile's 4 out of 5 stars rating is highlighted on their Reviews & Customers Service Page. Incfile has however average to poor averages of other sites.
This company has a Trustpilot rating of 3/5. However, their reviews on Shopper Approved are much better. The Better Business Bureau (BBB) doesn't provide ratings. The website simply states that the company revoked the accreditation in September 2020. Incfile has an A+ rating with the BBB for 16 years straight. During Covid, there were issues with delays.
Many customer complaints center on misrepresentation or delays in filings, such as Incfile's Business Tax Consultation.
Incfile Trustpilot Review: 3 stars
The number one complaint is customer service. Many reviewers felt it was difficult to reach someone to solve their problems. Given the small company's size and its vast service area, it may not surprise that this is true.
2. It is very difficult to get refunds or cancellation policies
Incfile's cancellation and refund policies aren't as accessible as we would like, as we have mentioned.
You will need to do some research in order to find the refund request window. After doing your research, you'll find that most services have $30 cancellation fees.
It is not easy to find the terms for the renewal of annual services. These services are usually renewed automatically. The registered agent service is an exception to this rule. You can activate it or opt-out after your first year.
We are aware that not all customers can be refunded or canceled. We would like more clarity.
3. Average customer service
Incfile's customer service seems to be in disrepute. This was mentioned in the con "mixed clients reviews".
According to the company they offer phone support Monday through Friday between 9-6 CST. We would love to have weekend support hours in ideal situations.
Incfile mentions that they have recently increased their customer service options. Incfile also mentioned that it has increased its customer service staff by two and added an interactive as well as a live chat option.
These changes could improve Incfile customer service in the future, even though it's not clear what a "doubling" means – technically, it's a doubling to go to two customer support reps!
Incfile Services
Services related to LLC formation (e.g. Incfile offers a number of services, including registered agent service and LLC formation. Below, we will examine some of Incfile's most favored services in greater detail.
We will discuss how each service is applied and when it is necessary. Incfile will include in parentheses each service's price, as well as any state fees.
Incfile Business LLC Formation
Cost: $0 – $299
Even simple tasks like forming an LLC may be difficult. It is possible to lose precious time trying to figure it out yourself.
If you prefer to file it yourself, Incfile is a great option. They have the experience and knowledge to make sure your filing goes smoothly.
To check if the name that you are looking for is still available, go to your state's Secretary of State website. Many of these websites offer free searches and a comparison tool. You might also want to visit the US Patent and Trademark Office's TESS database.
In just minutes, you can create an LLC online with Incfile. A few questions will be asked about your future business. These include your business name, address, and member(s), as well as email.
Incfile promises to file your paperwork within the next day.
Incfile's base package includes free filing. Each state charges a filing fee to form LLCs. These fees can vary from one state or the next and can be anywhere from $40 to $500. Incfile automatically populates the checkout price tab once the desired filing status is entered. This is only one step and you'll immediately know the total amount of your final bill.
Once you have submitted all documents required, you must wait for the state's processing. The processing time for documents will vary depending on the year and where they are located.
Incfile lets you file articles for incorporation in an S-Corporation, C-Corporation, a non-profit or C-Corporation. These documents are very similar to those filed for an LLC.
Employer ID Number, EIN
Included with the Gold and Platinum Packages
Most US businesses require federal tax ID numbers. These numbers can also be called an EIN (employer identification code) or a federal tax ID. This number is used by the IRS to track and identify entities within businesses.
Your EIN could be compared to your company's social insurance number.
In many cases, EINs may be required. If your company employs people or pays excise taxes, an EIN is required. Your state may also require it. Banks may also require EINs to open a bank account in your name.
Incfile is part of their Gold package and can help you get your EIN.
You can apply online for an EIN through the IRS website in a matter of minutes. We recommend you apply for your EIN online. Incfile Gold doesn't benefit from this feature.
Registered Agent Service
Free for the first year; $119/year thereafter
All corporations and LLCs must name a registered agent when forming an LLC. The registered agent is the point of contact for all service and process issues.
It can be difficult to register agents. You could lose your certificate or face other consequences.
Registered agents must reside in the state where your LLC is located. To receive important legal documents, they must be available during normal business hours. The public can view the names and addresses of registered agents.
Either you can act as your registered agent or hire someone. If you are:
It is likely that you will travel frequently and not just to one place.
You are not a US citizen
You are active in multiple states.
Your name and address should not be made public.
Incfile's registered agent service. This includes a year of free registration for any Silver, Gold, or Platinum package.
Incfile can also be used to register as an agent. They will send you business mail. Notifications about documents received will be sent to you. You can access critical information right away through your digital dashboard.
For the first year, Incfile charges $119/year to register agents.
Operating Agreement
Included with the  Platinum and Gold Packages
Although it is not complicated, an operating agreement is vital. It is the operating agreement that members of an LLC create to establish the rules and rights for the LLC. This could include:
How LLC will be managed
How ownership is split between members
How profits are distributed
What happens if an LLC member wishes to dissolve the LLC, or if the LLC member dies.
…and many more important questions
Operating agreements are not required in every state. If you own a business that isn't required by law, operating agreements can be a great idea.
Even a basic operating agreement can protect your LLC's assets. You will also have clear guidance in case of unanticipated events.
Before you can start a business in California, Delaware, or Maine, you must sign an Operating Agreement. It should be kept with all company records.
Operating agreements do not need to be filed with state. These agreements should be kept in your possession.
Annual Reports: $99
Annual reports are required by most businesses to be filed with the Secretary of State.
These reports usually contain basic information about LLCs, such as the address of the LLC or the addresses of its managers or members. These reports are used primarily by state authorities to track the businesses that fall under their jurisdiction.
Although it can be time-consuming and costly, filing an annual report can help to avoid penalties.
Some states have a deadline for filing annual reports. Some states require annual reports to be filed by the anniversary of the company's founding. For example, if your company was founded in November, the first annual report will be due next December. Several states only require that you file your annual report every two years.
For your annual report, most states will charge a filing fee. Most fees are below $100. The fee is applicable regardless of whether or not the LLC has made any revenue in the past year.
Although annual reports may not seem very important, failure to file them on time or pay the fee in full can lead to your business being shut down. It is important to ensure that you receive your payment on time and that all filings are completed.
Incfile can help you prepare your annual report. After you have completed the required information, Incfile will send your report to the appropriate state authorities. When your report is accepted and received, they will notify you.
S-Corp Tax Election: $50
S-corp is shorthand for "small business corporations". S-corp can be thought of as an LLC in many ways, but it may offer additional tax benefits in certain circumstances.
Although being an S corp may be advantageous for certain businesses, it might not be for all. Talk to a tax professional to find out if an S-corp filing may be beneficial for you.
It is important to remember that you can elect to continue to be treated as an S-corp at any time. Your status in an LLC does not have to be fixed.
Incfile can assist you with filing an S-Corp Election to the IRS. This cost is $50
Your business could be subject to several regulations depending on its industry, size, and structure. Licenses and permits may be required at the local, state, and federal levels.
It can be tedious to follow regulations but it is essential. You don't want to put your business's future in danger by breaking the law.
Incfile offers a "Business License Search" for a fixed fee. After you submit information about your company, this service will search for and compile relevant permits, licenses, and tax registrations.
Incfile claims that their research package will reach you within five business days after your company files with the state.
Incfile's search engine for business licenses will provide you with the required documents and instructions for filling them in. You must fill them out yourself. This service may be worth your time and effort if you don't want to do extensive research.
Foreign Qualifications: $149
However, "Foreign Qualification" is not as global as you might think. If you wish to do business in a state other than your home country, a Foreign Qualification is required.
You can obtain a Certificate of Authority by filing for a Foreign Qualification. This allows you to legally operate in another country (i.e. This is not the state where your company was founded.
A growing business might need multiple Foreign Qualifications. A Certificate of Authority will be required in every state you operate. Incfile will file your Foreign Qualification in one state for a one-time fee. Incfile's pricing is comparable to other competitors.
Name changes and amendments: $99
Sometimes your Articles of Incorporation may need to be changed. You might need to change the name or address of your business or add members.
You will need to amend your Articles of Incorporation with the Secretary for State of your state in order to make such significant changes.
Incfile will file the amendment for you. Incfile will file the amendment on your behalf once you have entered all the information. Modifying Articles of Incorporation takes longer than the process of amending Articles of Incorporation. Even if Incfile has your forms sent quickly, it is possible that you will need to wait several weeks before you get confirmation of your changes.
Certificate of Good Standing: $49.
At the state level, a Certificate of Good Standing will be issued. This document confirms that your company has paid all fees and filed all required paperwork.
This document is not required for your business to continue operating, but it is necessary if your business plans to expand to other states. Clients may request a Certificate of Good Standing to verify that you are in good standing.
Incfile can file for Certificate in Good Standing in any state you choose. However, only if that state is where your LLC operates. Incfile charges a reasonable price for this service. It is either comparable to or slightly less than its competitors.
DBA/Fictitious Name: $99
Fictitious business name – also known as a "Doing Businesses As", Trade name, or Assumed business name- allows you to operate your business under a different name than the one on your articles.
People can take on fictitious business names for many reasons. These include protecting their privacy, enhancing name recognition, accounting for shifts, expansions, and other business purposes.
Let's take, for example, a cabinet-building company called Superb Cabinets LLC. You begin to take on more work in carpentry as your business grows. To reflect your growing offerings, a Fictitious Business Name may be necessary. Superb Home Carpentry LLC is an example.
Incfile will file your DBA/Fictitious name request with the appropriate state authority for a flat fee. This request is filed at the same rate as other competitors.
Some states do not allow fictitious business names. Incfile's DBA/Fictitious Name page lists which states allow them.
Trademark registration: $199
Trademarks are a way to distinguish your company and protect your intellectual property. Trademarks can be used to protect any combination of words or phrases, symbols, designs, or single words.
Incfile can file a trademark on your company's behalf, but only for one series or class. The fee is non-refundable. Incfile states that filing can take between 3-7 business days. Federal approval usually takes between 3-4 months.
If you already use their services, Incfile can be used to file your trademark. Incfile's $199 cost plus federal fees isn't competitive.
Incfile's Bookkeeping Services
Incfile also offers bookkeeping and business accountant services. Incfile claims it offers many packages but the prices are not readily available. Click the button to get a free consultation on tax. Incfile claims that all packages include quarterly bookkeeping and unlimited tax consultations. They also allow for the filing of at least one tax return.
If you want your business to have control over its finances, bookkeeping is essential. A tax return that is complete and accurate can help you keep your business' finances in order.
When possible, experts are recommended. Incfile is a small company that specializes in business formations. Their bookkeeping and tax services will almost certainly be transferred to a third party.
A small-business accountant is the best person to handle bookkeeping, account, and tax taxes.
Dissolution: $149
A dissolution is just what it sounds like, a dissolution. Articles of Dissolution are a crucial step in closing down your LLC's operations. These articles notify the state that your LLC is being dissolved.
Notification: Companies with outstanding taxes or failing annual reports may be removed from "Good Standing" which could prevent their dissolution. Before you file your Articles of Dissolution, it is important to address these issues. These will be required to be filed after the original filings have been made.
Incfile has been in business for over two decades. Their low prices on many services are their biggest selling point. Incfile's Silver package LLC formation is a great option for a low-cost, basic service at an amazing price. A full year of registered agent services is included.
Incfile's Gold Package offers all you need for your business at $149 – the best pricing. Incfile also offers a variety of services that can be used for formation at a very reasonable price. Incfile offers a user-friendly website and a very helpful online dashboard.
Approved Shopper has 38,000+ customer reviews on Incfile with a score of 4.8/5. Some reviewers complained about delays in processing applications and difficult-to-reach customer service.
Incfile includes a section on their customer review page that details the improvements they have made in customer service. If you are willing to accept their flawed review history, these statements may be true.
Incfile is the best choice for a simple LLC creation or any related one-off services (e.g. DBA Registration, Foreign Qualification File, Annual Report File filing).
Potential customers should check the company's past history before signing up. While a cheaper service may seem appealing, the potential headaches associated with a delayed or incorrect filing can quickly outweigh any savings.
Conclusion
After a thorough review of all the available LLC formation services, IncFile was ranked and ranked. They offer free LLC formation services and are rated highly by their customers. They offer a cost-friendly option that is ideal for those who need a flexible solution.
FAQs for Incfile
Is IncFile really free?
Yes, it is true. IncFile offers completely free LLC formation services.
Their basic package was original $49 but they have improved their systems over the last 15 years to offer free LLC formation services. Only the state filing fees will be charged.
Access to many other features, such as next-day processing, lifetime notifications, and registered agent services, is also available.
IncFile offers premium LLC formation packages at $149 and $299. These packages guarantee faster processing times and offer more features. We believe that the free package is ideal for most entrepreneurs.
What Incfile Package is Right for You?
We recommend either their Silver Package ($0), or their Gold Package ($149). If you only need a basic LLC creation service and 12 months of registered agents services, the former is more appealing.
Does IncFile offer any discounts?
IncFile does not offer discounts but offers a completely free LLC formation package.
What is IncFile's Customer Support?
User reviews online indicate that IncFile offers outstanding customer service thanks to its helpful and friendly reps. They may take a little longer to respond to customer questions than other LLC formation services.
Does IncFile have a refund policy?
IncFile does not offer a 100% guarantee, unlike some other services. IncFile charges cancellation fees of $30 and will refund your payment if you have not submitted your payment for registration. This usually happens within one day.
Is it logical to form an LLC on my own?
Although some entrepreneurs enjoy completing LLC formation on their own, this can be a hassle. It is a time-consuming task to learn the LLC formation requirements in your state and follow them. You will also have to complete everything manually, and you won't be able to access the Incfile free reminders for filing.
Should You Go with IncFile For An LLC Formation or Incorporation?
IncFile has more pros than cons, which is something that cannot be ignored. Here's a more detailed view of when Incfile should or shouldn't be used for LLC formation
Just $149 + state filing fee gets your business formed, an EIN, an Operating Agreement, Registered Agent Service for one year, Express Shipping, and Lifetime Customer Service.
For people who need to form an LLC without exceeding their budget, IncFile is perfect for their needs. You can select their free LLC formation package or go for their paid packages. IncFile is ideal for most entrepreneurs looking to form an LLC without any hassles.
When You Shouldn't Use IncFile
If you are very comfortable navigating the requirements in your state and know what you need. 
Wrapping Up
After carrying out a comprehensive review and ranking of the best LLC formation and incorporation services available today, we recommend choosing IncFile since they provide free LLC formation services and have top-notch customer reviews. Their services are ideal for people who are looking for a budget-friendly solution.
---
Incfile's Business Address
17350 TX-249 #220
Houston, TX 77064