Our Top Picks For The Best Registered Agent Services In 2021.
Our comparison guide provides useful information for those searching for the best registered agent services to use while forming an LLC or corporation in 2021.
Top 8 Best Registered Agents
---
---
Incfile

  $119/year

(1st Year Free with Formation Plan)
---
---
---
---
---
---

---
What is a Registered Agent?
LLC registered agents are individuals or entities that corporations or LLCs have specifically designated to receive all government correspondence, service of process-related notices, and other compliance documents as a representative of the LLC.
Although the word 'Agent' typically refers to a person who has been duly authorized to act or transact on behalf of an entity or an individual, a registered agent does not possess such powers.
The primary purpose of LLC registered agents is to act as an authorized agent, which includes receiving service of process notices and other material correspondence, acting as the LLC's representative.
Additionally, registered agents must forward every important documentation received by them to the LLC within a reasonable time period.
Registered Agent Service Websites
While some states allow you to do so, it is not a recommended option. Doing so requires you to be fully available on all weekdays between 8 AM – 5 PM, cumbersome.
Additionally, your home address would also become public information, thus compromising your privacy significantly.
And that alone translates to an unending streak of junk documents in your mailbox. Plus, of course, you'll have to deal with reduced personal privacy.
So, whichever way you look at it, registered agent solutions are unavoidable if you're dealing with a serious business.
Visit Our Top 10 Best LLC Services 
So, allow us to save you the trouble by walking you through the best-registered agent services. We took the time to sample a wide array of options that enjoy good ratings across all the states.
Then using the information, we've subsequently compiled a solid list of the top 10 best registered agent services, all of which have a proven track record of outstanding services.
After reviewing our list, check out other best registered agent listings to compare with our findings..
Now, let's take a deeper look at the best registered agent services available today. The firms that have been listed here are authorized to offer their services in every state across the USA.
 

Northwest Registered Agent
#1 Registered Agent Service
Summary
With offices in each of the 50 states, Northwest is the leading registered agent provider in the U.S.
Pricing is reasonable, and service is recognized as the best in the industry.  BBB Rating A+
Many business owners consider Northwest Registered Agent to be the best registered agent service available. Registered agent services are their main business, in addition to LLC formation services.
Northwest Registered Agent  (Editor's Choice!)
Business Formation with 365 Days of Registered Agent Service $39
We Have Discounted Prices for Northwest  $225  Just $39!
Visit Northwest Registered Agent
The Leader In Business Formations & Registered Agent Services
LLC Formation and Incorporation Services

Privacy by Default

LLC Pricing Starts at $39.00 + state fee
Most Popular Plan $39 + state fee

Monthly Plans Available

Strong customer service, direct phone line, and same-day email response
Monthly Plans Available  ('Skip The State Fee')
$37 Gets You Out The Door With A Newly Formed Business in California or Georgia! 😲
Privacy by Default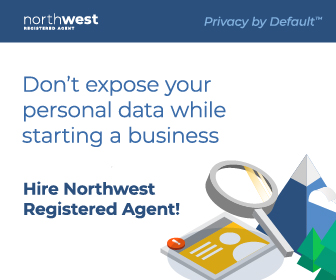 Visit Northwest Registered Agent
Launched in 1998, this company caters to companies in all states across the US. They bring over 20 years of experience in the industry to the table, which has helped the firm gather diverse clientele from different industries.
Additionally, it also boasts of a spectacular track record when it comes to customer support. There are almost no negative reviews regarding this firm on Google or any other review website. It has several positive testimonials and ratings on prominent review sites, which its clients wrote.
Their customer service is what sets them apart from the competition. Their support framework and staff are arguably the best you'll find as their staff members have been specifically trained to offer outstanding support.
Individual clients have personal support reps who are well-equipped to cater to the company's specific needs and requirements. Thus, you receive personalized services when you engage Northwest for your registered agent requirements. They are also available at all times, even for resolving minor inconveniences.
We've tried them out a few times, and it's clear that the reps provide an impeccable customer support experience to their clients. You will never get into legal trouble due to documentation and compliance issues if you go with this firm.
Northwest also provides document and filing services, which are in a league of their own. They are the sole countrywide registered agent service that scans and uploads every client document delivered to them.
Northwest has a legacy of going above and beyond to provide an unparalleled experience, whereas other registered agent services are reluctant to offer anything more than essential services. You will never have to be worried when you engage in their services.
Services provided by Northwest Registered Agent
24×7 business support, even on weekends

Mailing address, principal physical address, organizer address, and registered agent address

Customized articles

Bylaws and operating agreements

LLC membership and corporation stock certificates

Free registered agent services for a year

Notifications in real-time

Comprehensive company management system

Personal, corporate guides

Reliable and personalized support

Prepopulating forms with relevant data for convenient filing

Business maintenance, annual reports, filing tips, and other important information

Reminders and instructions for ensuring your annual reports are in compliance
Pricing
Northwest Registered Agent charges around $225 + state fee for their LLC or corporation formation services. Their services are available for 1 year without any additional charge.
Once your application has been approved, you can also use Northwest's local scanning features and online tools, such as their free annual report reminders.
After the initial period of 1 year, the cost increases to $125 a year for each state your business operates in. However, this fee may be revised favorably if your package includes services for 5+ states, upon which the rate gets slashed to $100 a year for each state.
Advantages
All documents are locally scanned.

If you purchase registered agent services for 5+ states, you are eligible for a sizeable discount

Personalized support

20+ years' worth of experience

Free services for an entire year once you're purchased the LLC or corporation formation package.
Disadvantages
Their packages may be unaffordable for small businesses.
ZenBusiness
#2 Registered Agent Service
With its affordable LLC formation and registered agent services, ZenBusiness PBC (Public Benefit Corporation) is one of the top registered agent services you can get in 2021.
Just need a registered agent? These are the prices listed above, but the registered agent service is free for the first year if you are forming an LLC or corporation.
Let's look at a few pros & cons, pricing details, features offered, customer support, and other important factors that can help you understand whether it's right for your business or not.
---
The registered agent services offered by ZenBusiness take care of three important aspects: Organization, protection, and compliance.
Compliance
They can help you satisfy the permanent physical office requirement, which has been mandated by the law, thus ensuring your business isn't in violation of any laws. This will help you avoid unnecessary fines and penalties.
Protection
Many firms with a physical store presence use registered agent services to ensure no embarrassing tax or legal notices are delivered to their physical store locations.
Organization
They will accept all-important legal documentation on your behalf and upload them to your online dashboard, where it can be viewed, downloaded, or printed at any time.
ZenBusiness is one of the best registered agent service providers in 2021. Their top-notch offerings promise reliable support and are a cut above the rest. Ever since its launch in 2015, the company has gone above and beyond to provide high-quality services.
Special Offer – If you're yet to form your LLC, ZenBusiness can take care of LLC formation and offer free registered agent services for 1 year for just $49.
ZenBusiness provides registered agent services for $99 per year. You can also avail of registered agent services for free for an entire year when you purchase their LLC service packages that start at just $49.

ZenBusiness offers a web-based chat app, email, and phone support, which helps them provide accurate and timely customer support services.

Their customer feedback scores are unparalleled and surpass almost all their competitors. With over 1100 online reviews about the service, more than 97% of these reviews are overwhelmingly positive.
Additionally, their LLC formation services are simple, quick, and reliable, not to mention the fact that they come with an entire year of registered agent services for free as well.
We like ZenBusiness; this company is an all-rounder and highly recommended for those looking for reliable and cost-effective services.
Advantages and Disadvantages of ZenBusiness
Advantages
ZenBusiness is ideal for people who require only basic registered agent services. You'll have access to 1 year of LLC formation services for just $49, exclusive of state fees. After the first year, it remains affordable at $119 per year, which is among the lowest rates in the market for similar quality services.

The firm uses technology and automation tools to secure important business documents and upload them on your dashboard, thus enhancing accessibility significantly. The dashboard is also user-friendly, clear, and simple.

Their customers have given overwhelmingly positive reviews, with ZenBusiness bagging a Trustpilot score of 9.4/10. The reviews speak glowingly about the service is highly efficient, reliable, and easily accessible.

As they are a small firm, they can empathize with other entrepreneurs and offer them personalized services. Simultaneously, they've been in business for a considerable amount of time, allowing them to accumulate the skills and experience they need to offer top-notch registered agent services.
Disadvantages
The Standard package does not include the Worry-free Guarantee for their registered agent services. However, you can get it by purchasing their Pro package.
Conclusion
The Starter Package from ZenBusiness includes a standard filing service; this costs $49 + state fee and includes a free registered agent service for one year; after that, the cost is $119 per year.
The Pro Plan also comes with a Worry-Free Compliance Guarantee, which includes 2 free modifications to your company's filings annually, submission of documents, alerts for annual filings, and a guarantee to restore your company's standing at their own expense in case your business miss a deadline.
If your business requires both business formation and registered agent services, the prices may vary based on applicable state fees and your business needs.
The LLC formation package also includes free registered agent services for an entire year.
If you just need a registered agent or form a business, our favorite for best registered agent service is ZenBusiness.
ZenBusiness operates in each of the 50 states and is available during business hours Monday – Friday from 9 am – 7 pm Central time or Sunday from 10 am – 7 pm Central time. For more info or any questions, visit ZenBusiness today.
---
#3 Registered Agent Service
People who don't want to shell out $399 and $225 for Harbor Compliance and Northwest's registered agent services should definitely check out Incfile.
Launched in 2004, Incfile has been in the industry for over 16 years, which has helped it accumulate priceless experience about LLC formation procedures.
Compared to all the other services listed here, Incfile comes out on top of them based on package value and affordability. LLC formation packages start at $0 + state fees, include 1st year of registered agent service for free, which is an incredible deal.
Additionally, this package also entitles you to free registered agent services for a period of 12 months. If you're heading a budget-strapped small startup, Incfile is precisely what you need.
However, don't fall for the myth that low price = low quality. While that may be true for some firms, that's certainly not the case with Incfile.
Like we said earlier, their formation pricing starts at $0.00 + state fees. Still, it also offers you lifetime support, next-day formation, free registered agent services for one year, company name availability verification, preparation and submission of documents or articles, online order tracking, and free tax consultation for your business.
We have examined the company's offerings in detail and are pleased to report that Incfile is a legitimate top-quality firm. The number of negative reviews about the firm is vastly outnumbered by the number of positive reviews on different online platforms.
With a client base of more than 250,000 customers, Incfile's registered agent solutions have become a massive hit in the market. There aren't many negatives about this company to speak of.
However, we primarily recommend this firm for Internet-based business as it includes several useful addons, which online merchants can use for improving their services. These add-ons include custom documents, contract templates, and many others.
If you're looking for information regarding commerce-related subjects like compliance, Incfile also hosts a detailed learning center. It provides comparison charts for various business entities, state information regarding corporations and LLCs, state-specific filing requirements, and business checklists.
Incfile Registered Agent Services Include
Preparation and filing of articles of organization

Business banking accounts

Unlimited email and phone support

Business website

EIN/Tax ID

Preparing and submission of IRS Form 2553

Drafting operating agreements

Corporation bylaws

Contract templates

Free email service and domain name

Expedited filing of essential documents

Express shipping along with order tracking number

Verification of company name and its availability

Next day processing

Registered agent services for one year free of cost

Order tracking via the Internet

Access to relevant incorporation documentation, like articles of incorporation, via the Internet.
Incfile's Formation Prices With Registered Agent Service Are Simply The Best!
Silver $0.00 + state fee
Gold $149 + state fee
Platinum $299 + state fee
To form a corporation or LLC with Incfile, their "Silver" package is FREE! $0.00 + state fees. Although the "Silver" plan includes some extras like free registered agent services for one year and access to business consultations, the Gold and Platinum packages offer many other benefits as well.
For instance, its Gold package costs around $149 + state fees. But you won't have to pay the $70 fee while applying for an employee identification number, or the $50 fee for IRS form preparation, or the $40 fee for operating agreement preparation, and many other expenses.
The Platinum package also offers free email and domain name services along with expedited filing. However, it costs around $299 + state charges, which can be pricey for small businesses and sole proprietors.
When the twelve-month period comes to an end, renewing Incfile's registered agent service package will cost you around $119. Volume purchases don't qualify for discounts, unfortunately.
Advantages
Zero hidden charges or gimmicks

The company boasts of an impeccable customer service record.

Free business formation and registered agent services for one year

Costs are considerably less compared to its competitors.
 Harbor Compliance
---
#4 Registered Agent Service
Expert registered agents and the leader in compliance services.
Harbor Compliance has experienced impressive growth levels consistently over the last few years. At the same time, it's a relatively new firm, the company more than makes up for it with the quality of its registered agent service.
Since 2012, Harbor Compliance has assisted more than 25,000 customers in applying for, secure, and maintain licensing across all industries.
Harbor Compliance has been able to find the sweet spot between features and pricing, thus enabling it to offer attractive packages to its customers. While they aren't the cheapest, they do exceedingly well in overall quality levels compared to their competitors.
Northwest and Harbor Compliance are close competitors – their customer service quality is consistently strong, although their services have a few pricing differences.
For instance, Northwest offers a personalized customer support experience similar to the system in place at Harbor Compliance. The company's clients are called 'Compliance Specialists' – a term for dedicated customer account managers whose primary role is to handle every registered agent requirement of their assigned companies.
Should you ever require their assistance, you may contact them via the company's website contact form, phone, or email. Their services are invaluable, especially if you need help with legal compliance issues.
Entity Manager
The registered agent service comes with complimentary access to their Entity Manager software.
Entity Manager allows users to view all of their entity registrations (across all states and entities) in one place, including registered agents, government contact information, annual report deadlines, and more.
The software provides free, customized reminders to file annual reports.
Services provided
A Compliance Calendar that can be used for monitoring and tracking statuses & alerting staff members about upcoming important dates for licenses, annual reports, registrations, etc.

Same-day delivery of essential documents

Free scanning of documents

Local offices present in all states

Local registered agent address

Personalized notifications

Publish formation notices

Annual reports

Drafting of articles

Operating agreements

Federal Employer Identification Number or EIN
Pricing
A registered agent service package from Harbor Compliance costs around $99 a year for every state your business operates in, which can be reduced by 10% for companies with a presence in 5+ states. Customers making advance payments for at least 2-3 years are eligible for the same discount.
LLC formation service packages start at $399. However, note that their packages also offer managed startup services, which makes their packages well worth the cost. To put it simply, their registered agent service packages include handy extras like application tracking, operating agreements, drafting of articles, and other useful services.
Advantages
Entity Manager Software

Assistance with annual reports

A personalized customer service experience

Purchasing a multi-state or multi-year package can net you a sizeable discount.
Disadvantages
It is still relatively new in the field compared to its competitors

LLC and corporation formation packages are slightly expensive
Visit Harbor Compliance
InCorp Registered Agents
---
#5 Registered Agent Service
While we recommend Incfile if you're on a budget, those looking for full-time registered agent services should definitely consider InCorp.
Despite being one of the most established and biggest registered agents in the country, InCorp's service packages are still surprisingly affordable.
Their registered agent services start at around $99 for an entire year. This can be brought down further if you prepay for multiple years. For instance, a subscription for five years only costs an effective rate of $66 a year.
No other registered agent service provider offers such a competitively priced package.
Additionally, many clients have left positive testimonials regarding their services on multiple review websites, which is a testament to the firm's quality and reliability.
However, InCorp has not grown complacent, unlike many other firms. It is using its position to enhance its other service packages, thus forcing competitors to raise their standards.
For instance, the present customer support framework integrates phone, email, and website live chat support channels. Any customer can contact them via these channels between 9 AM – 9 PM for assistance. InCorp also offers bilingual support in Spanish, which is particularly helpful for Spanish-speaking clients.
Service Features
Registered agent address

Internet-based account access

An online library of forms

Dedicated representatives

Price match guarantees

Personalized email notifications

An online calendar with compliance reminders

An EntityWatch feature allows real-time tracking of various processes like filing status, directors, officers, and the registered agent. Necessary changes can also be tracked, thus preventing corporate identity fraud.

An Entity Management System or EMS can be used to track corporate documentation, compliance processes, and forwarded emails.

Expedited filing services

Local offices in every state

Service notifications in real-time

View and submit your state filings, statuses, and corporate documents via a dedicated client site portal
Pricing
Forming an LLC or a corporation via InCorp will cost you $99 plus the applicable state fees. However, prepaying for two years can help you save over $20, thus reducing the overall annual price to just $89.10. A three-year subscription costs $80.52 a year, whereas a five-year plan costs $66.56 a year.
Disadvantages
In comparison with other registered agent services, InCorp's knowledge base is somewhat incomprehensive.

Company formation packages are expensive compared to similar offerings from rival firms.
Advantages
InCorp has three customer service channels that can be used for availing of their assistance. They offer bilingual support as well.

Their EntityWatch Feature can help you avoid identity fraud and track filing status as well.

InCorp provides favorable discounts on multi-year packages.
Rocket Lawyer 
---
#6 Registered Agent Service
This is easily one of the most recognizable and popular registered agent services available in the online legal services industry today. Their website claims that they've serviced over 20,000,000 clients so far, which would make them the service provider with the highest volumes on this list – surpassing even LegalZoom.
You can get standalone registered agent features for just $149.99 a year. However, we recommend subscribing to the Premium service plan, which costs $39.99 a month, to receive a discount of 25% and numerous other benefits.

Rocket Lawyer is a well-rounded registered agent firm, offering reliable customer support and a 100% customer satisfaction guarantee. They also have solid feedback ratings on numerous areas of legal services, which is a significant plus.
However, many other registered agent services offer far superior customer experiences and features compared to Rocket Lawyer. It isn't particularly noteworthy in any single sphere.
LegalZoom 
#7 Registered Agent Service

With immense brand power and name recognition in the industry, LegalZoom deserves its spot on this list. Since their launch in 2001, they've served over 4 million clients, which is not something you see in most registered agent services.
Thanks to their two decades' worth of online legal services experience, they are fully prepared to handle any kind of request from their clients.
Although LegalZoom's packages start at $299 a year, which is considerably higher than Northwest and IncFile, their services are relatively affordable when you weigh them against National Registered Agents Inc, CSC, and CT.

LegalZoom also offers a 100% customer satisfaction guarantee, which is as good as it sounds. Customers displeased with the services rendered will be refunded their fees, provided the request is filed within sixty days of the purchase.

Their compliance calendar will provide much-needed reminders for important filings and deadlines, which is a handy feature to have.
While there are numerous reviews about this legal services firm online, it's a bit of a mixed bag.
CorpNet 
#8 Registered Agent Service

Offering LLC formation and registered agent services, CorpNet is renowned for their invaluable experience and the level of attention they pay to their clients, lacking in many other competitors.
They've handled the formation of over 100,000 LLCs and corporations in the USA. Their registered agent services are top-notch and reliable, as well.
Their customer reviews are overwhelmingly positive. You'll be hard-pressed to find a negative review about them online.

While their service packages aren't as cheap as ZenBusiness or Northwest Registered Agent, their annual rate of around $149 is still less expensive than LegalZoom.
While they don't offer any unique services or excel in a particular aspect, their packages are well-balanced and provide reliable customer support – which is generally an unbeatable combination.
---
What If I Do Not Appoint a Registered Agent?
Not appointing a registered agent may land you in trouble. It could result in a loss of reputation, significant fines for non-compliance, or even a blanket ban on doing business. It makes far more sense to appoint a registered agent, which will save you a ton of trouble.
Am I Allowed to Switch Registered Agents?
Absolutely. However, the process may vary depending on the state your business operates in. Ensure you go through all compliance-related laws and procedures applicable to your state before changing your registered agent.
Requirements
Existing state laws require all businesses to appoint a registered agent while establishing a company or a business.
To be fully compliant with the law, you'll have to appoint a registered agent. It's a long-term commitment, which means that your registered agent is more like your company's partner.
Applications that seek to establish a corporation or a Limited Liability Company without appointing a registered agent may be rejected by state authorities.
Not maintaining a registered agent could have dire consequences. For instance, courts may levy adverse penalties on your company even in petty lawsuits – cases that could have been handled easily by a registered agent.
Many cases where state authorities suspended or even dissolved a company entirely because they had neglected to appoint a registered agent.
Appointing a registered agent is not something you can take lightly. Their services are crucial, not just while establishing your business but also for ensuring its long-term growth and survival.
Here are the services certified registered agents will provide to your business:
Document Organization – A registered agent handles the company's document organization needs and filing requirements.

Compliance Monitoring – As they are well-versed with all applicable legal procedures, a registered agent will ensure that your business complies with important laws and regulations.

Privacy – Registered agents ensure your private details are not made public.

Mail forwarding – A registered agent receives essential documentation on their client's behalf and forwards them to the appropriate department in the company.
Registered agents also handle various documents for their clients, including:
Official federal and state correspondence

Lawsuit notices

Information subpoenas

Tax notices issued by local and IRS authorities, including use tax, franchise tax, etc.

Court summons

Corporate filings
Factors to Be Considered While Selecting A Registered Agent
Selecting a registered agent for your business or company is one of the most important decisions you'll have to make while establishing your company. Today, many firms offer registered agent services, which may have you confused about which one is right for you.
But here are some tips that'll make this step much more manageable. Vet your options after considering the following factors:
Services offered – What are the services provided by the firm, and how does it measure up to the competition?
Although you'll be mostly focused on the corporation or LLC application services offered by the registered agent at first, don't make your decision solely based on that criteria. You should also consider other services offered by them that can help you in the long run.
An ideal registered agent offers a few extras on top of its standard services.
For instance, both Rocket Lawyer and Legal Zoom offer services that aren't limited to their registered agent offerings – it also provides attorney services such as drafting important legal documents and consultations.
You should select a registered agent based on the structure of your business.
If you're looking for a partner who also offers legal assistance once the initial stages are complete, a service like RocketLawyer and LegalZoom may work better for you.
But if you intend just to launch a new corporation or LLC and be done with it as soon as possible, you can go with any service listed here.
Many states have different laws and licensing requirements for registered agents who intend to work within their jurisdiction. If you're searching for a Wyoming Registered Agent or a Delaware Registered Agent (the two most popular choices), ensure that the agent you select is licensed to work in these states.
However, most firms are well-equipped to counter this problem. Most registered agent services are perfectly capable of taking on clients in all states within the US, which means you generally don't need to be worried about any extra paperwork.
Ledgers and manual systems have now become outdated. Many registered agents today use automation tools, which enable increased efficiency levels.
Therefore, it is important to arrive at a decision only after taking the software capabilities of the registered agent into consideration. An excellent registered agent should possess comprehensive, user-friendly, and robust software capabilities that integrate tracking functionalities and automation tools.
Companies usually have an intimate relationship with their registered agents. Apart from being well-versed with the law, it is also essential to be accessible enough to resolve their queries and issues on time.
Ensure that your registered agent offers support for at least 12 hours a day on regular business days. They should also have multiple customer support channels. If the representative assigned to you is polite and responsive during your interactions, that's an encouraging sign.
While pricing does play a crucial role, keep in mind that the cheapest option may very well turn out to be the most expensive one! But that doesn't mean you should go for expensive services.
Select a registered agent only after due diligence, which will protect your business from problems in the future.
Don't merely compare price quotes – assess the services they offer and compare them against their package rates. See which registered agent provides the most value-for-money package that can serve your needs.
Cheap registered agents tend to offer only essential services. On the other hand, a more expensive option will also provide legal benefits and personalized support, which might be worth it, depending on the scale of your business.
---
Verdict
Which Registered Agent Service Should I Go For?
After considering your company's unique requirements, you might have already selected one out of the options given here. Note that even the cheaper services mentioned here are good enough for your business if your requirements are basic.
However, a thorough analysis of all the registered agent service firms reveals that Incfile, ZenBusiness, and Northwest Registered Agent are the best registered agent services in the US today.
Our #1 Pick, Northwest Registered Agent
If you want to form an LLC or only looking for registered agent services, Northwest is simply the best in the market.