We rank and review the 10 best dropshipping suppliers for 2022.
Dropshipping is a simple process that's easy to understand. Dropshipping is a way to sell online without managing inventory or fulfilling orders. We looked into over a dozen dropshipping platforms before narrowing down our top choices. 
AliDropShip was the most popular choice due to the huge AliExpress product catalog with millions of products in almost every category, and its integration with WordPress. 
Best Overall: AliDropShip
Strong 2nd: Importify
Best Supplier for Shopify: Oberlo
Best Value: SaleHoo
Largest Supplier Directory: Worldwide Brands
Best for Scaling/Automation: Inventory Source
Best Extra Features: Dropified
Best POD: Printify
Best for Quality Goods: Spocket
Best Free to Browse: Wholesale2b


Dropshipping: When it makes sense to invest in it
Dropshipping can be a smart way to get into the e-commerce market. Dropshipping is an affordable option that doesn't require you to rent warehouse space or handle the order fulfillment. You only need a unique idea, a great online storefront, and you're ready to go.
Dropshipping requires minimal investment. But that doesn't necessarily mean that it's easy. Dropshipping companies often charge small fees for access to their suppliers.
You can start a dropshipping business before you even know what you are going to sell.
This will allow you to identify high-margin products that you could sell and people you could sell them to. This information can help you to steer your business model, marketing strategies, website, and website in the right direction.
Dropshipping can also be a great option for established e-commerce brands and businesses looking to increase their revenue without having to produce, store, and fulfill their products.
#1 – AliDropShip – Best Dropshipping Plugin
Pros
You own 100% of your online shop. One-time payment.

AliExpress allows you to import products directly from your computer.

Edit the product descriptions, add pictures, text, and videos.

The plugin syncs with AliExpress to receive new data from sellers. 

Drop shippers can order products directly from sellers 

It also features a dropshipping store creation feature.

Access 100,000,000 products. The number it offers is nearly unlimited.
Cons
Must learn how to use WordPress and invest in website hosting
Visit AliDropship
AliDropship makes it easy for online entrepreneurs to have a fully-functioning online store with a single payment.
These solutions range from a plugin or custom store to various add-ons and themes. All are intended to provide a seamless and satisfying experience for dropshipping shop owners.
This plugin can be integrated with WordPress, WooCommerce, or the Shopify app. The AliDropship plugin costs $89 with a one-time for the plugin or $299 for a custom shop creation that does not require recurring payments.
AliDropship is a great drop shipping solution for both novice and experienced entrepreneurs.
---
#2 – Importify – Inexpensive and Great Overall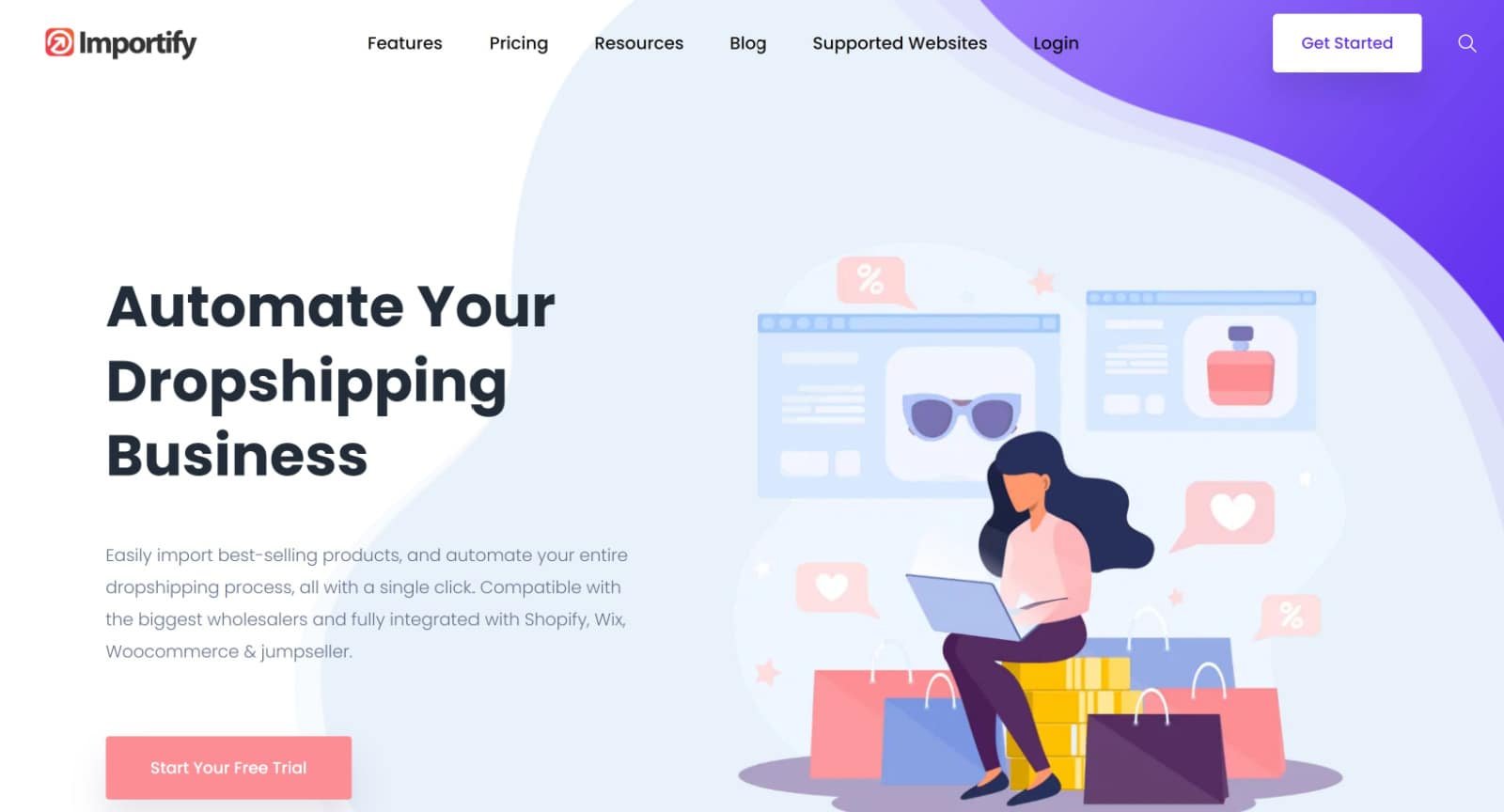 Pros
The monthly fee is very affordable and you have 24/7 support

Great customer service

Unlimited imports of products into your store
Cons
It does not integrate well to other platforms, except WooCommerce, Shopify, and Jumpseller

Trial period for a short time
Importify was founded in 2017. It quickly gained popularity over other drop shipping companies due to its low prices and a large selection of suppliers.
We compared Importify's online forums and comparison charts to find the best dropshipping company.
It supports over 35 suppliers and integrates seamlessly with WooCommerce and Shopify, two of our top e-commerce platforms.
Importify allows you to import unlimited quantities of products from hundreds of sites such as AliExpress and Walmart. Importify allows you to spy on other Shopify stores, so you can see how they are doing. This feature is not available for WooCommerce Importify customers. 
The platform allows you to save and modify your pricing strategy, change your product listings, or switch suppliers at any time. Importify's top features are praised by customers.
 Importify offers a 1-day trial for all its plans. This is significantly shorter than the average time offered by its main competitors.
---
#3 – Oberlo – Most Popular Dropshipping Company Right Now
Pros
Access to learning materials and customer service 24 hours a day

It is easy to use, making it ideal for beginners

Pro Plan for 30,000 Units
Cons
Only compatible with Shopify sites

Stocking of limited products is not possible
Shopify is a popular e-commerce platform for dropshipping and traditional e-commerce stores. Shopify offers the most flexible product management tools and a drag-and-drop user interface. This makes it easy to manage your products while still being accessible.
Oberlo and Shopify can be used together to create a dynamic duo that is able to drive revenue growth and business growth. The best thing about Oberlo and Shopify is their ease of use, even for those with no prior experience in ecommerce or dropshipping.
Oberlo works so well with Shopify, and it is a great choice for dropshipping products.
It comes with a database that is specifically designed to make it easy to find products. It is easy to sell and add inventory by using the database.
You can also price products automatically using your own rules. To generate more revenue, you can add a 50% markup on everything. That's possible.
You might offer a discount on a select group of products. Oberlo makes it easy to offer discounts on select products within a category. It's also automated so that you don't have to spend hours updating each product individually.
Search millions of products within specific niches and gain market-driven insights to automate your entire eCommerce process.
It's true. It's not difficult to do.
Oberlo offers a free starter plan that allows you to purchase up to 500 products. It includes all the features you'd expect, such as:
Unlimited Monthly Orders
Updates to inventory
Analytics and product statistics
Variant mapping
Automated product pricing
Sales reports
You can upgrade to a paid subscription for $29.90 per month if you require more products or access to additional features such as bulk orders, the Oberlo affiliate program, multiple staff accounts, and Oberlo's affiliate network. This plan allows you to purchase up to 30,000 products.
Oberlo's platform can happily be married to Shopify so if you already use Shopify it is easy to use this combination. Oberlo doesn't support any other e-commerce platforms so you will need to choose another platform if Shopify isn't your preferred one.
---
#4 Salehoo
Pros
Free 7-day trial available for $1.00

Excellent customer service

This site is simple and suitable for dropshippers.
Cons
Amazon may have some products that are cheaper
Dropshipping business owners will find it frustrating to not receive what they ordered. It can also negatively impact the perception of your business by your customers.
Dropshipping is not going to last if your customers demand high-quality products but get nothing else.
Drop shippers are unfortunately all too familiar with this scenario. You can't know the quality of products you are delivering to customers unless they inspect them. You're sending out products of unknown quality blindly in most cases.
Salehoo gives you a sense of security because every one of its more than 8,000 suppliers has been pre-vetted for reliability and quality. You can focus on what you want to sell, rather than worrying about how many low-quality products are available.
There are more than 2.5 million products available in the directory. You're certain to find something that will work for you and your audience.
Their most loved products include items from Disney, Xbox, and Canon, Apple, Adidas Gap, Sony, Revlon, and Converse.
SaleHoo is trusted because they have access to top brands in dynamic industries. This problem has been solved for businesses for more than 15 years.
Because you trust your suppliers, you also get help with product management. All of them have been pre-vetted. This takes the hassle out of researching and allows you to concentrate on running your business.
SaleHoo also offers market research labs that can help you find the most popular products and calculate profit margins automatically.
Salehoo members have access to exclusive pricing deals in the SaleHoo supplier directory. It's hard to resist saving money.
The pricing for SaleHoo can be described as simple as possible. You can access SaleHoo for $67 per year or $127 per lifetime.
Imagine this: You can solve all your headaches in one payment
A lifetime subscription is the best option if you plan to use SaleHoo for more than 2 years. SaleHoo offers a 60-day money-back guarantee so that you can test it out and decide if it is right for you.
---
#5 Worldwide Brands
Pros
Excellent customer service

Access to many educational materials, market tools, and a strong community forum among other benefits

Worldwide Brands maintains the largest drop shipping company supplier list.
Cons
A one-time payment of nearly $300

Online storefronts don't sync import and inventory management tools.
Worldwide Brands, despite its sloppy website, is a dropshipping directory and wholesale directory that has been around for over 20 years. Worldwide Brands' directory contains pre-vetted dropshipping vendors and wholesalers that offer more than 16,000,000 products. It is the most comprehensive directory ever created.
Worldwide Brands is similar to the other directories we have on our list but stands out due to its lifetime access.
Instead of paying monthly or annually, you only pay once and get access to the ever-growing library. There are no hidden charges or recurring fees.
Access to the most trusted dropshipping directory is a great investment. Both in time and money.
Instead of having to search for the right product on multiple platforms, you can access it all in one place. You don't need to worry about fake offers or wasting your hard-earned cash.
Since your reputation and business depend on the quality of your suppliers, quality control is crucial. This is not something you should leave to chance.
There are many products that can be used to complement any dropshipping business, including jewelry, pet supplies, electronics, clothing, office supplies, and food.
A lifetime membership can be purchased for $224. Although it is slightly more expensive than the SalesHoo lifetime membership, the Worldwide Brands product list is six times bigger so it is worth the extra cost.
You can also get a free preview of the directory if you're not sure whether you want to sign up.
---
#6 Inventory Source
Pros
Automated inventory integration

Uses vetted suppliers

Integrates with BigCommerce and Ecwid, Shopify, WooCommerce, and more than 20 other online e-commerce platforms
Cons
Dropshipping is more expensive than other companies
Inventory Source allows you to set up your dropshipping company and eliminate the repetitive tasks that plague dropshipping businesses. Automation is a pathway to freedom that allows you to stop being an employee in your business. It allows you to do more without having to hire anyone.
Inventory Source is a dropshipping software that integrates with a supplier network. It allows you to automatically upload products, sync inventory, and route orders from multiple dropshipping suppliers all in one place.
You can get an edge on your competitors with this level of automation. It ensures that you have stock and accurate inventory levels. The top products are also available in a quicker turnaround time. The best thing is that it doesn't take much to make this happen.
It's easy to set up once and forget it.
The quicker you can get products from suppliers to customers, the better. Inventory Source makes it easy to quickly try new products, jump on any trends that may be found on social media, and save a lot of time.
It is compatible with more than 25 e-commerce platforms including significant names such as:
Amazon
eBay
Shopify
BigCommerce
Shift4Shop
WooCommerce
Magento
You only need to integrate the software with your supplier's inventory.
It automatically uploads product data, inventory quantities, and other information to enable multi-channel sales management. Dropshipping automation integrates critical workflows that optimize revenue potential and reduce errors in product management.
Inventory Source's supplier network includes approximately 230 wholesalers, which is not as extensive as other providers. If you already work with a supplier you trust, and you want to automate your processes, you can add your own supplier.
Inventory automation costs $99 per monthly, while full automation costs $199 per month. It's a costly option that is more appropriate for dropshipping businesses that want to reduce errors and save time.
Having said that, you can easily create an account to get started.
You can view and research dropshipping suppliers, access product feeds, and get contact information. To fully benefit from the software, you will need to upgrade.
---
#7 Dropified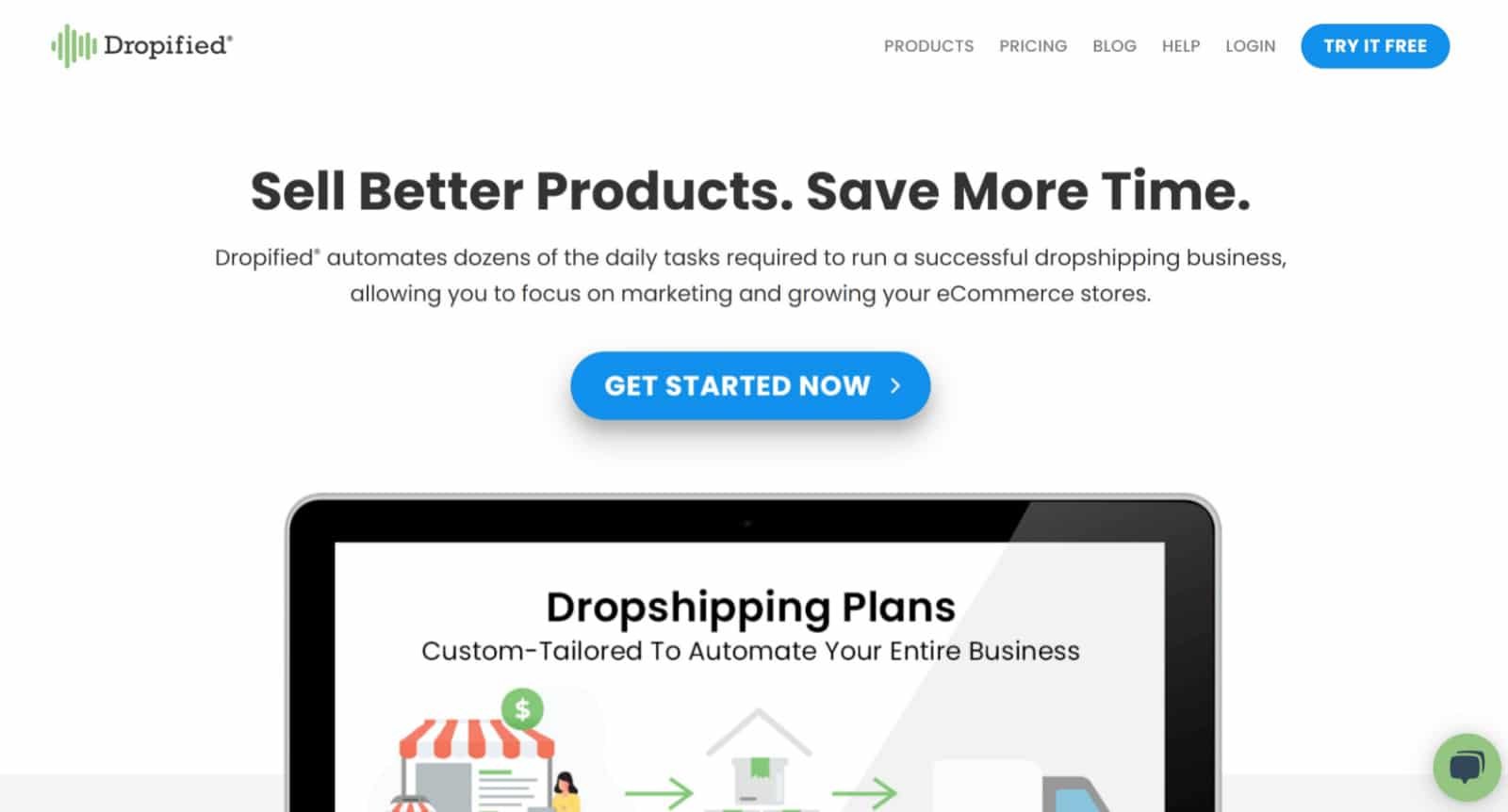 Pros
One-click product addition and fulfillment

All plans come with a 14-day trial period

Easy integration with WooCommerce or Shopify
Cons
For first-time entrepreneurs, maybe too costly

Hours of customer service are limited
Dropified is the best way to start a dropshipping company with AliExpress and eBay.
You can easily add products from major retailers like AliExpress and Etsy to your store in just one click. This, combined with 51 other retailers' vast product catalogs, gives you an incredible product base.
You can save hours and frustration by sticking to the one-click concept.
Dropified provides a 60-day free training program for anyone who has never used dropshipping software. Learn how to get started. This includes setting up your domain, social media accounts, product research to find the best products for your audience, marketing your products, and fulfilling orders.
You won't feel overwhelmed if you just get started by putting your focus on AliExpress or eBay.
You'll also learn about Dropified and how it can help you build your business.
This service has a fantastic cost-to-value ratio. You can quickly find the most profitable products for your audience and import them into your online store with just one click.
Your customers can buy online and you don't need to copy-paste or resend the order details to them. Your AliExpress and eBay wholesalers will automatically send and fulfill orders.
Dropified is simple enough for beginners, haven't you?
For the amount you'll be getting, the cost is too high. There are three options:
Research — $0 (great to browse the product category)
Dropified Builder — $19/month for up to 500 monthly orders
Dropified Premier — $47/month for unlimited monthly orders
An annual subscription can get you discounts. Get a 14-day trial for free to try the software.
---
#8 Printify – Best POD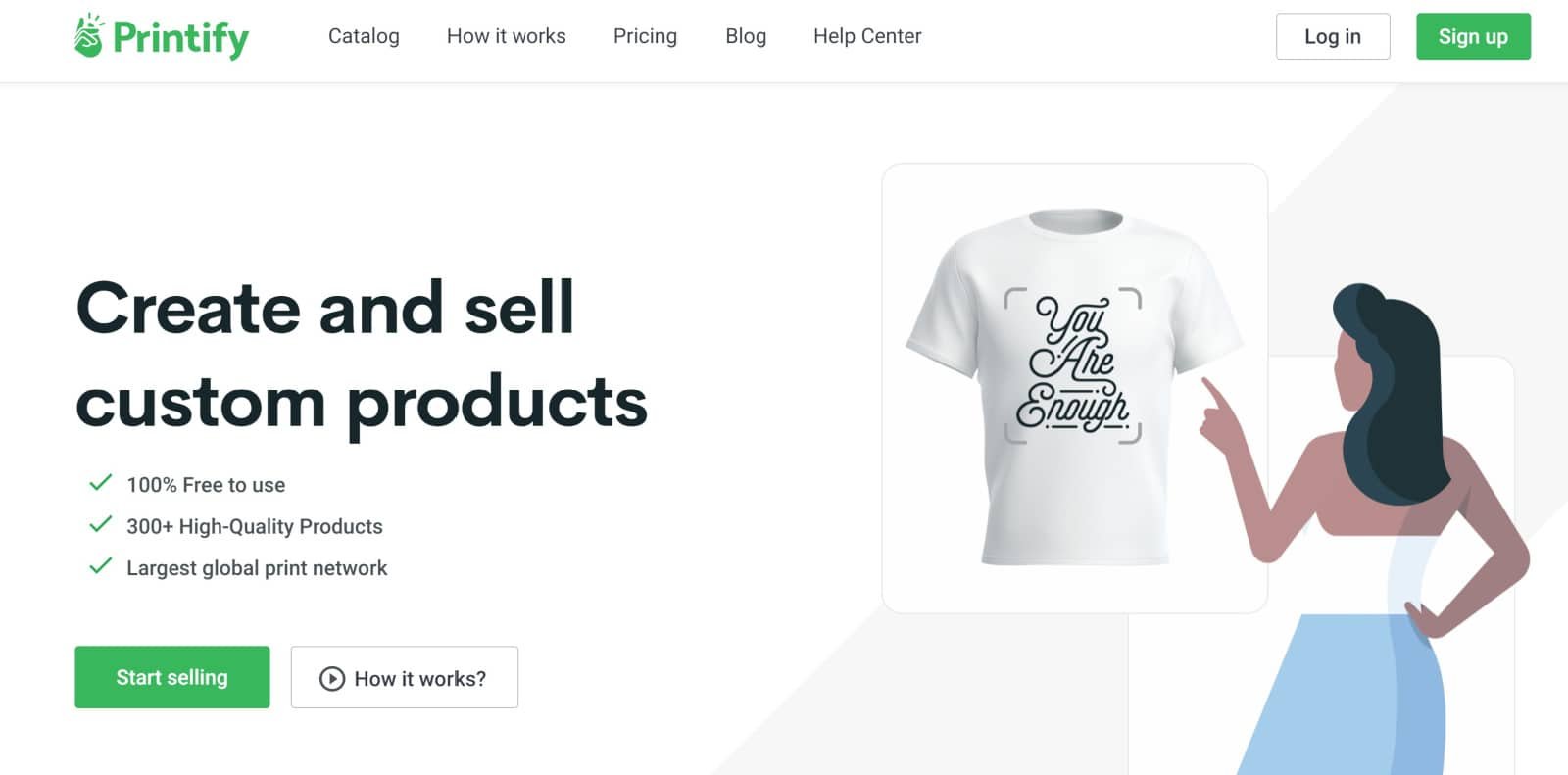 Pros
Easy setup to connect with 90+ print providers

Choose from more than 300+ items.

 

T-shirts, hoodies, and mugs as well as bags, decorations, stickers, and other items.

Incredible products available for your design

More than 500,000 store owners are connected

Mockup Generator

24/7 merchant support

There are more than 90 printing locations, mostly in the USA, UK, and China

Printify automates and simplifies the process for sourcing
Cons
The DTG's quality is poor.

Some users complained about the difficulty of finding suppliers for certain products

The suppliers do not guarantee the processing time, but it is an average of 30 days for all orders.
Dropshipping products are mainly supplied by suppliers that have warehouses full of inventory. There isn't much space for customization.
Printify is a platform that allows creatives to start and grow dropshipping businesses and make this a more creative industry.
It is a brilliant idea to allow customers to personalize their products. This is a great way for artists and designers to make a quick online sale of their work. Printify allows you to access high-quality merchandise that will complement your artistic masterpieces.
Printify offers a variety of products that can showcase your work, such as mugs and t-shirts. Printify is the right provider for you if you want to be unique with the products that you sell.
Your e-commerce shop can sell more than 250 custom items. This will allow you to build your brand in the most creative and unique ways possible.
Printify is compatible with WooCommerce and eBay as well as WooCommerce, WooCommerce, eBay Wix, Etsy, and other popular e-commerce platforms. This wide compatibility is why more than 250,000 businesses have chosen Printify dropshipping.
It's even better than samples can be sent to you before you list any custom products on the site. This is an excellent product management feature that allows you to see exactly what your customers will be using and holding.
You can also give feedback to the supplier regarding any changes that may be needed. Printify has more than 90 printing locations around the world, so it can handle high-volume production. It also offers fast shipping times. This makes customers happy.
Printify offers a forever free plan which supports up to five stores as well as unlimited product designs. The membership costs $24.99 per month and allows you to access wholesale discounts up to 20%
---
#9 Wholesale2b – 90+ Suppliers and 1.5 Million Products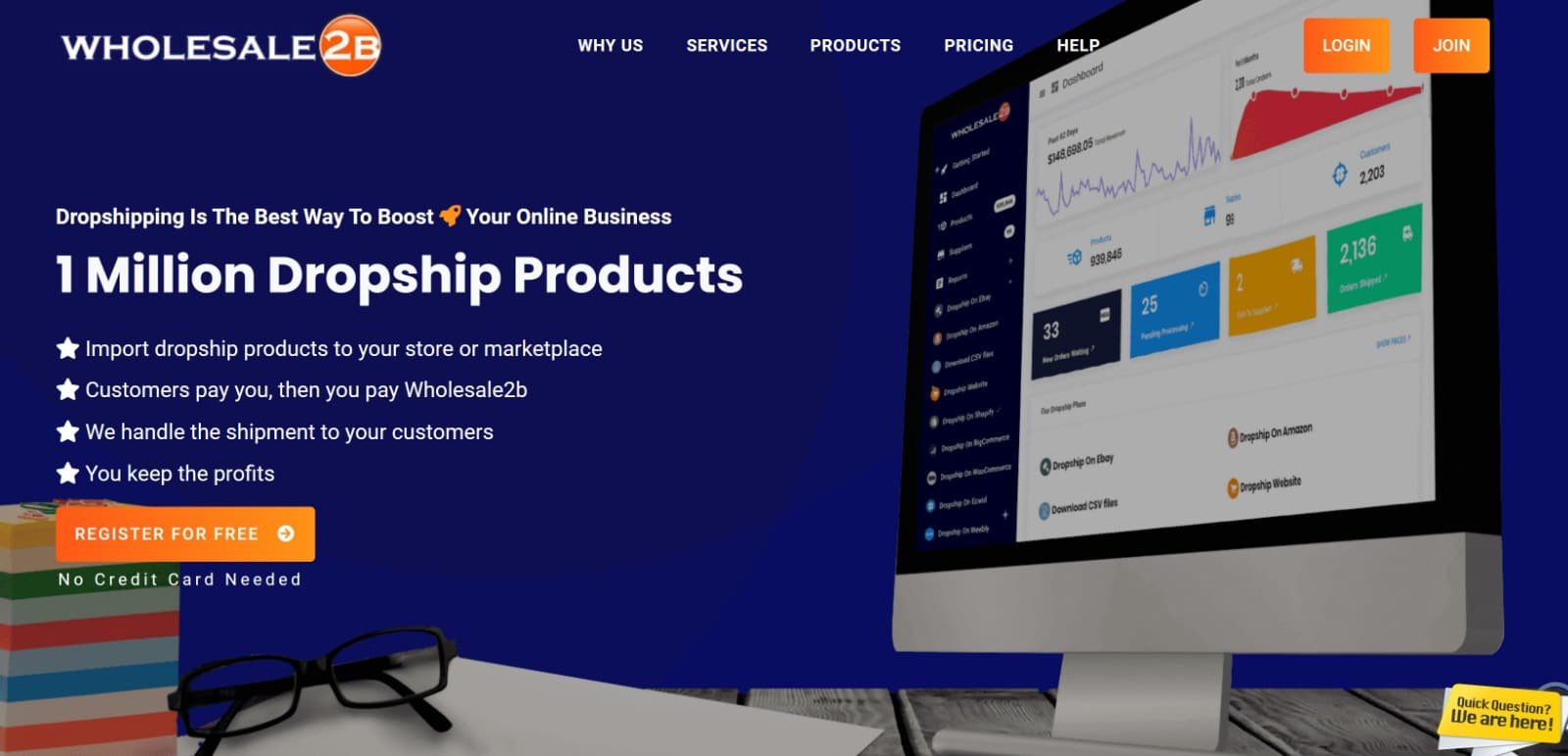 Pros
Free to Browse. Wholesale2b is different from other drop shipping companies that require you pay first before you can view their catalogs.
Reliable Carriers. Wholesale2B uses reliable carriers such as FedEx, UPS, USPS, UPS and DHL to deliver orders.
Reasonable Rates
Cons
Re-Stocking fees may apply
Support options are limited. Wholesale2B support can only be reached via ticket request or live chat during their hours of operation. Having a phone number and an email address would have been more comforting, especially for urgent cases.
Dropshipping can be described as fulfilling orders while you relax, click a few buttons, and watch the dough roll in. It's not as simple as that. Wholesale2b simplifies many things.
Finding the right products is one of the greatest obstacles. There are over a million products available in almost every category. Wholesale2b covers everything, from electronics and clothing to pet supplies and baby items to collectibles, decorations, costumes, and groceries.
Dropshipping can be simplified by having access to more than one million products from one location. Wholesale2b's unlimited order processing is what really sets it apart.
The average fee to process an order is between $2-5, but it can vary depending on other factors. Dropshipping companies can charge extra fees if you exceed your plan limit. This could lead to a financial hardship that could threaten your business's viability.
You can laugh if you don't produce that much volume. Wholesale2b is a great way to save money if your business produces products and grows every year.
We also like that you don't need to sign up with each supplier individually and that all orders can be managed from one account.
Dropshipping companies require that you apply for every supplier you wish to work with. This can take time. It's a lot. You may not be capable of managing everything from one location. Every supplier has its own dashboard which can complicate almost every aspect of your business.
All orders imported to Wholesale2b are automatically created once you have synced your website. This allows you to automate all your orders without having to input any data manually. Another way that Wholesale2b helps you save time is by making it simple for you.
This helps to reduce human error and saves a lot of time that you would otherwise have to spend jumping from one software to another. Wholesale2b also handles product returns, so you don't have to waste time chasing them back and forth.
Wholesale2b has many apps that work with various e-commerce platforms including Amazon, Shopify and BigCommerce. This allows you to have full platform compatibility.
The paid plans are extremely affordable. Prices vary depending on which platform you choose to use.
Shopify, Weebly, BigCommerce, WooCommerce, & Ecwid – $29.99 per month
Dropshipping website with hosting – $39.99 per Month
Amazon, eBay, Facebook, & Magento – $37.99 per month
Fulfillment is included in all paid plans. This includes automated inventory updates and tracking codes. You won't even have to do the hard work of fulfilling orders unless you choose to.
---
#10 Spocket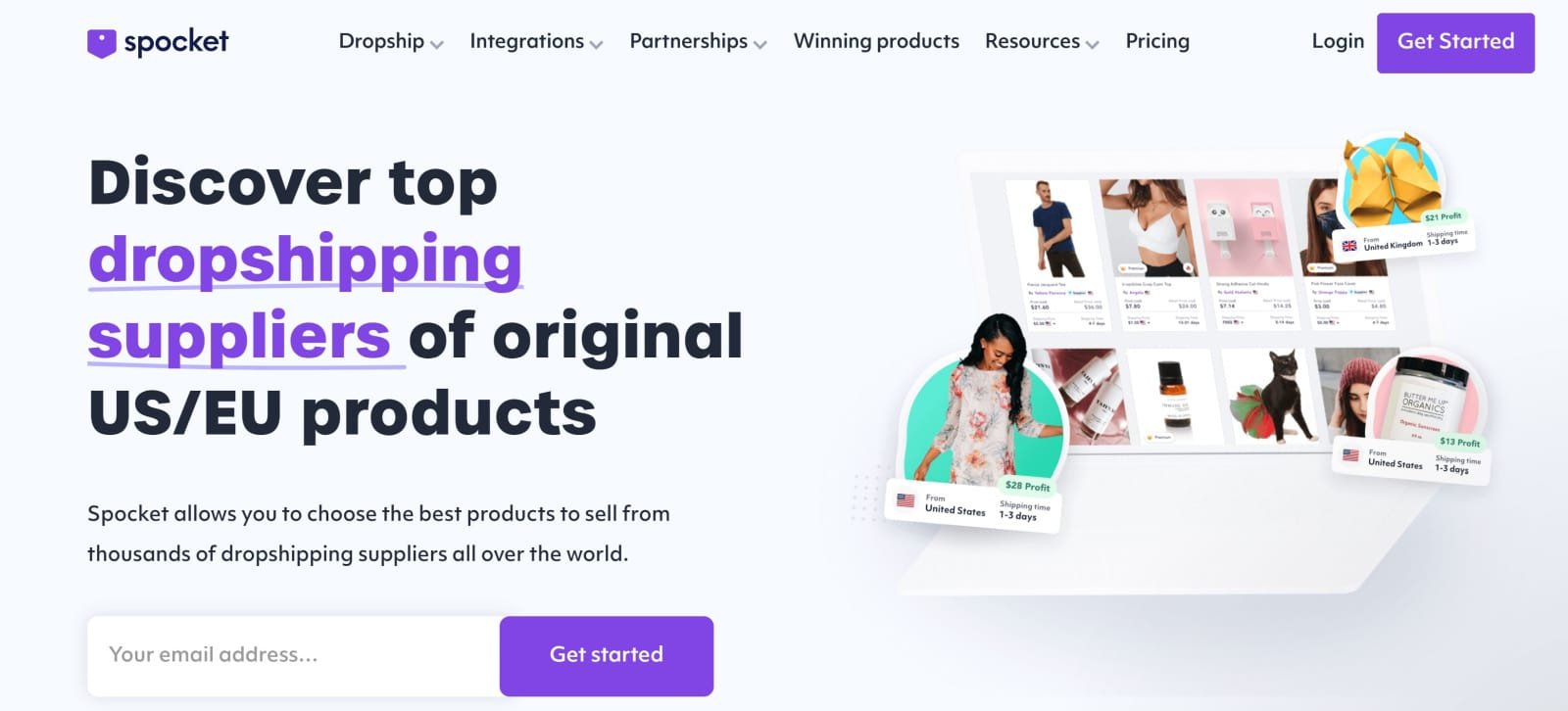 Pros
Spocket's suppliers are based in the U.S. and the EU and ship more quickly than other suppliers

The starter plan is under $25 a month

Offers three tiers of plans to fit a wide range of e-commerce needs
Cons
You can't sell on Etsy

Fast shipping times may not apply outside of U.S. or Europe
---
Dropshipping is often regarded as the easiest way to sell products online. Dropshipping is different from traditional retail. The selling merchant does not stock his inventory. To fulfill orders, the merchant buys inventory from third parties such as dropshipping wholesalers and manufacturers.
Locating a Dropshipping supplier
There are many strategies that may work for you. Some of them are better than others. These methods are listed in order according to effectiveness and preference. My favorite methods are listed first.
Get in touch with the manufacturer
This is how I find legitimate wholesale suppliers. Call the manufacturer to get a list with wholesale distributors for the product you are selling. These wholesalers can be contacted to inquire about opening an account and drop shipping.
Wholesalers often carry products from many manufacturers. This strategy allows you to quickly source products in the niche you are interested in. You'll soon be able to identify the top wholesalers in your niche market by making just a few phone calls.
Some of the Good and Bad Points of Dropshipping
Dropshipping is an affordable solution for those who are unable to purchase inventory or want to sell products online. Dropshipping is a great way to sell products online. However, you need to be cautious.
First, drop shippers are not able to sell every product you wish. Dropshipping a product means that you only buy and sell one thing. This means that your wholesale price will only be for the product you ship.
When they buy in bulk, wholesalers offer discounts to retailers. This means that your wholesale price (drop-shipped product) may be higher than the wholesaler's competitor. Wholesalers can sell this product at a lower cost than you, sometimes even less than your wholesale price.
How can drop shipping be successful?
It is essential that you are able to choose the right products to sell, and dropship the products. It is not possible to assume that just because a product seems appealing, you will be able to start selling it.
It is important to identify the products that can be drop-shipped so you are able to compete in the online marketplace. It is crucial to do some market research before you begin the selling process.
Dropshipping's Pros and Cons
Pros
You don't need to purchase or store inventory

Very low startup costs

You can easily add or remove products from your portfolio
Cons
Dropshipping is not offered by all wholesalers.

The wholesale price is determined by one product only

You must spend time researching the product(s), in order to choose the best one to sell.

Find Dropshippers That Work
Dropshipping certification is difficult to find. It's also almost impossible to search the internet for "dropshipper" without coming across hundreds of middlemen and scammers.
Although most of the companies you will find online claim to be drop shippers, they are not as good as genuine drop shippers in terms of pricing and quality. When searching for drop shippers, it is important to be patient.
Dropshippers who are certified don't have to charge monthly or setup fees. If you find a company that claims to be a drop shipper or has dropship websites, and they request a setup fee or monthly fee or an annual fee, it's a red flag.
Dropshipping can be complicated, especially when you deal with scammers. Here are some tips to help you find a wholesale distributor.
Understanding the Distribution Channels of Your Industry
A product can be shipped from manufacturer to retailer in many different ways. Wholesalers may not all be able to serve the same market. Knowing your industry's distribution channels and where you fit in the supply chains can help you locate the right wholesale supplier to support your online or retail business. There are many types of wholesalers:
Manufacturer: You can purchase some products directly from the manufacturer. This is what a "boutique store" does: it buys directly from small manufacturers (sometimes just one person).
Importer/Exclusive Distributor: In certain industries, a company may have exclusive rights to import or distribute a product in a country. While some companies may sell directly to retailers or to small local wholesalers, others will often set up or sell to them.
Regional Distributor/Wholesaler: These wholesalers usually take boxcar-sized loads, then break them down and offer truckloads of products to local wholesalers.
Each product industry has its unique distribution channels. Some retailers will sell enough product to bypass jobbers. In smaller industries, importers may sell directly to retailers.
You'll initially buy from smaller wholesalers for higher prices when you start. You'll see an increase in your volume and be able to negotiate better prices or move up the supply chain to a larger wholesaler.
 

Go to the manufacturer first
It is a good idea to start from the source. If you are selling brand items, contact the manufacturer directly. You might be able to sell depending on the minimum order requirements.
Ask them for a list if they don't sell directly to you or if you are too small. You can get the lowest price or at least a list with the most reliable distributors by starting at the manufacturer.
You will be more competitive in the market if you have fewer people to deal with.
Contact the dropshipping suppliers
Start contacting wholesale distributors that you have received from the manufacturer. You're looking for minimum order requirements as well as wholesale unit prices.
Be honest with what you want (don't try and sound bigger than you actually are), be concise and friendly in your emails. It might be worth picking up the telephone to make initial outreach calls or to follow up with those you have sent your emails to.
 

Join Industry Groups, Forums, and Other Professional Networks
It's not common for retailers to share information about suppliers with their competitors. Therefore, it will take some networking to locate the best wholesale suppliers for your business.
You'll eventually be able to build relationships with industry insiders if you start building them. Join online forums and build connections. Subscribe to industry newsletters and build your professional network.
 R

ead the Trade Publications in Your Industry
Every magazine and newsletter that targets retailers within your industry is available. Each advertiser in the magazine is a distributor or product manufacturer looking to reach you.
There should be a few dozen choices from the advertisements at the back of the magazine. Subscribe to all the online newsletters, blogs, and other information sources that are available.
Participate in a Trade Show
Trade shows are a powerful way to grow and build your business. These events are open to retailers like you. It is a great way to meet manufacturers and wholesale distributors face-to-face, which helps you avoid the confusion that can be caused by inaccurate information on the internet.
Tsnn.com has the largest database of trade shows. Search for trade shows by date, industry, name, country, and/or event.
---
You can identify whether or not a wholesale supplier is legit by looking at these things.
Do they ask for ongoing fees? Wholesalers who are legitimate don't charge customers a monthly fee to do business with them and order from them. 

It's unlikely that a supplier will ask for a monthly fee or membership fee.
Wholesale suppliers that offer products at wholesale prices to the public are not retailers selling items at high prices. Here are some dropshipping fees that you might encounter.
Per-Order Fees: Many drop shippers charge a per-order drop shipping fee. This can vary depending on the item's size and complexity. This is a standard industry practice since the shipping and packing costs for individual orders can be much more expensive than bulk orders.
Minimum Order Sizes: Some wholesalers have a minimum order size. This is the amount that you must purchase your first order. This is done to prevent window-shopping merchants from wasting their time on small orders and asking questions that won't result in meaningful sales.
Dropshipping can cause problems. What do you do when a supplier requires a minimum order of $500 but your average order is only $100? Pre-ordering $500 of product is not a good idea if you want to open a dropshipping account.
It's a good idea to offer to prepay $500 to the supplier to establish credit for your dropshipping orders. This will allow you to fulfill the minimum order requirement of the supplier (which is $500 for a product). You won't have to place any large orders without corresponding customers.
---
Methodology to Choose the Best Dropshipping Company
There are so many dropshipping companies on the market. How can you choose the right one for you? When looking for dropshipping companies, there are a few things you should keep in mind.
Each person has different needs. You need to find the best company that can meet your needs. This is how we recommend you use our search method.
Cost and value
It is important to understand your cost-to-value ratio and what you will get in return for your investment. There are many providers that offer different benefits and features depending on the cost. Some providers have different pricing and rules for how to source inventory.
Dropshipping companies offer many suppliers. Others offer greater automation, greater central control or special integration with platforms such as AliExpress, Shopify, and eBay.
Pricing can have a huge impact on the value you get. This will depend on what you are trying to improve the most in your dropshipping business. If you are just starting out, you can choose a platform that delivers what you want to your customers.
Dropified offers a 60-day training program that will help you navigate Dropified's systems. It costs $47/month. Dropified integrates with all major e-commerce platforms, so you can learn the essential details of running a successful dropshipping company.
Some providers may have restrictive terms and conditions. You may be required to follow certain rules for adding products or selling those products.
This is crucial because, even though you may be able to get great features on your front end for less money, your business could have problems if customers ask for a product that you cannot sell because your platform was cheaper.
So, as always, do your homework.
This list contains a few providers that offer lifetime access for a flat fee. They have over 16 million products from trusted sellers. It is a great example of maximum cost-to-value ROI.
Although you may have to pay a little more upfront for Worldwide Brands and SaleHoo, there is no need to pay per month to access their product database. You also get peace of mind dealing with companies that have a great track record of providing excellent service.
Platform compatibility
Some providers only work with a few product categories or ecommerce platforms. This could be the right solution for you, depending on your goals and the products you wish to offer. This provides clarity about scope and daily processes, making it easier to get started.
However, there are downsides to dealing with your manufacturer or provider. If your customer's expectations are not met, this means you will have to accept slow deliveries or poor product quality.
This situation can lead to a decrease in revenue and flexibility, which is not good for your business' growth.
This is also true for importing products to your store. A flexible platform is necessary to allow you to import products, create descriptions and choose colors, or any other features.
The platform you choose to work with will affect your business. You could face major headaches if you choose not to make this process easy for your customers.
Your needs must be clearly defined. We have an Oberlo provider for Shopify stores. This master dropshipper with Shopify is available to you.
However, you can work with Inventory Source if you require access to name-brand products, or wish to work with other platforms such as WooCommerce, eBay or Shift4Shop.
Manage Products and Suppliers
Customers don't care about how your products arrive, they care only about the end result. Did they get what they requested?
It is unacceptable to not have a reliable supplier for goods. Your reputation will be damaged and your reviews will only add to this sad truth. Your business will collapse like a concrete block.
If you don't know what you should look for, it can be hard to find a supplier that you can trust. It can be exhausting to spend time looking at metrics such as order history and company ratings. Even if you do, it is possible to miss the mark.
Dropshipping companies offer the security of having certified suppliers.
Dropshipping involves constant juggling of products, new and old.
One of two options exists when it comes to managing products. Either it's easy to manage or it can be a tedious time in your week.
Software that instantly allows you to select, view, and edit products with all the details you need is something you should be looking for.
Avoid providers who require that you order the product first from them before they ship it to your customer. This is a time trap and a detriment to dropshipping.
What about tracking? Integrated order tracking allows you to answer customers' questions about your product without any hassle.
Imagine how your day would look if you didn't have these options. This is what you should keep in mind when choosing dropshipping software.
Automating Products
Without automation, no business can run efficiently.
As a stepping stone to the product management section, picture yourself manually adding each product you wish to sell. You might be able to move the needle if your inventory is small.
It would be tedious to manually enter the dimensions, colors, and descriptions of each product.
It would be more productive to concentrate on customer service and marketing instead. You are losing growth opportunities by spending too much time on the keyboard typing mundane details.
Many providers offer highly detailed automation services to automate your workflow and free up more time for you.
Pricing automation is an example. In order to create pricing rules for product types and set global prices for products, you will need to set pricing automation. This will then automatically set pricing for your products.
There's no need to sit at the kitchen table and fiddle with percentages and calculators in order to determine if you will make a profit. It's as easy as calculating the average retail price of a product and then setting up a rule to multiply that base price to calculate your exact profit margin.
Summary
Dropshipping is a great way to make money in ecommerce. Dropshipping is a great way to make money online. It requires a small upfront investment, but you can expect high-profit margins.
To be successful in dropshipping, you must find a partner company.
Oberlo is a great dropshipping solution for most people. However, it might not be right for you if Shopify is not your preferred web store.
This guide can help you find suppliers, software, or an all-in-one solution.