Gusto Review: What exactly is Gusto?
Gusto was founded in 2012 under the name ZenPayroll. Its three founders lived together in Palo Alto – with one even bunking in the closet since they wanted to share space, but the bedrooms were taken.
The first plan was to develop a backend system that would let them to pay for their work. Today more than 100,000 companies across the nation use Gusto to manage payroll and manage benefits.
Gusto is headquartered in San Francisco, New York City, and Denver. 
Video: Payroll and Time Tracking
| | | | |
| --- | --- | --- | --- |
| | | | |
| Gusto | Paychex | OnPay | ADP |
| | | | |
| Direct Deposit? Yes | Direct Deposit? Yes | Direct Deposit? Yes | Direct Deposit? Yes |
| Trial Period? Yes, 30 days free trial | Trial Period? No | Trial Period? 30 days | Trial Period? 3 months |
| $39, plus $6 per employee | $59, plus $4 per employee | $36, plus $4 per employee | Custom |
Visit Gusto
https://gusto.com
Gusto's 3 Main Plans,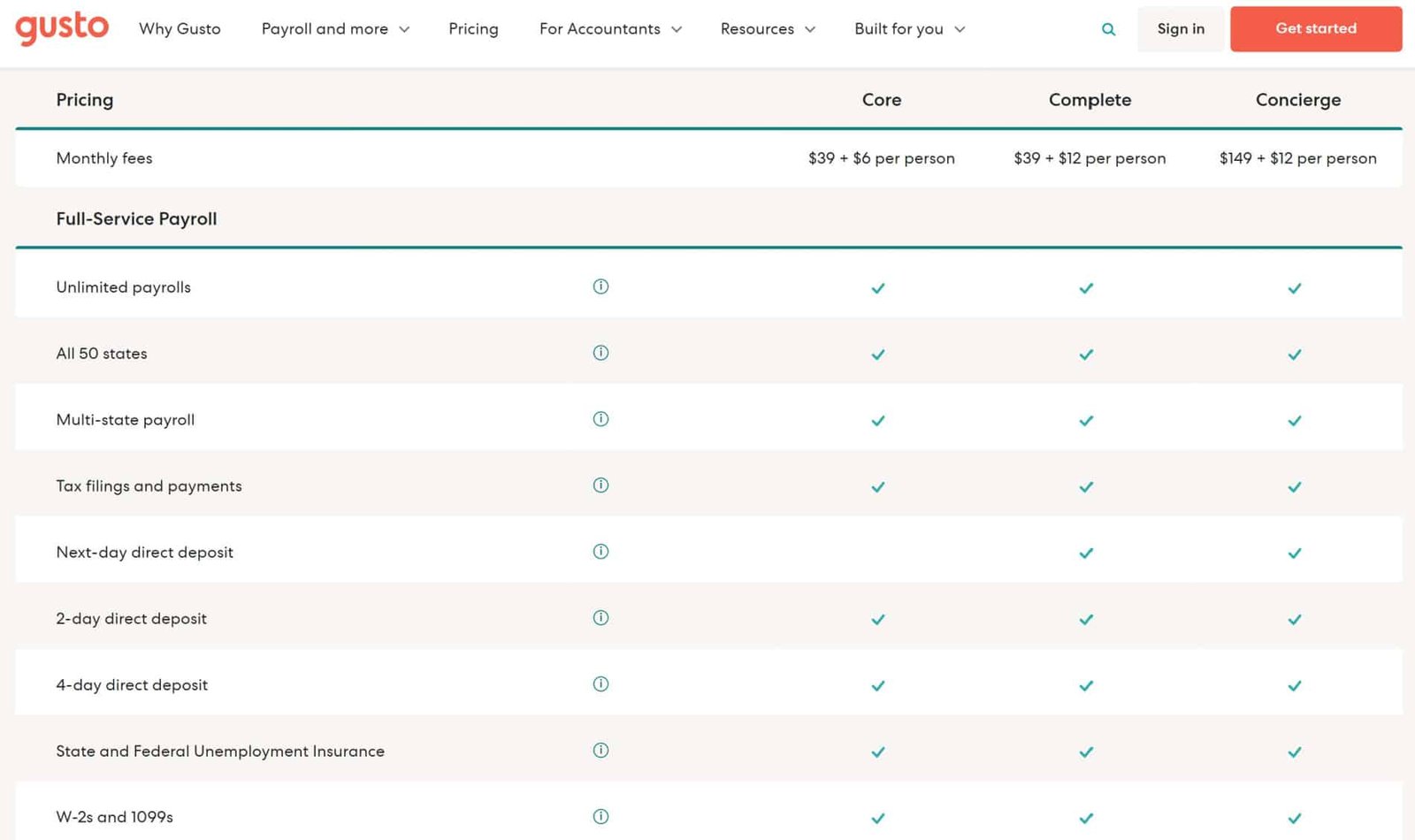 It has three plans which vary in cost and are designed to accommodate a wide variety of needs. With a monthly cost of $39 with an additional $6 per employee, the Core Plan isn't the most affordable we reviewed but it's still affordable, and it includes everything you require to run payroll. 
The three plans offered by Gusto include automated payroll for salaried employees Unlimited payroll runs, direct deposits, tax filings, W-2s and 1099s, and many more. 
 Gusto vs. Run ADP
|   | Gusto | Run Powered by ADP |
| --- | --- | --- |
| Online Access | Yes | Yes |
| Unlimited Payroll | Yes |   |
| All-Inclusive | Yes |   |
| Prepares Federal Tax Forms | Yes | Yes |
| Employee Self Service | Yes | Yes |
| Mobile App Available |   | Yes |
Gusto Pros and Cons
Pros
Both employees and managers will find it easy to navigate.

Other services and features include vacation and owner draw options, early pay, benefits, and vacation.

Even for small businesses, you can get super-fast direct deposits even if your business isn't making a lot of money. This can be extremely helpful.

Customer service is prompt and friendly.
Cons
These fees are slightly higher than the average.

Paystubs need to look more formal than their current minimalist look.

It is difficult to verify small businesses because the actual business name doesn't show up on bank statements.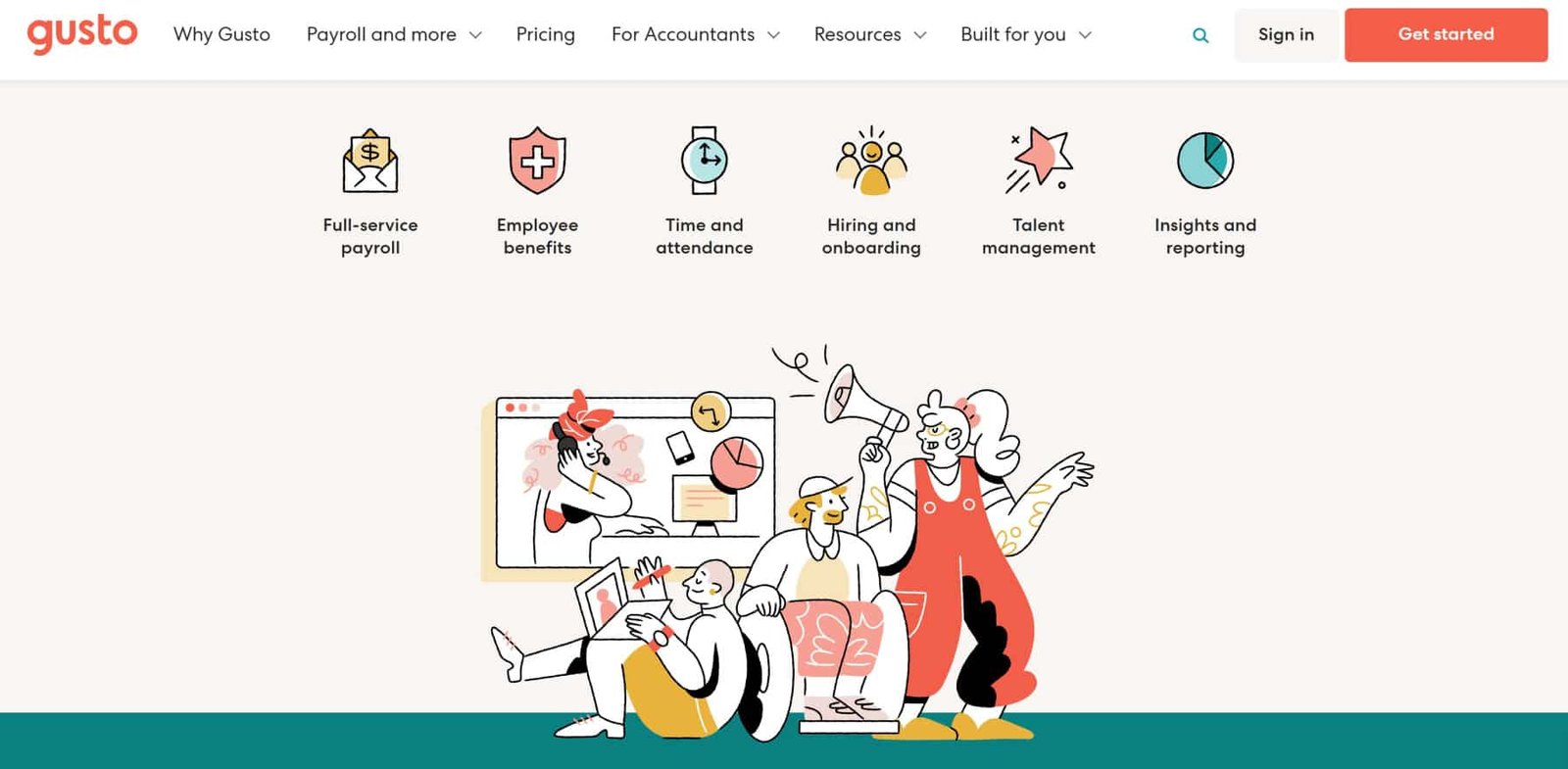 Gusto provides health insurance in all states, and you can use it to build an employee benefits package for your employees. The more expensive plans offered by Gusto include time tracking and other HR and administrative features.
Gusto offers a Contractor Plan to companies without W-2 employees. Only $6 per payee is the monthly cost.
Is Gusto Right for Me?
Gusto Is Best For:
Companies that have to pay taxes in more than one state
Tech lovers
Start-ups
Only independent contractors are paid by the companies.
People who do not like having additional fees
Gusto is not suggested for:
Businesses looking for the best self-service payroll software
Individuals who would like to oversee household payroll
Users who want expert support during the evening or weekend
Video: Payroll with Gusto
If you're interested in UX and you love downloads of the latest applications, Gusto might be a perfect fit. It was born in Silicon Valley, and it's is a contemporary-looking app. It's not just about running payroll, but you can also keep track of your employees' coffee orders and send them digital birthday cards that are signed by the recipient.
Gusto doesn't charge extra costs for state taxes in multiple states in comparison to other rivals we examined. The pricing for Gusto can be found on their site.
If you are apprehensive about paying extra costs that drive you crazy, this may be the perfect choice for you. Gusto is a great option for startups since you can design benefits packages or set up payroll as well as onboard employees all from one location and at a reasonable price.
Gusto's self-onboarding system. All you have to do is enter some details regarding your employees. Gusto sends employees an email to instruct them to log in and fill out the remainder of the. Another benefit of joining Gusto: You can upgrade or downgrade your subscription at any time.
Gusto is a possible option for those who are paying independent contractors. Gusto is priced at no more than $6 per month for each payee but does not offer the option of household payroll.
Gusto might not be the right choice for you if you are someone who prefers calling and having your questions answered immediately.
Gusto Customer Support
Live customer support is available between 7 a.m. between 7 a.m. and 4 p.m. PST.
Contrary to this, however, some of the competitors in our ratings provide 24/7 customer support, whereas others provide evening or weekend hours depending on the area you're located.
Gusto lacks a mobile app to manage payroll, however, you can log in through the web browser on your phone or tablet.
And lastly, Gusto isn't the most expensive payroll software in our ranking of the top Payroll Software in 2021, but it's not the most budget-friendly. You'll need to complete your taxes on your own using self-service options from Patriot as well as SurePayroll. But you'll likely save money.
Gusto Customer Reviews on TrustRadius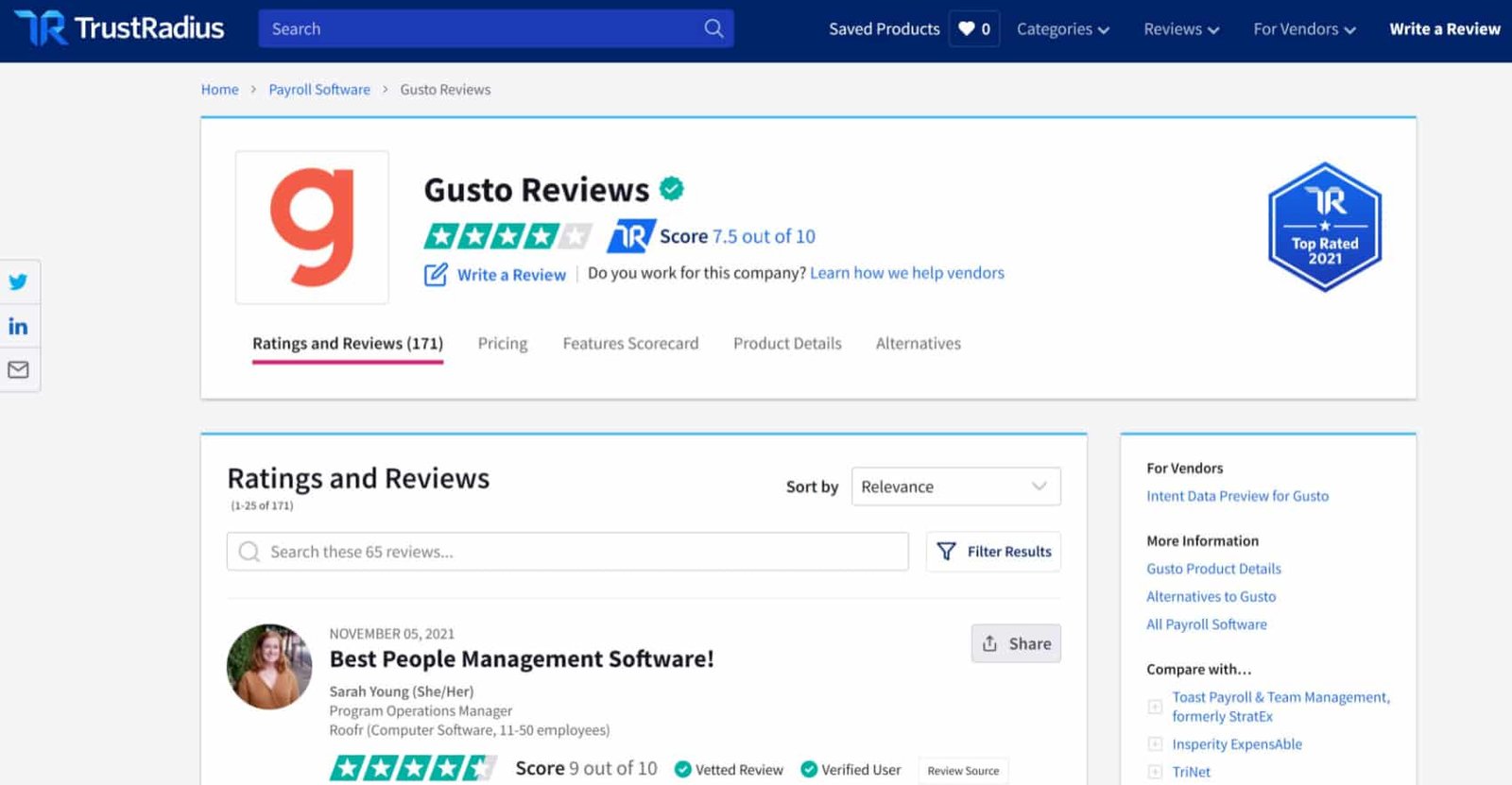 Gusto has 171 customer reviews on TrustRadius with an average rating of 7.5 out of 10. Not bad.
Gusto Reviews on G2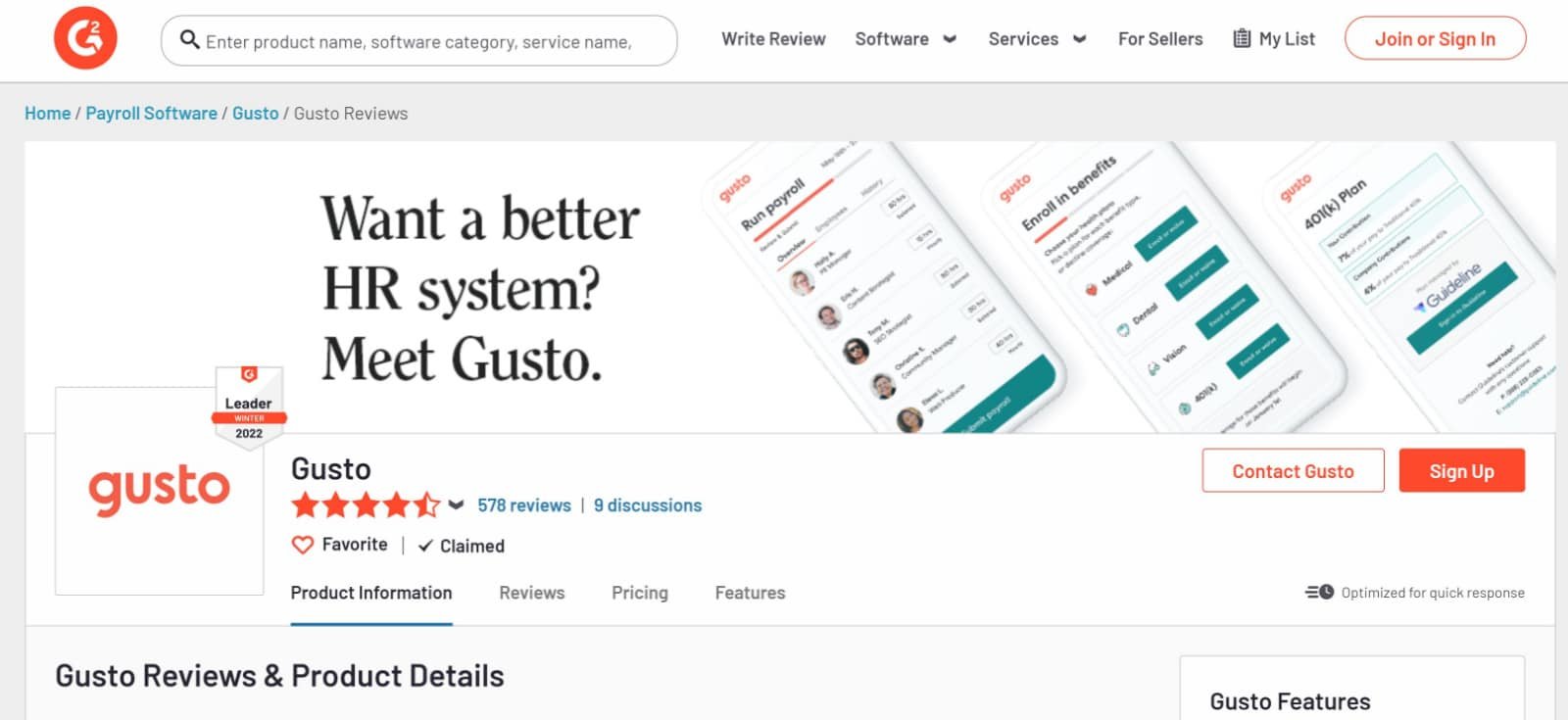 Gusto has 578 customer reviews on the website G2, with an average rating of 4.3 out of 5. Not bad.
---
Gusto Review: Payroll Plans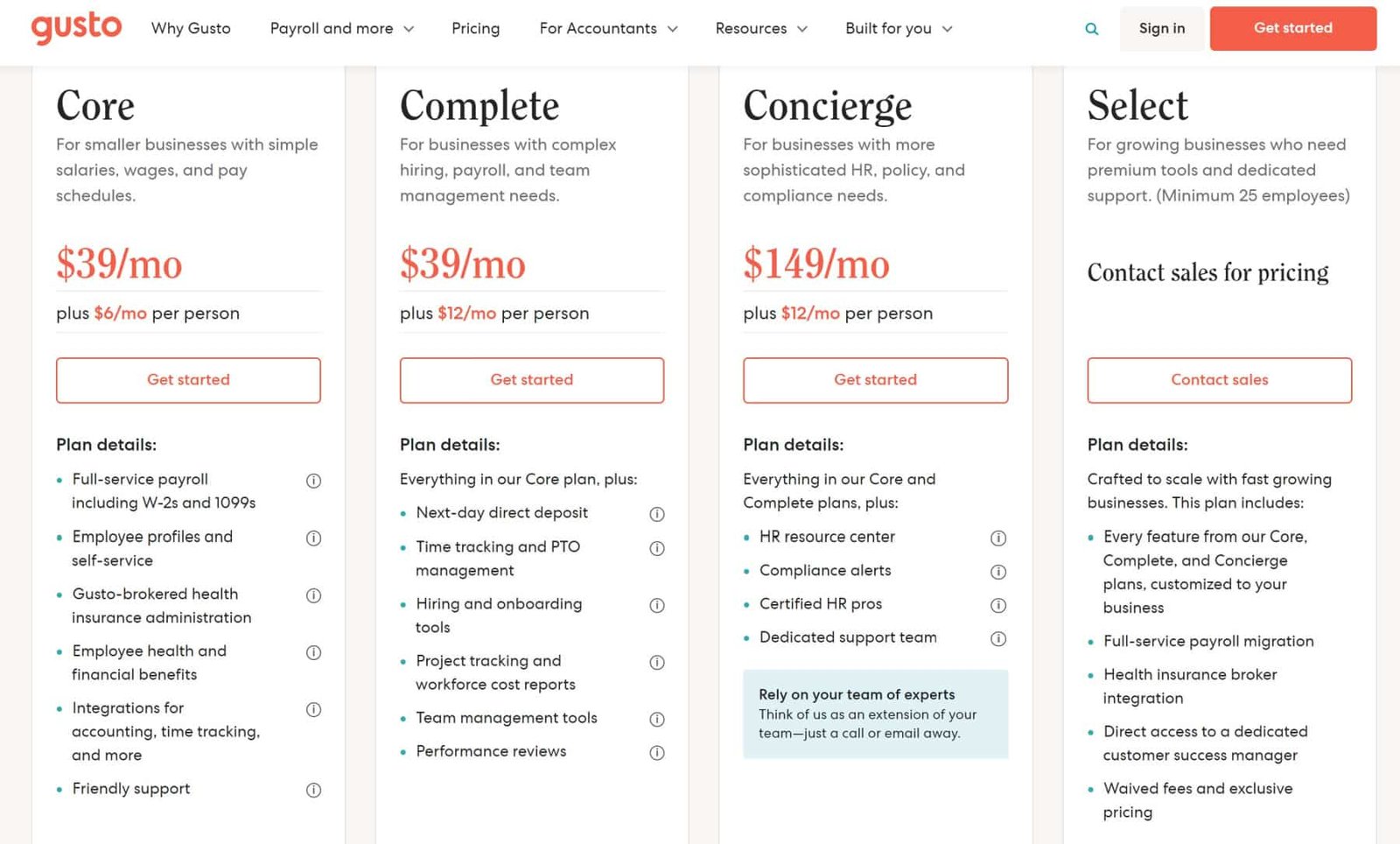 Visit Gusto Payroll
https://gusto.com
Gusto Payroll Cost
Gusto currently offers four tiers. Gusto Contractor is the cheapest, offering unlimited contractor payments and 1099 creation and file at $6 per person per month (with no base price).
The Core plan is $39.95 per month plus $6 per employee per calendar month. It focuses on payroll processing and supporting records.
The Complete plan is $39 per month plus $12 per employee per month. This includes more HR features such as impressive onboarding and hiring tools, time tracking, project management, and next-day deposit capabilities.
The Concierge plan is $149 per month plus $12 per employee per month and has access to HR professionals certified by the company (including a phone number).
Core
The Core Plan is $39 per month, plus $6 for each employee. It includes everything you require to manage payroll, including direct payment, payroll reports, and unlimited payroll runs. Gusto will also manage your tax filings, whether they are state, federal, or local taxes. Additionally, you can manage your benefits and employees have access to their W-2s and pay stubs through Gusto Wallet. Gusto Wallet App.
If you need additional HR features such as time-tracking, software provisioning, and anonymous surveys, consider upgrading to Gusto's Complete or Concierge plans.
While this is the most cost-effective of the options offered by Gusto you should consider other options such as Patriot and SurePayroll if your goal is to get a self-service and low-cost payroll software.
Complete
Gusto's Complete Plan costs $39 per month plus $12 per Employee. The Core Plan includes everything and more. The main difference in running payroll is that the Complete Plan offers next-day direct deposit.
There are many different things to consider in the options other than payroll. The Complete Plan includes functions such as the ability to electronically sign documents and custom onboarding checklists. Time tracking and PTO requests can also be requested. You can also make anonymous surveys available for review and even view the results over time.
If you're in need of additional HR support, you should consider upgrading to the Concierge Plan. It includes unlimited access to a certified HR professional via chat or phone and a designated telephone line customers can contact for assistance with customer service.
Concierge
With a monthly cost of $149 with a $12 employee fee, Gusto's Concierge plan is on the pricier end of all those we reviewed, but it comes with tons of features, including all the tools you'll need to run payroll and manage benefits.
When it comes to managing payroll, you have the same benefits for both the Complete and Concierge plans but Concierge offers the highest level of HR support. Gusto's HR Resource Center will give you access. This includes templates for job descriptions as well as for employee policies. Additionally, you will receive updates on changes in the law so that you are always legally compliant. You'll also have access to HR experts and a phone number so that you can reach Gusto for help.
Gusto vs Competitors
Gusto vs Onpay
Gusto has the top spot in our review of the Top Payroll Software in 2021. Gusto is just ahead of OnPay which is ranked in the top ten. 2. Both are great products. However, there are a few factors you should consider before deciding which is right for you.
They provide professional support and all the tools you require for workers' compensation administration as well as payroll. Gusto and OnPay have many integrations. OnPay costs $36 per month, plus the cost of $4 per employee. It is less expensive than Gusto Core Plan. 
OnPay provides health insurance in every state in the US in contrast to Gusto does not offer it in every state. If this is something that you are interested in ensuring that you check the current list prior to deciding to sign up.
OnPay can take up to 4 days to get employees' direct deposits. Gusto, however, gives direct deposit the next day when you sign up for its Complete or Concierge plans. Gusto's plans also include federal tax, state, and local filings. OnPay only fulfills federal and state tax obligations.
OnPay offers just one option, and there's clearly an enormous price difference between it and Gusto's Concierge option, but there's also a big difference in service. If you're looking to access certified HR professionals, consider Gusto.
Gusto vs Square
Gusto and Square come in first and fourth, respectively, in our evaluation of the top payroll software of 2021. Both provide all the tools you require for payroll including direct deposit unlimited payroll runs as well as W-2s. Both also pride themselves on providing simple pricing with no extra fees.
There are, however, certain major differences between Square and Gusto. Square also offers plans that cost $29.95 per month for each person. It is a bit less expensive than Gusto Core Plan. Square is well-known for its Point of Sale (POS) systems. Employees who use Square's POS system to clock in and out claim it is easy to pay. Additionally, Square offers tools to manage your staff, run an online shop, set up loyalty programs, control inventory, and more.
Gusto offers a great option for companies that require more HR assistance. Square is a good alternative for businesses that require business administration. Although the Concierge plan from Gusto is more costly than Square's, its customers still have unlimited access via phone or chat to HR professionals who have been accredited. In all plans, Gusto will pay your federal, state, and local payroll taxes. Square will handle the state and federal filings.
As with Gusto, Square also has plans that allow you to pay contractors on a per-hour basis with no monthly fees. So take a closer look at both of these software apps if that applies to your situation.
Gusto vs Paychex
Gusto was awarded a score of 4.3 from our rating for the Best Payment Software of 2021. This puts Gusto at the top of the list, No. Gusto was rated as No. 1 in our rankings for the Top Payroll Software for 2021. Paychex placed eighth on the list with a score of 3.6. All it boils down to is what your company's needs are. While both include all you need for payroll management, however, there are significant distinctions.
If you're interested in comparing prices between Gusto and Paychex, you'll need to think about the functions you're seeking and then receive a quote from Paychex. Gusto's Core plan costs $39.90 per month, plus $6 per employee.
Paychex's base plan costs $59 per month and $4 per person. The two plans are roughly the same cost per month, if you're paying 10 employees, however, the prices could vary because Paychex provides additional services. Gusto, however, boasts transparent pricing.
Gusto supports many interfaces for software. Paychex will require you to pay an additional charge to integrate your accounting software unless you choose the most extensive plan. Gusto's Complete Plan is reasonably priced at $39 per month, plus $12 for each employee. It also includes other options like time monitoring, employee surveys, and a set of customizable permissions, without a significant price increase.
Paychex offers health insurance benefits in all 50 states which Gusto can't match right now. Paychex also offers 24-hour expert assistance via phone, and its enterprise plan can accommodate large companies, whereas Gusto is designed for smaller enterprises. Paychex is an excellent choice for businesses that anticipate they will expand quickly.
Both Paychex, as well as Gusto, have a wide range of HR options, however, those from Paychex are more robust if you're willing to purchase them.
How To Sign-up
Gusto is cloud-based and you can sign up online, and there's no contract. Gusto has three plans, each of which has different features and prices. It also offers an option for businesses that hire independent contractors. 
Contact the sales team of Gusto via chat or telephone to help you decide the best plan for you. You'll need to provide your EIN number, as well as the addresses and salaries of your employees, as well as the records of any payroll taxes you've already paid.
1. Select a Plan: Before signing up, consider the best plan for your needs. Keep in mind, the Core Plan has everything you need to run payroll.
Additionally, Gusto will help you file local, state, and federal taxes. The Complete Plan comes with added options to assist you in running your business better, including time tracking. And the Concierge Plan includes access to HR professionals certified when you need these experts.
2. Register: Once you've picked a plan, click the orange "Get Started" button on Gusto's website. You'll be asked to create an account on Gusto Account.
3. Set up an account: There are 10 steps to set up your account. You'll have to enter your address, details regarding your employees and tax details, and bank account information.
 Next, select a schedule and input your previous payroll data. Sign some forms and verify your bank details. Include your tax debts that are not paid.
Gusto FAQs
Does Gusto Offer a Trial Period?
Contrary to other payroll programs that we have reviewed, Gusto doesn't offer a trial for a free period. You can cancel Gusto at any time. Gusto offers a demo on its website, which you can use to get an idea of the service before you sign up.
Does Gusto Offer Direct Deposit?
Gusto offers direct deposit on the three plans. This means you are able to pay directly to your employees without printing and signing checks. Gusto's Core Plan demands that you conduct payroll at least 2 days before the date of payday. Gusto Complete and Concierge plans offer next-day direct deposits. When payday arrives your employees will be sent a thank you email from Gusto with the link to their pay stub.
Gusto Cashout is accessible to a select group of customers. This helpful tool lets employees make an immediate cash advance.
Does Gusto Offer Automated Tax Filing?
Gusto will submit your state and local taxes and pay the taxes. Gusto creates your W-2s and 1099s and distributes the tax forms electronically to your employees at the end of the year. Gusto is an excellent option for businesses that have to file tax returns in several states. Multistate tax filings are available in all three plans. that's not something all payroll software can boast about.
Does Gusto allow for Time Tracking?
Gusto's Complete and Concierge Plans allow you to keep track of the hours of hourly and salaried employees. It also tracks projects and lets employees make PTO requests. It is automatically synced with your calendar.
Gusto integrates with numerous time-tracking software. This is fantastic in the event that your current software isn't performing well or you choose Gusto Core Plan which doesn't offer time tracking.
Does Gusto Support Integrations?
Gusto supports a bunch of integrations. The ability to sync your accounting software with Gusto will save you time and keep you precise. With Gusto, it is possible to integrate all the most popular accounting software, including Intuit QuickBooks, FreshBooks, and Xero. Gusto can also be integrated with time tracking software such as Homebase, Tsheets, and When I Work.
Plus Gusto does a lot more. You can also incorporate various other software like Point of Sale, business administration, analytics, hiring, and other software.
Does Gusto Have a Mobile App?
With the Gusto Wallet app, your employees can view their pay stubs as well as tax documents, establish cash accounts and much more. It's available for Apple and Android devices.
Gusto doesn't have a mobile application for managing payroll. However, you can do it on your phone or tablet. Log in to Gusto by using your browser. To alter benefits, clock in/out, request PTO, and other features, employees have to log in to Gusto using a web browser.
How can I reach Gusto's customer service?
For all three Gusto plans, you have access to support for customers. You can contact them via phone chat, email, or call for assistance. You can reach support from 7 a.m. until 4 p.m. Pacific Standard Time. There's a priority support line for Concierge plan customers, which also have access to an expert team. Additionally, all customers is able to use Gusto's Help Center to troubleshoot issues by themselves.